Kailer Yamamoto is back in Spokane and ready to punish WHL goalies for the rest of the winter. Back at base, Todd McLellan has two issues on the starboard:
Leon Draisaitl, a center, remains the top RW option.
Kailer Yamamoto, the other skill RW of choice through 13 games, is back in junior.
Who you gonna call? I refer you to my original estimates back in summer, during the RE series. The predictions do a good job of reflecting uncertainty, something we are still dealing with to this day.
ORIGINAL RE PROJECTIONS
I have Jesse Puljujarvi (14 goals), Anton Slepyshev and Drake Caggiula (12 goals) plus Zack Kassian (11 goals) all in the mix, along with Ryan Strome playing mirror man with Leon Draisaitl on 97's line. I didn't have Kailer Yamamoto among my projections, so the entire process has been delayed until now.
The reason I bring these numbers back is to bring some flavor to this RW discussion. Peter Chiarelli wants an internal solution, and Todd McLellan has been telling him the teenager wunderkind Yamamoto is a better option than the others. Now what?
Exactly.
PIKES PEAK, YEAR OVER YEAR
Oilers in November 2015: 1-2-0, goal differential -1
Oilers in November 2016: 1-1-1, goal differential -3
Oilers in November 2017: 1-2-0, goal differential -2
Game four in November 2015 was a 4-3 overtime win over the Anaheim Ducks (Teddy Purcell!) and 2016 was a 2-1 win over Detroit. The Oilers could use a Teddy Purcell about now and a win wouldn't go amiss either.
AFTER 13, YEAR OVER YEAR
Oilers 15-16: 5-8-0, goal differential -5
Oilers 16-17: 9-3-1, goal differential +8
Oilers 17-18: 4-8-1, goal differential -13
Game 14 in 2015-16 was a 2-1 loss to Pittsburgh (Daniel Spring, Phil Kessel) and Game 14 in 2016-17 was a 4-3 loss to Pittsburgh, who scored twice (Malkin, Sheary) in the third period to pull away from the Oilers. If the Oilers win tonight in Brooklyn, the current edition of the team will pull ahead of the 2015-16 group by one point.
WHAT TO EXPECT FROM NOVEMBER
At home to: Pittsburgh, New Jersey, Detroit (Expected: 2-1-0)

 (Actual 1-2-0)

On the road to: NYI, New Jersey, NYR, Washington (Expected: 1-2-1) (Actual: 0-0-0)
At home to: Vegas, St. Louis (Expected 1-1-0) (Actual: 0-0-0)
On the road to: Dallas, St. Louis, Detroit, Buffalo, Boston (Expected 2-2-1) (Actual 0-0-0)
At home to: Arizona, Toronto (Expected 1-1-0) (Actual 0-0-0)
Overall expected result: 7-7-2, 16 points in 16 games 
Current results: 1-2-0, two points in three games
This is a vital portion of the season. If Edmonton grabs three wins on the road trip, we can talk about climbing back from the abyss. A winless trip? Game over, man. Game over. If Edmonton returns from Washington 4-12-1, we'll be talking draft. No way to avoid it. In order to finish at my projected record, the Oilers need to go 6-5-2 through the rest of this month.
WHERE ARE YOU, CHUCK LEFLEY?
Chuck Lefley was drafted by the Montreal Canadiens in 1970 (No. 6 overall) and began the gigantic task of moving up the Habs depth chart. He played in one NHL game in 1970-71, a season in which the pro depth chart (Montreal Canadiens: Frank Mahovlich, Marc Tardif, John Ferguson; Montreal Voyageurs: Germain Gagnon, Chuck Lefley, John French) actual showed some signs of age. Sam Pollock grabbed Yvon Lambert from Detroit for nothing in 1971, then added draft picks Murray Wilson (1971), Steve Shutt (1972) and Bob Gainey (1973).
Long story short, Lefley had about five years in the organization and was going to get run over by Shutt, Lambert and Gainey, but he made himself useful in his time with the Habs. Lefley was a big winger who could score and check, so could  slide in on the checking line or move up with Jacques Lemaire and Yvan Cournoyer. That's what the Oilers need now, today. Anton Slepyshev has the size and speed but (like all of the hopefuls) nothing about his bat screams heart of the order.
And that, for me, is the major issue here. In the comments section of today's blog, you will see chapter and verse about the need to move Leon Draisaitl to center. Who will replace him on the top line? I think the answer, based on Todd McLellan's handling of each man, is probably Drake Caggiula.
CAGGIULA MINUTES
Jonathan Willis has an excellent article at The Athletic today about optimal line combinations, worthwhile read. One of the problems I see for Todd McLellan is all of the "extra" players added to the pairs (Maroon-McDavid, et cetera) are pretty shy offensively. Here are the career 5×5/60 numbers for the youngsters in play:
Ryan Strome 1.55 (as an Oiler)

Jesse Puljujarvi 1.45

Zack Kassian 1.42 (as an Oiler)

Anton Slepyshev 1.15

Drake Caggiula 1.07

Kailer Yamamoto 0.52
Peter Chiarelli is asking Todd McLellan to find at least one offensive winger from this group in 2017-18. Who you gonna call? Exactly. Some of these players have played with Connor McDavid, others not so much. That certainly makes a difference and one suspects Todd McLellan is contemplating all manner of moves for tonight's game.
POSSIBLE LINES
Patrick Maroon—Connor McDavid—Leon Draisaitl

Milan Lucic—Ryan Nugent-Hopkins—Drake Caggiula

Jussi Jokinen—Ryan Strome—Anton Slepyshev

Iiro Pakarinen—Mark Letestu—Zack Kassian

Darnell Nurse—Adam Larsson

Oscar Klefbom—Matt Benning

Kris Russell—Eric Gryba

Cam Talbot (Laurent Brossoit)
The Oilers have four men over 2.00/60 at 5×5, plus Milan Lucic at 1.84. Who you gonna call for that sixth slot? It's a bitch.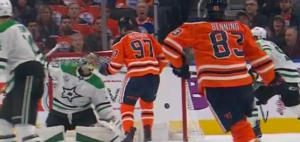 WHAT'S WRONG?
Connor McDavid: 

 "It doesn't matter what other people think, or the media or the fans think, it matters how we feel in here." Source
I am breaking my 24-hour rule to print this quote from a Rob Tychkowski article over at the Edmonton Sun, so badly need you to click on the link and then read it (it's only fair). Other good stuff in there too from the coach and Nuge. There's some iron in those words, the young captain appears to be setting his jaw and saying to hell with this noise. I've noticed things have a way of happening when this occurs. Good sign.
WHAT'S WRONG?
Edmonton (4-8-1) is either a result of poor shot selection or bad luck…2.3 goals per game on 37.8 shots per game. #isles

— Andy Graziano (@AndyGraz_SNY) November 7, 2017
Oilers also suffering from bad special teams, power play 25th and penalty kill 31st. Cam Talbot with .903 save percentage. #isles

— Andy Graziano (@AndyGraz_SNY) November 7, 2017
Oh. Well if you put it that way! No doubt in my mind the Oilers should regress on the shooting percentage side, and Talbot has been a road warrior (.925 save percentage) this season. However, regression doesn't respond to a timer, and the Oilers have backed themselves into a corner. They have to win games this week.
LOWDOWN WITH LOWETIDE
At 10 this morning, a full boat of guests and a lot to discuss. TSN1260, scheduled to appear:
Jonathan Willis, The Athletic

. How best to proceed with the Oilers lines.

Guy Flaming, The Pipeline Show

. How did the Avs do in that big trade, plus the WHL убитый touring Russian team.

Scott Cullen, TSN.

A big week for the Oilers, CFL playoffs Week One.

Eric Fawcett, Press Basketball

. The Celtics are an early story and we'll check in on the Raptors.
10-1260 text, @Lowetide on twitter. Talk soon!