I was five years old, it was a sunny morning in late spring. My brother was in school, my Mom was in the house, the one my Father built just before I was born in Whonnock, British Columbia. Address rural route, your get your mail in town. I would be going to Thornhill School that fall.
This particular day, I was playing by the road allowance at the end of our long driveway. My dog (Colby, he was a black lab) and me, hanging out. Every once in awhile, someone (probably lost) would drive by and I'd have a good long look at them before going about my business. In those years, I could identify a vehicle pretty well, although my Dad and brother were the real experts.
I remember the day because of my Grandpa and his horse, Tom. When I was five Tom and Colby were my best friends.
My day was pretty much planned. Outside until lunch, then play in the backyard until 3pm. At 3, Mom would call me in and we'd watch "The Edge of Night" while she had a cigarette with all of the curtains drawn so no one would see her (that's why I had to go in). By 3:45, the bus would drop off my brother and we'd play until supper.
But on this morning, something was different. My Grandpa had taken Tom and the heavy logging chains up the hill across from our house. They were clearing trees like mad in those years (for housing) and Tom and Grandpa would haul them to the sawmill (it was between our house and Grandpa's) every day.
I kept hearing this thundering sound. It was like a truck engine and I could feel the ground rumble, and Colby was acting very strange. Barking and actually angry. The rumble kept getting louder, I stayed just shy of the road, completely unaware of the coming danger.
Maybe one minute before Tom hit the road, I heard my Grandpa's voice in a way I'd never heard it before. He was screaming my name, in a high pitched, excited way, and then something else I didn't understand (looking back, suspect it was something like "get the hell out of the way!"). Colby and I ran over and got into Dad's truck (it was parked at the end of the driveway, to the side and out of the way).
Tom had been spooked and took off like a bat out of hell down that makeshift logging road towards our house with a full load of logs. By the time he turned south all of the logs had fallen away, Tom was carrying chains and running so fast it scared the hell out of me. A couple of minutes later my Grandpa came running down the hill, looking half past dead and white as a sheet. He checked on me and kept chasing Tom. He ran all the way to Mr. Muth's house. Grandpa caught Tom, calmed him down, and that was a helluva morning. Later that day, I fed Tom all of Grandpa's apples I could find. Thought it was the least I could do.
I thought of that moment yesterday, when trying to bring together my thoughts about this team. I think something is not quite right, something has this team spooked. Can't put my finger on it. I know they don't have the horses, but it feels like it's something more, something a trade or recall can't fix. Injuries? Coaching? Don't know.  The numbers say this thing will turn north. My advice? Feed them apples.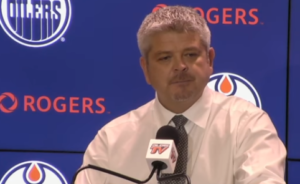 The Edmonton Oilers all-time record against the Dallas Stars is 49-60-24. All losses (in my mind, anyway) involved watching Mike Modano fly past Oilers defensemen dressed in cement shoes, and all Oilers forwards flattened by Derian Hatcher in the public square. God bless you, Todd Marchant, Curtis Joseph, Doug Weight, Bill Guerin, Ryan Smyth and all you boys, someday Dallas hockey fans will know the pain of being hammered senseless by the mighty Oilers. Not today, though.
THE ATHLETIC!
The special Lowetide offer is here. New material today.
PIKE'S PEAK, YEAR OVER YEAR
Oilers in November 2015: 3-5-1, goal differential -2
Oilers in November 2016: 2-6-1, goal differential -11
Oilers in November 2017: 4-4-1, goal differential +1
G10 in November 2015 was a 4-1 loss to Carolina and a year later the Oilers were winning 5-2 over the Dallas Stars (hatty for 97). No matter what happens today, this year's Oilers will remain the most successful November Edmonton team under Todd McLellan.
AFTER 20, YEAR OVER YEAR
Oilers 15-16: 6-12-1, goal differential -12
Oilers 16-17: 10-8-1, goal differential +2
Oilers 17-18: 7-10-2, goal differential -10
G20 fall 2015 saw Edmonton romp over NJD 5-1, and last year it was 5-0 Oilers over Chicago. This year's Oilers have more in common with the 2015-16 Oilers team than last year's and this road trip is going to hammer this thing home one way or another.
WHAT TO EXPECT FROM NOVEMBER
At home to: Pittsburgh, New Jersey, Detroit (Expected: 2-1-0)

 (Actual 1-2-0)

On the road to: NYI, New Jersey, NYR, Washington (Expected: 1-2-1) 

(Actual: 2-1-1)

At home to: Vegas, St. Louis (Expected 1-1-0)

 (Actual: 1-1-0)

On the road to: Dallas, St. Louis, Detroit, Buffalo, Boston (Expected 2-2-1) (Actual 0-0-0)
At home to: Arizona, Toronto (Expected 1-1-0) (Actual 0-0-0)
Overall expected result: 7-7-2, 16 points in 16 games 
Current results: 4-4-1, nine points in nine games
I honestly don't think there's a game on this road trip where you can absolutely pronounce the Oilers as the favorite. My "best bets" for wins in the next week are Dallas (they are slumping) and Buffalo (they are Buffalo). If they lost all five I would be surprised but it wouldn't be the biggest shock in the world. Everyone has their own opinions about what's wrong with this team (mine is 'they don't have the horses') but it is impossible to argue that this team is firing on all pistons.
LOGIC AND REASON
How unlucky are the Oilers vis a vis sh%? This unlucky: pic.twitter.com/8fn2WYZPSu

— Oilers Nerd Alert (@OilersNerdAlert) November 18, 2017
You can learn a lot from Oilers Nerd Alert. As difficult as this season has been, and as possible as it is that regression occurs after the season is lost, the numbers suggest this team is better than their won-loss record. Now is not a time to panic, based on numbers.
It's very difficult to get our minds around this statement: The losing that happened 2006-16 is different in one important way from the losing we are seeing today. This is a good team, although it may not be a playoff team.
LOSING RUNWAY
Peter Chiarelli made a trade this week, one of those smaller items he does well. Mike Cammalleri played well in the first game and arrives at a point where a line shuffle is in the ether. Where will Cammalleri land in a shuffle? Don't know.
Connor McDavid has been effective with Leon Draisaitl and Patrick Maroon over a long period of time. I think Cammalleri might be a reasonable option the top line, preferable to running young Jesse Puljujarvi out there with McDavid this season.
POSSIBLE LINES
Patrick Maroon—Connor McDavid—Mike Cammalleri

Milan Lucic—Ryan Nugent-Hopkins—Leon Draisaitl

Drake Caggiula—Ryan Strome—Jesse Puljujarvi

Jujhar Khaira—Mark Letestu—Zack Kassian
I wouldn't run the lines as above. I would run Leon on RW. When Anton Slepyshev returns, I think Todd McLellan might have enough talent to run Leon at center. Until then? Stay the course. It isn't sexy.
WOULD YOU?
Bob McKenzie

:  "The Vegas Golden Knights are getting calls on pending UFA wingers 

James Neal

 and 

David Perron

. It's been believed that they would move them at the trade deadline. If someone were to "blow their socks off," they might consider moving now, though that is not likely to happen. There are lots of teams looking for help up front. GM 

George McPhee

 could also be open to talking to Neal and/or Perron about a contract extension."
Peter Chiarelli can probably reach out and help this team today, but he would have to trade Jesse Puljujarvi or Darnell Nurse to do it. Is that a good idea?
My answer: I would make a deal. I would not trade Jesse Puljujarvi for a pending UFA but I would deal him for a younger, established NHL player under control. Seriously. By the way, I'd do that if the team had a record of 10-7-2 as well.