The Edmonton Oilers won in Boston to end a frustrating and eventful road trip, and now wind their way back home for games against Arizona and Toronto. Sometimes you lose a player or two on a road trip, maybe this trip saw the Oilers rediscover a few good men.
THE ATHLETIC
The special Lowetide offer is here. Today's story looks at a deadline selloff and what it could mean for Edmonton.
DIRTY WATER, YEAR OVER YEAR
Oilers in November 2015: 4-7-2, goal differential -9 (10 poins in 13 games)
Oilers in November 2016: 5-8-1, goal differential -1
Oilers in November 2017: 6-7-1, goal differential -4
A big win for McLellan's best November team in Edmonton and not a moment too soon. Sometimes an organization makes a move out of desperation and it's a mistake, we don't know how serious these Nuge talks were (and or are) but it's good to have something positive to talk about today.
AFTER 24, YEAR OVER YEAR
Oilers 15-16: 8-14-2, goal differential -13
Oilers 16-17: 12-10-2, goal differential +7
Oilers 17-18: 9-13-2, goal differential -14
Edmonton is up to 20 points in 24 games, trailing last year's total by six (two points ahead of 2015-16). The club has a chance to win two regulation games in a row for the first time this season against the Coyotes.
WHAT TO EXPECT FROM NOVEMBER
At home to: Pittsburgh, New Jersey, Detroit (Expected: 2-1-0) 

(Actual 1-2-0)

On the road to: NYI, New Jersey, NYR, Washington (Expected: 1-2-1)

 (Actual: 2-1-1)

At home to: Vegas, St. Louis (Expected 1-1-0) 

(Actual: 1-1-0)

On the road to: Dallas, St. Louis, Detroit, Buffalo, Boston (Expected 2-2-1) (Actual 2-3-0)
At home to: Arizona, Toronto (Expected 1-1-0) (Actual 0-0-0)
Overall expected result: 7-7-2, 16 points in 16 games 
Current results: 6-7-1, 13 points in 14 games
I'm pleased to see the predicted totals remain possible, if the team can go 1-0-1 at home they will go 7-7-2. It isn't going to get them into the playoffs but at least the chaos is predictable.
DEFENSE, LAST NIGHT
Klefbom-Benning

went 12-7, 1-0 GF. Went 8-2 against DeBrusk-Krejci-Vatrano. Oscar doesn't wheel like he can unless he's with Larsson, but Benning has no problem stepping up with any partner. Eventually, they're going to have to put the Swedes together in order to unlock Klef.

Auvitu-Russell

went 9-8, the pairing was on the ice together for 14 minutes. Went 6-4 against the Schaller-Acciari-Szwarz trio, the Bruins have 1,200 rookies.

Nurse-Larsson

went 16-19 in 18:58 together. Went 5-6 in eight minutes with Connor McDavid's line, went 7-7 against Heinen-Bergeron-Pastrnak. Pairing had nine defensive zone and two offensive zone faceoffs (10 neutral).

Cam Talbot

stopped 23 of 25, .920.
NaturalStatTrick and NHL.com.
FORWARDS, LAST NIGHT
Maroon-Nuge-Slepyshev

went 15-10 together, I really liked the line. Not sure Slepy is 100 percent but the trio impressed. Maroon scored a goal from Kassian. Nuge went 12-2 against DeBrusk-Krejci-Vatrano. Trading Nuge would be batshit crazy.

Caggiula-Draisaitl-Strome

showed some chem together, went 10-8 and were 5-5 against Schaller-Acciari-Szwarz. Great pass by Leon and shot by Strome.

Lucic-McDavid-Cammalleri

went 10-8 together, 5-6 against Heinen-Bergeron-Pastrnak. McDavid was 10-11 against Zdeno Chara who should have been charged with mugging.

Pakarinen-Letestu-Kassian

went 4-8 together, 3-2 against Schaller-Acciari-Szwarz. Spent a lot of time without the puck.
OBSERVATIONS
The fourth line and the third pairing need some upgrading but the rest of last night's roster looks like they are capable. If Todd McLellan inserts Jujhar Khaira for Iiro Pakarinen and finds a role for Jesse Puljujarvi, this thing could work. The third pair isn't adequate, the answer there is Andrej Sekera and he's probably a month (or so)  away. Cam Talbot at .920 helps this team in a big way. There's still time but not a lot of room for a slump of any kind.
Darcy Regier: "I once asked Al Arbour what's the secret to building a team? He said no secret, it's not complicated. Get good players." Source

50-MAN, MAN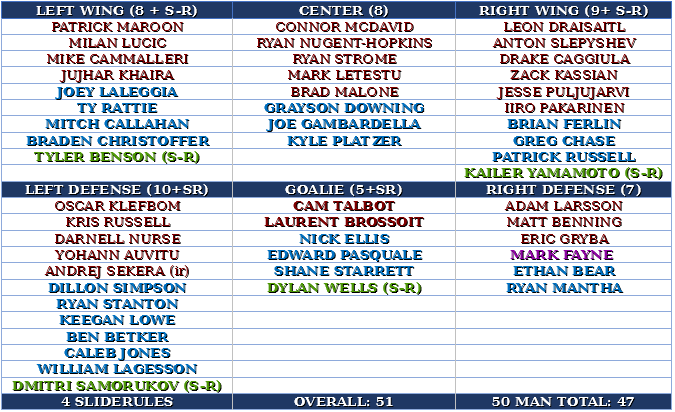 This is the current 50-man list for the Edmonton Oilers. I think we can all identify the "good players" and further discern the group this club is auditioning currently. For me, there's too many in the audition category. I will tell you that (for me) giving at-bats to Kailer Yamamoto, Jesse Puljujarvi, Drake Caggiula, Jujhar Khaira, Anton Slepyshev and Iiro Pakarinen is too much audition and not enough sure thing.
Darcy Regier:

 

"I think if you miss the playoffs three years in a row, and blow everything up, you're more likely to miss the playoffs seven years in a row." Source

When I was young, I could never find anything. My Dad would say "get a box" where everything could easily be found. Idea being, you're saving time and money by not having to replace things you've already purchased and should have readily available.
The Oilers "box" should be the draft picks sent away in 2014 and 2015, but they are not where they should be for various reasons. The hammer of rage is raining down on Peter Chiarelli currently, but let's remember the massive number of holes he needed to fill upon arrival. Regier's words ring so true to me. A new general manager brought in today would form the team in his own image and that probably takes at least a year, maybe 18 months. A new coach might jump start this season, but Todd McLellan didn't take a dose of stupid overnight. I know you're looking for someone to blame but the idea of another reset makes me want to vomit. Seriously.
That said, I do believe we're headed for some kind of pressure point in this season. One of four things appears inevitable:
Connor McDavid drags this team kicking and screaming into the playoffs.
Peter Chiarelli fires Todd McLellan.
Bob Nicholson fires Peter Chiarelli.
Peter Chiarelli trades Ryan Nugent-Hopkins for less than 100 centers on the dollar.
Choose your poison.
WAYWARD DRAFT PICKS 2014 & 2015
No. 33, 2014: Dealt away in the David Perron acquisition

No. 63, 2014: Traded for Ben Scrivens

No. 93, 2014: Traded for Mike Brown

No. 123, 2014: Traded for Viktor Fasth

No. 15, 2015: Traded for Griffin Reinhart

No. 33, 2015: Traded for Griffin Reinhart

No. 57, 2015: Traded for Cam Talbot

No. 64, 2015: Traded for Viktor Fasth

No. 79, 2015: Traded for Cam Talbot

No. 86, 2015: Traded for Todd McLellan

No. 94, 2015: Traded for David Perron

No. 107, 2015: Traded for Eric Gryba

No. 184, 2015: Traded for Cam Talbot
LOWDOWN WITH LOWETIDE
A busy Monday with a lot to discuss! 10 this morning, TSN1260. Scheduled to appear:
Pierre Lebrun, ESPN and The Athletic

. Huge win in Boston, does that quiet the rumors?

Danny Austin, Post Media

. The mood in Calgary.

Jason Gregor, TSN1260

. Oilers win, Grey Cup another classic.

Andy Benoit, Sports Illustrated

. NFL weekend.
10-1260 text, @Lowetide on twitter. See you on the radio!