Darnell Nurse is emerging as a top 4D by eye and my math, that's one of the real positives surrounding the Edmonton Oilers this season. We're at a point in the season where the numbers are more trustworthy and Nurse shines like a diamond among Edmonton's blue.
THE ATHLETIC
The special Lowetide offer is here. Today's story is the No. 10 Prospect in the system.
DIRTY WATER, YEAR OVER YEAR
Oilers in November 2015: 4-7-2, goal differential -9 (10 poins in 13 games)
Oilers in November 2016: 5-8-1, goal differential -1
Oilers in November 2017: 6-7-1, goal differential -4
The November 2015 schedule contained just 13 games and the final game of 2016-17 November schedule saw Edmonton lose to Toronto 4-2. This year's Oilers have two more games to go but the six wins this year represent the highest total of Todd McLellan's three Novembers with the club.
AFTER 25, YEAR OVER YEAR
Oilers 15-16: 8-14-2, goal differential -13
Oilers 16-17: 12-10-2, goal differential +7
Oilers 17-18: 9-13-2, goal differential -14
G25 in 2015-16 was a 3-0 loss to the Maple Leafs and a year ago it was a 6-3 win over Winnipeg, which included three power-play goals. If the Oilers win in regulation tonight it will represent the first time all year we've seen two regulation wins in a row. Amazing.
WHAT TO EXPECT FROM NOVEMBER
At home to: Pittsburgh, New Jersey, Detroit (Expected: 2-1-0)

 (Actual 1-2-0)

On the road to: NYI, New Jersey, NYR, Washington (Expected: 1-2-1)

 (Actual: 2-1-1)

At home to: Vegas, St. Louis (Expected 1-1-0) 

(Actual: 1-1-0)

On the road to: Dallas, St. Louis, Detroit, Buffalo, Boston (Expected 2-2-1) (Actual 2-3-0)
At home to: Arizona, Toronto (Expected 1-1-0) (Actual 0-0-0)
Overall expected result: 7-7-2, 16 points in 16 games 
Current results: 6-7-1, 13 points in 14 games
It's been a strange month, with the road trips (4-4-1) actually better than the home games (2-3-0) but there are two games to go. Tonight's a big damned deal.
DEFENSE, 2017-18
Nurse scores well across the board (these are my preferred metrics until we get the Puck IQ rolling), nice progress and we hope it continues. Auvitu looks chaotic but the numbers are good, Gryba scores well here (31.35 SA/60 a year ago) although he's taking penalties at a rapid clip and his boots are more noticeable this year.
Matt Benning has had nights of chaotica and his SA/60 a year ago (27.75) shows we're looking at a different defense this season. The Swedes are up in SA/60 too (Klefbom was 29.05, Larsson 29.3). Nurse was 32.58/60 SA a year ago, that's your lead, ladies and men. Defensemen don't develop in a straight line and we shouldn't assume next year will be identical to this one. Still, nice progress for Mr. Nurse.
FORWARDS, 2017-18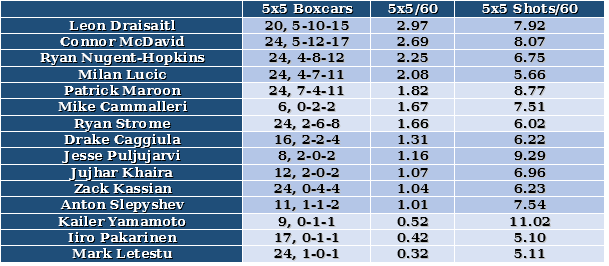 Based on the number of tweets and DM's I received Sunday afternoon, you're all crazy about "UNICORNS!" after the Boston game. Leon Draisaitl (2.04, 5.26 a year ago) has shown nice early progress this year, Connor McDavid (2.88, 8.74) is in the range but down slightly in both categories. RNH (1.5, 8.12) is up in scoring, but down in shots and individual scoring chances (3.38 this year, 3.67 a year ago). Milan Lucic is similar to Nuge (individual SC's were 3.49/60 a year ago, 2.45 this year) so we'll have to monitor and a downturn seems likely based on the numbers. Numbers via NaturalStatTrick.
TWO ROOKIES?
Things will change as we continue through the season, but as of now the Edmonton Oilers have employed just two rookies during the 2017-18 season:
Kailer Yamamoto 9gp, 0-3-3
Laurent Brossoit 6gp, 3.31 .880
The Oilers have been packing rookies into seasons six at a time (seven a year ago) so this is unusual. The last time Edmonton boasted just two rookies? Never. The closest the club ever came to two rookies was 1999-00:
Paul Comrie 15gp, 1-2-3
Dan Lacouture 5gp, 0-0-0
Mike Minard 1gp, 3.00 .917
Goalie charts are updated:https://t.co/0g9bBhj1oO

Elliot might not be great but he's doing better than we should expect. By a lot. pic.twitter.com/yo09aScqb4

— Sean Tierney (@ChartingHockey) November 28, 2017
Sean Tierney does brilliant work and I think his graph ("goals saved above average/60") shows Cam Talbot out of the blue and into the black. He needs to turn that around for Edmonton to have any chance, it's something I'm betting happens as we roll along. If a player isn't hurt, isn't about to turn 40 and has a reasonable track record of success, he should revert to previous levels. We can't time it but it should be just beyond the blue horizon.
Spokane scores 7 tonight in win over Regina. #Oilers prospect Kailer Yamamoto without a point. In fact he's managed just 0G+2A in last 6 #WHL games.

— Guy Flaming (@TPS_Guy) November 26, 2017
Yamamoto's boxcars sit at 7gp, 1-5-6 since he's been sent back, it's not uncommon for a player to slump after being sent back by his NHL team. I'm not certain how much power-play time he's getting but this is a player who was dominant at this level a year ago and it's reasonable to expect that again. Leon Draisaitl went 3-3-6 in his first five games after demotion in 2014-15 but ripped off 27gp, 16-31-47 after getting settled. I expect Mr. Yamamoto will turn it on soon.
UNICORNS!
If the Oilers win tonight while running 97, 93 and 29 up the middle, we're going to have unicorn sightings all across central Alberta. One thing I'd love to see? Jesse Puljujarvi populating a line centered by one of the three big C's. I think it's a big part of this season and vitally important to the future. If we can agree the McDavid cluster is key to winning, adding JP to the group that currently includes 97, Leon, Darnell Nurse, Oscar Klefbom, Adam Larsson is vital. These men should be pushing for the next decade important to have a large and productive cluster, with enough balance to overcome injury and cap letting.
LOWDOWN WITH LOWETIDE
At 10 this morning, TSN1260. Scheduled to appear:
Jonathan Willis, The Athletic

. Who's lucky and unlucky offensively in Edmonton this year.

Luke Lapinski, Arizona Coyotes Broadcast Host

. We'll check on Dylan Strome and the other brilliant youngsters in Phoenix.

Scott Cullen, TSN.

Classic Grey Cup, Toronto versus Edmonton was supposed to be the battle of young giants. What happened?
10-1260 text, @Lowetide on twitter. See you on the radio!