Two months into the 2017-18 season and the nightmare coma continues. The Edmonton Oilers employ fantastic talent and replacement level players side by each and it has caught up to them in a big way. If the club had a veteran winger with scoring ability and a No. 2 RHD, I think we'd be looking at a playoff spot this morning. They're not coming, this is us. We're on to Cleveland Calgary.
THE ATHLETIC!!
Great new offer! Includes a free 7-day trial so you can try The Athletic on for size free and see if they enjoy the in-depth, ad-free coverage on the site. If you don't feel it's worth the $4.49/month, cancel anytime during trial before getting charged. Offer is here.
LONG DECEMBER, YEAR OVER YEAR
November 2015: 7-6-1, goal differential -8

November 2016: 7-3-4, goal differential +3
G1 December 2015 was a 3-2 shootout win over the Boston Bruins, G1 December 2016 was a 6-3 victory featuring an explosive power play for the first time all season. If the Oilers can straighten out the special teams they can get back into contention but both look helplessly hapless right now.
AFTER 27, YEAR OVER YEAR
Oilers 15-16: 9-15-2, goal differential -16
Oilers 16-17: 14-10-2, goal differential +11
Oilers 17-18: 10-14-2, goal differential -15
As we begin the month, pretty clear the current Oilers are repeating the 2015-16 season. As you're recall, the Oilers finished with a 31-43-8 record, last in the Pacific Division, last in the Western Conference, No. 29 in the NHL. That's an embarrassing thought for Year Three Chiarelli and McLellan. G27 2015-16 saw Edmonton win 2-1 over Dallas in overtime, and last season a 2-1 OT loss to the Minnesota Wild.
WHAT TO EXPECT FROM DECEMBER
On the road to: Calgary (Expected: 0-0-1) (Actual: 0-0-0)
At home to: Philadelphia (Expected 1-0-0) (Actual: 0-0-0)
On the road to: Montreal, Toronto, Columbus (Expected 1-2-0) (Actual 0-0-0)
At home to: Nashville (Expected 0-1-0) (Actual 0-0-0)
On the road to: Minnesota (Expected 1-0-0) (Actual 0-0-0)
At home to: San Jose, St. Louis, Montreal (Expected 1-1-1) (Actual 0-0-0)
On the road to: Winnipeg (Expected 0-1-0) (Actual 0-0-0)
At home to: Chicago, Winnipeg (Expected 1-1-0) (Actual 0-0-0)
Overall expected result: 5-6-2, 12 points in 13 games 
Current results: 0-0-0
There's just too much wrong. Trading actual assets this close to dead in the water makes no sense and with Talbot gone for December we're looking at another audition position. There's just too much wrong here, from special teams to injuries to goaltending to open auditions, and on it goes.
You can light candles and pray and I will never count out a Connor McDavid team completely, but this dog won't hunt. It's time to move on and discuss other things. A team can get a lot from a losing season (wrote about it at The Athletic) and we'll begin our look at the draft early January. Cool?
50-MAN ROSTER
This is the current 50-man list, we could see the number reduced if Iiro Pakarinen is collected on waivers. This season has exposed the weaknesses in this roster, important to remember where it was 2015 spring.
50-MAN CHIARELLI'S FIRST DAY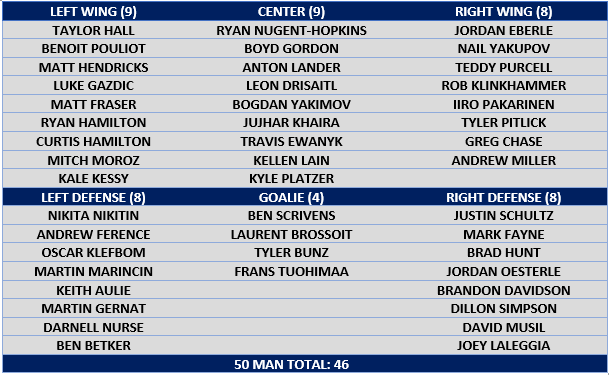 I'd say the team is better in goal, defense, center, with both wings favoring the team from three years ago. Amazing to see who turned out among the prospects (Klefbom, Nurse, Davidson, Pitlick).
Nathan Walker has not cleared waivers. Picked up by the Edmonton Oilers. They weren't the only ones to put a claim in either.

— Isabelle Khurshudyan (@ikhurshudyan) December 1, 2017
He is an interesting player, my look at him for The Athletic suggests we're looking at a shy offensive contributor. The story of this season for Peter Chiarelli appears to be auditioning right-wingers who can't reach 2.00/60 for love nor money. It's actually pretty amazing.
OILERS ROSTER AND LINEUP
One area I'll be following over the coming months is that baffling right-wing conundrum. Scoring wingers are more plentiful than effective centers, they are basically the "first base" option for hockey. "First base" is the one position anyone can play, save Al Oliver when he came over from the Texas Rangers, God love him.
Interesting to see everyone over 50 percent Corsi among the blue (except Russell, but he's basically there), that would have been a dream back in 2010 fall. Talbot's even-strength save percentage is interesting, bringing up something else we'll talk about as the season rolls along: Improving special teams.