The Edmonton Oilers won a big game against the Wild yesterday afternoon, the team received solid work from veterans Milan Lucic, Cam Talbot, Ryan Nugent-Hopkins and the winning goal from young Jesse Puljujarvi. A season that has been equal parts galling and baffling reached another potential turning point. Is this the real life? Is this just fantasy?
THE ATHLETIC!
Great new offer! Includes a free 7-day trial so you can try The Athletic on for size free and see if they enjoy the in-depth, ad-free coverage on the site. If you don't feel it's worth the $4.49/month, cancel anytime during trial before getting charged. Offer is here.
LONG DECEMBER, YEAR OVER YEAR
December 2015: 6-1-0, goal differential +5
December 2016: 3-1-3, goal differential +2
December 2017: 4-3-0, goal differential +5
The Oilers are now competitive with the team's record of a year ago and the 2015-16 team is about to run out of luck. This 2017-18 team has worked back to the point where they may finally be able to climb back into the playoff race in a real way.
AFTER 33, YEAR OVER YEAR
Oilers 15-16: 14-17-2, goal differential -15
Oilers 16-17: 16-12-5, goal differential +7
Oilers 17-18: 14-17-2, goal differential -10
Edmonton arrives at 30 points as the result of G33, top dead center with 2015-16. In that season, Todd McLellan's first, the Oilers would go 17-26-6 and finish 31-43-8, 70 points. If Edmonton continues at their current rate this year, the club would finish at 35-42-5, 75 points. Man it's been a frustrating first half.
WHAT TO EXPECT FROM DECEMBER
On the road to: Calgary (Expected: 0-0-1) (Actual: 1-0-0)
At home to: Philadelphia (Expected 1-0-0) 

(Actual: 0-1-0)

On the road to: Montreal, Toronto, Columbus (Expected 1-2-0) 

(Actual 2-1-0)

At home to: Nashville (Expected 0-1-0) (Actual 0-1-0)
On the road to: Minnesota (Expected 1-0-0)

 (Actual 1-0-0)

At home to: San Jose, St. Louis, Montreal (Expected 1-1-1) (Actual 0-0-0)
On the road to: Winnipeg (Expected 0-1-0) (Actual 0-0-0)
At home to: Chicago, Winnipeg (Expected 1-1-0) (Actual 0-0-0)
Overall expected result: 5-6-2, 12 points in 13 games 
Current results: 4-3-0, eight points in seven games
The Oilers are slightly ahead of my projection (3-3-1) with a tough schedule ahead to end 2017. This is a key portion of the schedule. This coming week needs to be a strong one, followed by another. Edmonton needs to land near 20 wins by Game 41.
DEFENSE, LAST NIGHT
Nurse-Russell

went 14-9 together in 13:04, 0-2 in GF and there were no HDSC's either way. Most of the trouble for this pairing came with the puck on Russell's stick. Went 3-4 against Zucker-Staal-Coyle. The second Dumba goal was a coverage issue, lordy that man was wide open, no forward in sight.

Klefbom-Benning

were 13-17 in 12:07, 1-0 GF and 3-2 in HDSC's. Went 7-7 against Ennis-Winnik-Stewart, 6-6 against Zucker-Staal-Coyle. If think Oscar may be returning to form, or at least much closer than we've seen all season.

Auvitu-Davidson

were 4-12 in 9:12, no goals and 1-0 in HDCS's. By eye this pairing looked good to me, Davidson especially impressed. Faced Granlund-Koivu-Niederreiter for four minutes (3-8), surely a matchup Minnesota liked and Todd McLellan tolerated.

Cam Talbot

stopped 29 of 31, .935. Welcome back.
NaturalStatTrick and NHL.com.
FORWARDS, LAST NIGHT
Caggiula-Letestu-Kassian

were 10-4 together, 0-1 GF and 1-0 HDSC's. Coach McLellan prefers the speed of Caggiula to the size/speed of Slepyshev, I think we can safely make that call at this point. Not sure it's the right one, we'll see as time goes by. Went 3-2 against Ennis-Winnik-Stewart.

Lucic-McDavid-Puljujarvi

posted four points on the night, I think that was the best game we've seen from Lucic. He was a big part of the win. Puljujarvi drove to the net and lingered, that's music! McDavid made a dandy play against Niederreiter that may have saved a goal and was his normal dangerous. He's rocking the casbah at full health now. Line went 10-10 in 9:04, 3-1 in HD and 9-10 against Granlund-Koivu-Niederreiter.

Khaira-Draisasitl-Strome

were 7-9 in 8:45, 1-0 in HDSC. I think Leon is finding the range now, not certain about his linemates (please send skill). Man that's a lot of Leon to be playing with someone not named Mike Hoffman.

Maroon-Nuge-Cammalleri

were caved in possession, Nuge getting the line's only point on the penalty kill. Trio were 4-11, 2-6 shots against, 0-0 GF, 0-1 HDSC's. Went 4-4 against Ennis-Winnik-Stewart.
According to CBC panel, Oilers and Senators have discussed Mike Hoffman for picks and prospects… 👀

— Joey Not Moss ⚡️ (@JoeyNotMoss) December 17, 2017
That rumored list both helps and hurts the conversation. "Picks" must mean a first-round selection and right now that selection is in the lottery. Maybe the 2019 first rounder is also in play? As for prospects, the Oilers have only a few players who could reasonably be used as partial payment for Mike Hoffman: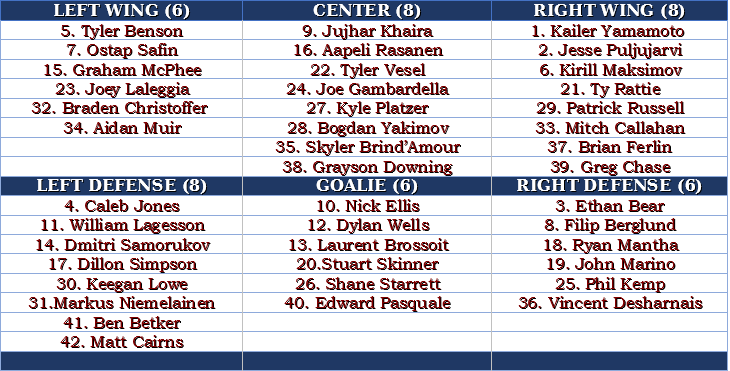 I don't think Jesse Puljujarvi is heading anywhere, but do wonder if Kailer Yamamoto could be part of the deal. Tyler Benson? Ostap Safin? Kirill Maksimov? Defensively, Ethan Bear and Caleb Jones could be included, Nick Ellis is a good goalie prospect. I think you'd have to include Patrick Maroon and or a Matt Benning in there.
If we think like the Senators (good, inexpensive, under control), the 2018 first rounder, Kailer Yamamoto, Matt Benning and Patrick Maroon (who they could sign for less than Hoffman) make the most sense from here.
The Athletic:

 Mike Hoffman is a fantastic option for Connor McDavid's shooter and if available, in a season the Oilers badly lack a sniper, his possible exit from Ottawa should be considered a major chance for Edmonton to correct a roster imbalance. (Mike Hoffman: A Perfect fit for the Oilers)
I wrote that on Tuesday and since then the idea has become a substantial rumor. Makes complete sense as a trade, of course Hoffman would be a fantastic fit in a lot of places. I think the Oilers should try for Hoffman but there may be other teams with more to give.
WAIVERS AND GRYBA
Eric Gryba is in a tough spot this morning, with Adam Larsson likely to come off IR tomorrow. Edmonton currently employs seven defensemen on the NHL roster (Oscar Klefbom, Darnell Nurse, Kris Russell, Matt Benning, Brandon Davidson, Yohann Auvitu, Eric Gryba) and could run with eight for the immediate future. Anton Slepyshev is one game away from being eligible for waivers (hat tip: Original Pouzar) so perhaps the fact Edmonton healthy scratched the Russian is a tell. We may receive confirmation one way or another at 10 this morning when waiver information becomes public.