All words  and music in this article are via Alan Murphy (Jump the Shark).
The Rink Rat
The smell of the arena, rink rats love it; it is something you love or you do not. Like most Canadians it is that smell that we will always associate with the game played on the ice. It is something about how the atmosphere, how the ice mixes with the aroma of the popcorn, nachos and other kinds of food that are now sold in arenas around the world that mixes together. That odor, for me, is the most addictive and compelling aspect of the rink experience.
After 15 years of living in the United Kingdom that smell had become somewhat distant and almost forgotten; then I went to games in St Petersburg, Cologne, Paris, Stockholm and Cardiff. And it was like I was transported back to the arena of my youth; the atmosphere was the same and so was the game. It took me awhile to figure out how to do it, but I now spend most of my free time during the hockey season in Europe to travel around to different leagues, levels and countries.
There is one thing I have learned and it is something that will offend many Canadians. What is that? Other countries love the game just as much as any Canadian and some show more love and respect for the game than Canadians have done in recent times. As crazy as it sounds, the biggest difference I have witnessed between the Europe and North American audiences is the respect level shown in the arena to their fellow fans, the product on the ice and those involved in the game.
You take in a game in nearly any arena in Canada and you will hear some very adult language  and often drunken altercation between opposition fans. Those are something I have rarely seen in European arenas. There is a good banter between fans of the different clubs and there is a fair bit of cat calling aimed towards the ice but nowhere near the language level you will hear in arenas in North America.
But if you mention hockey in Europe or any league played here to a North American fan you will get the look that is associated to old English teacher looking down at an impish child.
Hockey is the unofficial religion and language to most Canadians and any suggestion that any other countries fans could come close to loving the game as much as a Canadian would be answered with actions that would mirror those of Salem witch trials. While hockey may not be as popular here in Europe as it is in Canada, the fans are as passionate and as loyal as any Canadian fan. If not more and show more respect to the players than North American fans in recent times.
A couple of things have happened with NHL players where the reaction of European fans and North American fans were different.  First we have the Vegas Knights fiasco (which is what it ended up being) with Vadim Shipachyov  and then the comments of Jordan Eberle about how his tour with the Edmonton Oilers ended. Two different situations but in both cases we saw fans make whipping boys out of the players and ridicule their comments that became public.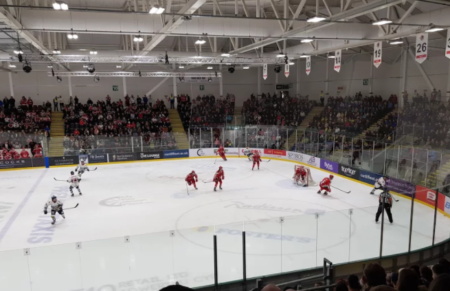 In the case of Shipachyov the situation was pretty clear cut. He is a 30 year old pro hockey player, married with children who signed to play with the expansion Knights. Things went sideways pretty quickly and we may never know the full story. From what has been made public, Shipachyov was sent to the Knights AHL team in Chicago and by all indications it was a one way ticket. The next thing we heard was the player went home. Nearly every media outlet portrayed the player as a spoiled Russian player who was not willing to earn his bones to play in the NHL.
Some reports say Shipchyov had brought his wife and kids over and for me this plays a key reason why he jumped on a plane and went home. There's about 1400 miles between Chicago and Las Vegas as about the same from St Petersburg Russia and Greenland. Why is this important? We do not know how well his family spoke English and how set up Vegas Knights were to aid families of players sent to the farm. Teams work years to perfect and improve the well-being of families of the players off the ice. Vegas is a new team and they are starting from scratch, so no one outside of the team has any real idea of they are built to help the families of players either traded or sent to the farm. In the case of Shipchyov it is not like dropping a person from Regina, Saskatchewan into Las Vegas, this was dropping a family from a different country and different language into the unknown.
Most of the media reports took shots at Shipchyov as a self-centred entitled player who was not a team player and the fans called him a stereo typical Russian player who thought of no one but himself. For me, if he did bring his family over and they had settled in Vegas only have the Chicago demotion dropped on them, is a very important matter of why he jumped on a plane and left. It was a family issue. Teams spend years trying to build a structure on making sure a family is properly taken care of when the player is either on the road, traded or sent to the farm. Vegas is still building theirs and we have no idea who it compares to other teams.
I can tell you from my experience, support systems are not built overnight and take years, keep adapting and improving as the demand dictates. We do not know how the Knights support system is and how this may have played a part in what happened. When it comes to that information, nhl player and teams are tighter lipped the la cosa nostra when Lucky Luciano ran it or simply put "first rule of fight club? Don't talk about fight club!"
Then we got the Eberle situation in Edmonton. No one was shocked he was traded. Was it due to a trade request or that the team just needed a change (I think it is more of the former then the latter). Over the years I have talked to several former NHLERs, some who played with the Oilers and some who played on hockey hot spots. And in talking with them they all had similar stories of how hard it is to play in cities that are hockey mad. Many said they grew to hate the game due to the 24/7 attention they got and all the media and fan criticism they received on a regular basis.
Jorden Eberle made a comment on it and got ripped to shreds by both the media and fans for saying the pressure in Edmonton was getting out of hand. Before I defend his comments, I need to explain why they were getting bad and would only get worse. As with many players, Eberle is on a contract that pays him a lot of money and in the 2016/2017 regular season he had a down season, not hitting 20 goals until the last few games of the season and being paid for being a goal scorer that is a bad thing. And then in the playoffs, his struggles continued to the level of during the oilers run in the playoffs he got no goals and only 2 assists in 13 playoff games. Media and fans were all over Eberle's performance or lack thereof.
That is when the ghost of Justin Schultz may have made an appearance to Eberle. Justin Schultz was a highly touted D-man they oilers signed a few years ago and his run with the oilers ended with him being booed off the ice by oiler fans and run out of town by the Edmonton media.
Eberle had front row seats to how both the media and fans treated Schultz who had signed as a UFA with the oilers and saw that once the city and media turned against Schultz they never let up. Shortly before he was traded Schultz was reportedly nearly in tears due an entire arena letting him know what they thought; and it was his home arena.
Eberle saw that once the city and media turned against Schultz he was never going to be able to get himself out of that corner.  On June 22nd the Oilers gave him away to the NY Islanders for former first rounder Ryan Strome and on November 25th when Eberle made a statement he was happy to be traded so he could rebuild his confidence, he got ripped again by the fans and media saying it was not their jobs to be nice to him or handle him with kid gloves. Most of the people offended by his comments never played a pro sport or even stepped on any field at a high level; so they refused to accept they were part of the problem.
How does that compare with how the European fans I have dealt with? Fans can be rough with players, but they do not take them out behind the barn and tear them a new one on a regular basis. I attended a game in Czech Republic a few years ago, season ending game for a home team that was dead last in the standing and had a horrible year. Did the fans boo the team off the ice, toss jerseys on the ice or burn players in effigy? Nope. For the most part it was "we'll get them next year" in reference to the other teams.
The biggest difference I see in how players are treated between the NHL and the European leagues is that players in the NHL are not looked at as not being human but animals in cages where you pay $40 to bang against the glass, toss bottles at them and hurl abusive language at them. Media and fans say that they are well paid for their job and should shut up and do their jobs. It is one thing the abuse players receive in the visiting arenas and something completely different in what is their home arena.  The word "fan" is the short form of "fanatics" and when the word fanatic is thrown around it is usually in a bad sense.  Can you be a fan without being a fanatic? Can you be a fan without making a player regret stepping on the ice for your favourite team? Can you be a fan without making a player regret ever picking up the game?
It is a two way street. I lived in Edmonton in the 1980's during the glory years and I can tell you stories of how 4th liners or black aces were treated like gods when they went out in public. But the game has changed from a 21 to 31 team league and it now takes more and longer to win the Stanley Cup that all players and fans want to win. Organizations will suffer more down times then up times. Only 1 team wins the cup every year and that means 30 fans bases get to complain about why their team lost and to rip their players for not being good enough. And the media gets to pick out a whipping boy every year to pick on and in a place like Edmonton, I would not want to be the whipping boy as it would never let up. I have never seen fans grow to like a player after deciding he was the whipping boy.
Many years ago a famous hockey player complained about how players were treated like a piece of meat by teams. Now, it looks like the players are treated like pieces of meat by fans and media alike without caring of the fact of how the booing or multiple bad press articles affects the players.
In looking how the media and fans reacted to both the Shipchyov and Eberle situations, I am sadden to think that both the fans and media have lost touch with humanity over the subject of how to deal with a fellow human being. This reminds me of the SPEECH from movie network and described the future of journalism in 1977
If it bleeds it leads. Media and fans no longer engage each other, they seemingly just engage to enrage and have little interest in being nice with the product on the ice, whether it be a 17 year old kid playing his first game in the NHL or 35 year old vet trying to make it one more year. They are more interested in ripping them apart then building either of them up.
My experience in watching games in Europe is that fans would rather build up a player with a slap on the back to say we will get them next year then they are to burn them in effigy like so many hockey fans do in North America.
I am a hockey fan and in watching and reading the responses to the Shipchyov and Eberle situations, it seems to me even the most passive hockey fans does want to even consider as fans they may be part of the problem and not part of the solution when things go wrong with their team. Seem to me they do not care that the players are human not robots. For me, if you want to see the true colours of teams fans base—suffer a few losing seasons and see how they react.
This concerns me.
Next blog will be about a road trip I am taking with the Cardiff Devils booster club on the 27th of December for the game against Coventry. Again it won't be about the on ice product but about the fans, the love of the team and the players. Have a good Christmas! Remember those out there who are spending their Holidays alone.
Twitter handle @jtshark71