I was absolutely determined to fade draft coverage until January, even after the crabby start by the town team. Oilers fans have become draft experts over the years, to the point where thousands of northern Alberta residents intuitively know the difference in value between the No. 5 overall and No. 12 overall selection. Folks, we made it through December but my guess is January is going to see talk of missing the playoffs rise from a whisper to a scream.
THE ATHLETIC!
Great offer! Includes a free 7-day trial so you can try The Athletic on for size free and see if they enjoy the in-depth, ad-free coverage on the site. If you don't feel it's worth the $4.49/month, cancel anytime during trial before getting charged. Offer is here.
2017-18
Oilers in October 2017: 3-6-1, goal differential -11 (7 points)
Oilers in November 2017: 7-8-1, goal differential -5 (15 points)
Oilers in December 2017: 7-5-1, goal differential +4 (15 points)

Oilers 2017-18: 17-19-3, goal differential -12 (37 points)
December was the first month of the season where Edmonton resembled a playoff team (15 points in 13 games projects out to 94.6 points over 82 games) but the wins dried up before the team could begin to pay back the sins of October and November.
Oilers probably expected New Years Day off. Not after that no show embarrassing effort. Todd McLellan making them practice at 11 a.m.. Happy hangover, boys.

— Terry Jones (@byterryjones) January 1, 2018
I have no idea what these young men do in modern times, but suspect Mr. Jones (who is from my generation) may be projecting a distant past here. Either way, this is a few times this year coach McLellan has exercised his authority, not sure how many times a coach can do that and have an impact. I'm not going to do the numbers from last night's game, watching it was punishment enough. If you want to suss through the numbers, NaturalStatTrick is your friend. From Daryl Katz to the lowest man on the employee roster, last night's game is probably still on everyone's mind this morning.
Look, you can argue Hall and Eberle and all else until the cows come home, but effort and push back comes from all teams who are engaged. I've watched some sad sack Oilers teams with little talent show more gumption than last night's Oilers and that's a damned large concern today.
YEAR OVER YEAR, YEAR OVER YEAR
December 2015: 7-5-1, goal differential -7 (15 points)
December 2016: 7-2-4, goal differential +3 (18 points)
December 2017: 7-5-1, goal differential +4 (15 points)
No matter what this team does, the resemblance between 2015-16 and this year keeps coming back like Sonny & Cher in Groundhog Day. Hard nose the highway in January, I don't think these Edmonton Oilers can grab 15 points in the next 31 days (there are just 10 games).
AFTER 39, YEAR OVER YEAR
Oilers 15-16: 15-21-3, goal differential -24 (33 points)
Oilers 16-17: 19-13-7, goal differential +8 (45 points)
Oilers 17-18: 17-19-3, goal differential -11 (37 points)
All that hard work that brought the team a 6-2-0 record leading up to Christmas has been given back since the break. Not much you can say, beyond they'll remember this feeling next fall and perhaps that will steel them against the wind. The Oilers are seven points back of the final wild card spot this morning, if they'd won the three games after Christmas that number would be two points behind. If wishes were horses, beggars would ride.
WHAT TO EXPECT IN DECEMBER
On the road to: Calgary (Expected: 0-0-1) (Actual: 1-0-0)
At home to: Philadelphia (Expected 1-0-0) 

(Actual: 0-1-0)

On the road to: Montreal, Toronto, Columbus (Expected 1-2-0) 

(Actual 2-1-0)

At home to: Nashville (Expected 0-1-0)

 

(Actual 0-1-0)
On the road to: Minnesota (Expected 1-0-0)

 (Actual 1-0-0)

At home to: San Jose, St. Louis, Montreal (Expected 1-1-1)

 (Actual 3-0-0)

On the road to: Winnipeg (Expected 0-1-0)

 (Actual 0-1-0)

At home to: Chicago, Winnipeg (Expected 1-1-0) 

(Actual 0-1-1)

Overall expected result: 5-6-2, 12 points in 13 games 
Current results: 7-5-1, 15 points in 13 games
The Oilers outperformed my estimate by three points, and it's difficult to be disappointed in the record in isolation. It ended poorly but if the Oilers go 43, 22-15-6 for the rest of the season (that's what 15 points in 13 games looks like over 43 games) it would represent an improvement over the first half. If the Oilers do finish in that fashion, the final tally will be 82gp, 39-34-9, 87 points. Not enough to make the playoffs (or be in the race) but better than the current record projects (82, 36-40-6, 78 points).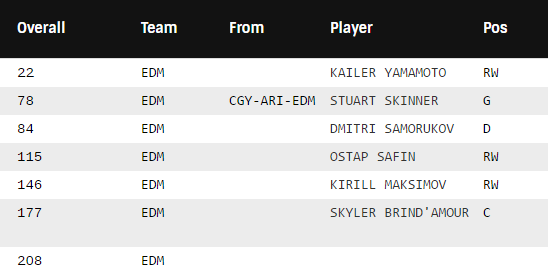 OILERS AT THE DRAFT
First Round (No. 6 overall)—R Filip Zadina, Halifax Mooseheads (QMJHL). Another fantastic skill winger, he brings size and shooting ability to the game. He's in the upper tier of offensive prospects in this draft, great motor. Shoots left.
Second Round (No. 37 overall)—LC Jacob Olofsson, Timra (Allsvenskan). They're not fooling me again, there's a sweet spot in the Swedish system pertaining to draft eligibles who flourish in the Allsvenskan. Great passer, speed, aggressive, skilled.
Third Round (No. 68 overall)—L Nathan Dunkley, Kingston Frontenacs (OHL). He's 5.11, 185 and scoring over a point-per-game this year. He has good speed and a fine two-way reputation, Dunkley may end up being ranked higher on the final lists. For now, he'd represent great early in the third round.
Fourth Round (No. 99 overall)—LC Cole Fonstad, Prince Albert Raiders (WHL). Undersized center with a lot of skill and zero buzz. His offensive numbers (42 points in 37 games) and relative youth (he's an April 2000) should mean he'll get some love from scouts by June.
Fifth Round (No. 130 overall)—RD Ty Emberson, U.S. National Development Team (USHL). Impressive speed and skills, he projects as a puck mover with a good shot and the ability to retrieve pucks like a madman. Zero buzz, but he has a nice resume.
Sixth Round (No. 161 overall)—W Samuel Fagemo, Frolunda (SuperElite). Impressive climb through the Swedish system, he has good boots and an excellent shot. Dynamic with the puck on his stick, raw in other parts of the game.
Seventh Round (No. 192 overall)—L Riley Stotts, Calgary Hitmen (WHL). Inconsistent but very skilled winger struggled in Swift Current but seems to have turned the corner after arriving in Calgary.
ERIC RODGERS' NUMBERS
Eric Rodgers blesses us with his numbers a few times each season, I posted on his November update here. These numbers are fresh, but I wanted to update you right away on the defensemen. For reminder purposes, here's what the EV GF-GA totals looked like in November:

Here are the numbers for defenders since:
Keegan Lowe 18-10 (+8)

Ryan Mantha 15-10 (+5)

Jamie Doornbosch 2-0  (+2)
Ryan Stanton 11-10 (+1)
Ben Betker 6-7 (-1)
Mark Fayne 2-4 (-2)

Ethan Bear 2-5 (-3)

Caleb Jones 12-18 (-6)

Dillon Simpson 7-16 (-9)
Miles to go on all of these prospects but the progress we're seeing from Mantha is interesting (scored last night) and injury issues from Ethan Bear concerning (he missed last night's game). Caleb Jones had a tough start, improved in December in this metric and has miles to go. We spoke at the beginning of the year about this trio needing at least one AHL season and that has certainly been driven home by the results. On the other hand, the NHLE's (Bear 19.27; Jones 11.56; Mantha 9.64) and the estimated time on ice (Bear 21:54; Jones 20:26; Mantha 18:32) suggests the other two men are ahead of him (and that is my estimation). Thanks to Eric for the new math and I'll have another post on the subject soon.