Growing up in Saskatchewan, January Saturdays were the ones I remember best. On Friday night, after the chores were done, Dad would let us keep the outside light on and my brother and I would play hockey on the driveway. He was four years older and got to be Bobby Orr (I would choose the Leafs, Keon) and we'd play until maybe 10 o'clock. I've been colder in my life than on those nights, but only because I'd get up on Saturday mornings early and play on the same driveway alone (it was even colder, I was a damned fool). Saturdays I was Orr, making both me and Davey Keon happy (I was a poor Keon). My obsession with the game blossomed on a small stretch of land 17 miles north of Maidstone, Saskatchewan in what my Mom referred to as "the middle of the damned night." I can still feel the itch from my Stanfield's long underwear, specially made for crazy kids too dumb to come in from the cold. I miss those days, especially on Saturday.
THE ATHLETIC!
Great offer! Includes a free 7-day trial so you can try The Athletic on for size free and see if they enjoy the in-depth, ad-free coverage on the site. If you don't feel it's worth the $4.49/month, cancel anytime during trial before getting charged. Offer is here.
TABERNAC SATURDAY, YEAR OVER YEAR
January 2016: 2-0-0, goal differential +1
January 2017: 1-1-0, goal differential -1
January 2018: 1-1-0, goal differential -5
G3 2016 was a 3-2 loss to the Lightning, Oilers scoring two early and giving up three goals in the final frame. G3 2017 was a 2-1 overtime win over the Devils. Edmonton beat Dallas in two of three a year ago, scoring 14 and allowing six. The Stars have better goaltending this year.
AFTER 42, YEAR OVER YEAR
Oilers 15-16: 17-21-3, goal differential -23 (37 points)
Oilers 16-17: 21-13-7, goal differential +10 (49 points)
Oilers 17-18: 18-20-3, goal differential -16 (39 points)
G43 2016 was a loss to Tampa Bay (3-2) as above and last year Edmonton lost 5-3 to Ottawa, mostly because Jonas Gustavsson stopped only 13 of 17 shots.
WHAT TO EXPECT FROM JANUARY
At home to: Los Angeles, Anaheim (Expected 0-1-1) 

(Actual 1-1-0)

On the road to: Dallas, Chicago, Nashville, Arizona, Vegas (Expected 2-2-1) (Actual 0-0-0)
At home to: Vancouver, Buffalo, Calgary (Expected 2-1-0) (Actual 0-0-0)
Overall expected result: 4-4-2, 10 points in 10 games
Current results: 1-1-0, two points in two games
I've chosen 85 points as the Oilers "reasonable goal" for this season. It's not a playoff number but if Edmonton finishes (as an example) 20-15-6, 46 points their final record would be 38-35-9, 85 points. That's a reasonable expectation from here.
RE: HALFWAY HOME
As you know, I do an RE series in summer, projecting the roster for the following season and estimating point totals. This past summer was a real challenge, mostly because there was so much roster uncertainty. Looking at my projections and then checking the half-time numbers, it's fascinating to see how the auditions worked out.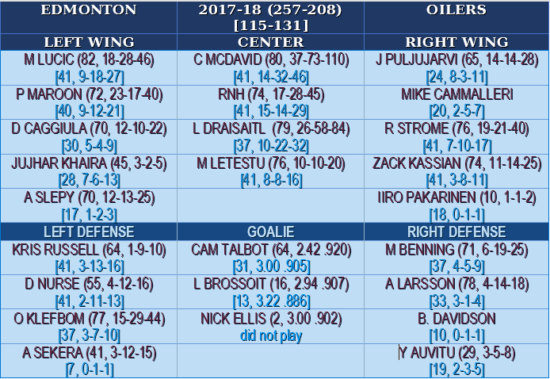 I had the Oilers at +49 goals and the team is -16 goal differential at this time. I'm hopeful the team can get out of the blue and into the black.

Connor McDavid's

season is a masterpiece, considering the uncertainty on his line through the first half. I expect he'll deliver close to 100 points this season, possibly more.

Jesse Puljujarvi

has scored more than the other auditioning wingers who gave me such a difficult time last summer. He is on pace to play the exact number of games I estimated and in the range in terms of point total. I'm proud of that projection.

Milan Lucic

should exceed my projection by as much as 10 points, while Patrick Maroon will come in around the expected range.

Ryan Nugent-Hopkins

posted the most impressive first half among the forwards, with 30 goals a possibility.

Leon Draisaitl

is shy of my projections, important to remember I had him at right-wing on McDavid's line 70 percent of the season. I believe he has delivered a solid first half  under trying circumstances.

Drake Caggiula

is the second of those baffling young wingers, I was able to surround his expectations pretty well.

Ryan Strome

hasn't delivered the offense predicted but he also hasn't played 30 percent of his year with 97. I'd say his numbers are in the range with RE if we factor in usage.

Jujhar Khaira

has delivered beyond expectations, I faded him among the young forwards and he overdelivered and robbed Anton Slepyshev and others of playing time.

Mark Letestu

surpassed expectations and is close to my yearly expectations. I thought coach McLellan would have found a replacement for ML on the power play, which still could come this season.

Kris Russell

put the boots to my RE and kept going. Offensively this may end up being his finest season in the NHL.

Matt Benning

is in the range of expectations, the young defender has had some issues with consistency and coverage but the offense is there.

Darnell Nurse

is blossoming as a player, he'll cover his RE and then some (healthy season is a nice development). He has stepped into a more prominent role and handled it well, a very good development for this organization.

Oscar Klefbom

has struggled with injuries and consistency this season but his shot volume this season has been incredible. His numbers should regress (the good kind) over the second half of the season.

Adam Larsson

hasn't done as well moving the puck this season, some of that probably due to his back issues. I'm less certain of his recovery than I am about Klefbom.

Cam Talbot's

numbers are the most disappointing on the team. If he had posted the .920sp projected, 14 fewer goals would have found their way to the net. If Talbot doesn't recover in the second half of the season, suspect we see a Mathieu Garon edition to the team over the summer.