Here's an off day, meaning we get a chance to catch up on a few things. I have a few thoughts that have been rolling around in my brain, today's a good day to get them out. One of the things we've done this winter is make everything black and white and I want to push back against that idea. In our zeal to prove ourselves right and others wrong, we've used hyperbole to push the narrative and perhaps missed the big part of the story.
What's the big part of the story? This Edmonton Oilers team has an enormous base of young talent. The margins for winning and losing are so razor thin in the NHL, the Oilers (and Senators) could be right back in the final 8 (or better) next spring (2019).
This is a miserable season and there should be a reckoning, whatever that moment may hold. Let's not lose sight of the big picture, the reason why getting the management and coaching is so important. There is dual work for a manager, build the system and push the NHL roster to greatness. Who is the man that can make this thing wheel? I do not have your answer. I will say it's not complete darkness and you should remember that about this Oilers team. They have a wonderful story to tell, just not this year.
THE ATHLETIC
Great offer! Includes a free 7-day trial so you can try The Athletic on for size free and see if they enjoy the in-depth, ad-free coverage on the site. If you don't feel it's worth the $4.49/month, cancel anytime during trial before getting charged. Offer is here.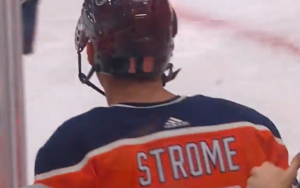 Back in the summer, back when Jordan Eberle was being traded for Ryan Strome, we talked a lot about the team in 2017-18 and the overall organization depth at forward.
Lowetide blog, June 22, 2017

:  This was a net loss and the trade could have waited until next summer. It continues a trend of getting less than 100 cents on the dollar in feature trades that may eventually cost Peter Chiarelli his job as general manager of this organization. I don't see it happening any time soon. If both Jesse Puljujarvi and Tyler Benson turn out, and the club can grab one of Eeli Tolvanen, Kailer Yamamoto, Robert Thomas or Josh Norris, things should start coming together in terms of forward depth. Spencer Foo may arrive next week and he could be part of the future. This trade was a net loss, but I do like the bet. Ryan Strome is a big center who has struggled in an organization famous for sabotaging their own youths. Strome is a lesser player, but not necessarily a lesser talent. Todd McLellan may unlock Strome and that's the bet the club made. We Wait. Source
I have a few things wrong (was looking at the good draft work done by PC's group, and also thinking the McDavid-Talbot magic would hold for a second season), but the prospects are coming around (although they are some ways from landing) and I maintain the Strome story doesn't have to end badly (nor should it end after 44 games).
You can't find many who have much good to say about Ryan Strome but this is early days. Strome didn't get himself traded for Jordan Eberle, so let's talk about the player. Here are his year over year numbers:

That's pretty close folks, not much difference one season to the next. His shooting percentage regressed but 13.75 was unrealistic for 5×5. Needs to shoot more, he had good linemates both seasons (43 percent of his time with Brock Nelson last year, 33 percent with Leon Draisaitl this year) and isn't playing much with Connor McDavid.
I know it's sexy these days to bury everything Peter Chiarelli touched, I understand the disappointment of another season at the bottom of the coulee. Strome isn't dynamic but that doesn't mean he is incapable of playing a complementary role. If the club can get him on a reasonable contract, Strome could be part of the solution next season.
WATCH: @IPakarinen in ooooooooooooovertime! #Condors20 pic.twitter.com/IUE0XvBDXU

— Bakersfield Condors (@Condors) January 11, 2018
Ethan Bear is one of the emerging stories at the pro level this season, I'd rank him just behind the NHL steps made by Jesse Puljujarvi and Darnell Nurse. You never know with defensemen, all you can do is track their response to challenges and assume there isn't a Denver boot in their game that will keep them from becoming an NHL player. Our man Bear is at least a year away by my estimates but there are good arrows.

That's some nice company, the Oilers have at least two (Caleb Jones) legit defensive prospects in Bakersfield and who knows maybe a third (Ryan Mantha). This blog tracked a trio of college men (Jeff Petry, Taylor Chorney, Cody Wild) a decade ago, the lesson being one will turn out, one will not make it and a third will be a tweener. We don't have much separation yet between Bear and Jones, perhaps that's a good sign.
TRADE BAIT: The countdown to #TradeCentre is under way and @frank_seravalli provides an updated list with 20 names to keep an eye on https://t.co/fHo9m6CZ0e #TSNHockey pic.twitter.com/ZiwYwnvt4j

— TSN Hockey (@TSNHockey) January 11, 2018
Mr. Seravalli has two Oilers on his list (Patrick Maroon, Mark Letestu) and they should fetch something of use (my latest article at The Athletic discusses some possibilities).
Bob McKenzie: 

"The Edmonton Oilers – outright disaster in Edmonton the way their season has gone. Maroon had a career year last year, hasn't been that good this year. And he's the type of guy along with maybe Mark Letestu, Mike Cammalleri – if you're on an expiring contract in Edmonton, you quite likely could be available." Source
Ideally the Oilers grab a plug-and-play option for Maroon, maybe a mid-round draft pick for Letestu. Mike Cammalleri may also get dealt, I've been impressed with him in the last several weeks. What about blue? Brandon Davidson? Matt Benning? I'd keep both men.