This is the first Saturday in my lifetime Red Fisher won't be with us. I never met Mr. Fisher, but I read him and heard him, for years saw him weekly on television. My connection to the NHL, aside from HNIC, came from men like Fisher, Jim Proudfoot, Jim Taylor, Frank Orr, Stan Fischler, Ken McKenzie (THN), Leo Monahan, Bill Libby, Bob Verdi. Guys like Cam Cole, Jim Matheson and Eric Duhatschek were later on, this is early 1970's. Bruce McCurdy will tell you the names I missed.
In all seriousness, the amount of hockey writing in my youth was a trillionth of what finds the light of day annually today. I had to borrow money to buy a book in 1973 called "The Complete Encyclopedia of Ice Hockey" by Zander Hollander and Hal Bock, and my Dad made me pay him back. It was a combination of hockey-reference and the HHOF bio's that are available (and beautiful, with photos) online.
The best books were ones with inside info, like the Imlach books with Scott Young (another fabulous writer).
My favorite was probably the Proudfoot annuals, they gave thumbnail sketches on the major players for each team. Here's one: Wayne Cashman. "Some people call me an animal and I don't think that's fair. I do know what my job in hockey is. I go into the corners and I fight for the puck, and I even things up if somebody starts pushing other guys around. If I don't do those things, I don't stay in the league."  Proudfoot wrote more but you didn't need it. That's Wayne Cashman!
I love the modern way but I miss those guys and those days. I'll miss Red Fisher every Saturday. It's hockey night in Canada.
THE ATHLETIC!
Great offer! Includes a free 7-day trial so you can try The Athletic on for size free and see if they enjoy the in-depth, ad-free coverage on the site. If you don't feel it's worth the $4.49/month, cancel anytime during trial before getting charged. Offer is here.
Jonathan Willis doesn't need me to trumpet his stuff but the item today (mid-season forwards review) is absolutely incredible.
PUNCH IMLACH
When our first choice came, one player available was Laurie Boschman. He'd played with Brandon, centering a line with Brian Propp and Ray Allison on the wings. Even though Boschman was the center, I said "Propp got all the goals. I think we should go with the goal scorers." But the scouts said Boschman did all the work and was the smart one on the line. I'd been in that situation in Buffalo once, picking a kid named Claude Deziel who had scored a lot in junior on a line centered by Pierre Larouche. Later, Deziel never played in the NHL. Larouche did, and scored plenty. So when the Leafs scouts told me Boschman was the guy who made their line work, I had to think of Larouche. 
"Can he skate?" I asked. 
"Good skater," they said. 
So that's how Boschman was taken and when you figure Propp got 34 goals for Philadelphia and Boschman got 16 for the the Leafs maybe we were wrong in the choice.
 -Punch Imlach, Heaven and Hell in the NHL
Scouts don't get to write history, and those who do (the General Managers and coaches) make a horrible mess. A few things about the quote above:
That item above is lifted directly, save for a small punctuation change to make more sense of the first two sentences.
"Claude Deziel" didn't get drafted in 1974 by Buffalo, but Michel Deziel did get picked 47th overall. Pierre Larouche went 8th, three slots before Buffalo picked the first time. Imlach was just making stuff up, Larouche was never available to the Sabres.
He did get one thing right: the Leafs blew it. Boschman was taken 9th overall, in front of Propp, Mark Messier, Glenn Anderson, Michel Goulet, Neal Broten, John Ogrodnick, Thomas Steen, Mats Naslund, Guy Carbonneau and a bunch of others who had better careers.
Is there a lesson here for scouts? Sure. Get it right, or become famous enough to write your own book.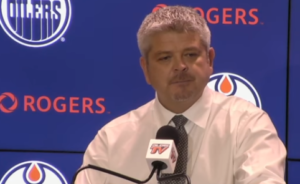 RED RUM, YEAR OVER YEAR
January 2016: 3-2-2, goal differential -3 (8 points)
January 2017: 4-3-0, goal differential -3 (8 points)
January 2018: 3-4-0, goal differential -10 (6 points)
G8 in 2015-16 was a 4-2 win over the Florida Panthers, and in 2016-17 Edmonton won 3-1 over the Arizona Coyotes. Edmonton has a real chance to win tonight, they are the more talented team even without RNH. A two-game winning streak before the bye week perhaps gives this team momentum, but predicting this team's future performance is like eating spaghetti with a spoon.
AFTER 47, YEAR OVER YEAR
Oilers 15-16: 18-23-5, goal differential -26 (41 points)
Oilers 16-17: 24-15-7, goal differential +9 (55 points)
Oilers 17-18: 20-23-3, goal differential -21 (43 points)
G47 in 2015-16 was that 4-2 win over Florida above and a year later it was a 4-3 win over the Florida Panthers. I don't think we're going to see a 10-game winning streak but a good performance in the next three games at home should be expected.
WHAT TO EXPECT FROM JANUARY
At home to: Los Angeles, Anaheim (Expected 0-1-1) 

(Actual 1-1-0)

On the road to: Dallas, Chicago, Nashville, Arizona, Vegas (Expected 2-2-1)

 (Actual 2-3-0)

At home to: Vancouver, Buffalo, Calgary (Expected 2-1-0) (Actual 0-0-0)
Overall expected result: 4-4-2, 10 points in 10 games
Current results: 3-4-0, six points in seven games
It's there for this Oilers team, a 2-1-0 week gets the club 10 points in 10 games. I don't think we're looking at a playoff spring, but 82-85 points should be possible. Tonight is going to be interesting, I believe fans should expect a strong effort and two points.
End. To. End.@Condors win it in overtime thanks to Ethan Bear! pic.twitter.com/5b56qmJZSI

— AHL (@TheAHL) January 20, 2018
Bear is having a fine rookie season in the AHL, all three (Caleb Jones and Ryan Mantha) of the new kids on the block are showing well enough to be considered legit prospects.
Ethan Bear (age 20) 22gp, 3-8-11 .50 points-per-game
Caleb Jones (age 20) 38gp, 1-12-13 .34 points-per-game
Ryan Mantha (age 21) 36gp, 3-7-10 .28 points-per-game
All three men are posting good offensive numbers (Bear has four PP assists, Jones three and one shorthanded assist, Mantha a shorthanded goal and two assists) and the rookies are the most potent offensive defensemen in Bakersfield as rookies.
Jeff Petry (age 22) 41gp, 7-17-24 .59 points-per-game (2-10-12PP; 1-0-1PK)
Taylor Chorney (age 21) 68gp, 5-16-21 .31 points-per-game (3-10-13PP)
Cody Wild (age 21) 59gp, 4-14-18 .31 points-per-game (2-10-12PP)
This is a trio of college blue we tracked tirelessly back in the day, trying to find the player who would emerge (it was Petry). Chorney was born a decade too early, his skill set fits the modern game very well (he's still in the league because of it). Cody Wild never made it, but Jeff Petry is a fine player who delivered on all promise. I have a feeling this current Edmonton trio is going to deliver at least one fine defenseman, too.