The Edmonton Oilers spent a lot of time sitting after Leon Draisaitl was chosen in the first round of the 2014 draft. The second-round selection had been traded (Ivan Barbashev), plus the third and fourth-round picks. In 2015, many more selections were sent away and you know the story. Since the team dealt much of two drafts, and used most of the remaining picks on goalies and defensemen, there is an enormous need for young forwards who turned pro in the last couple of years. It's a big problem. The solution? Back to the future.
THE ATHLETIC
Great offer! Includes a free 7-day trial so you can try The Athletic on for size free and see if they enjoy the in-depth, ad-free coverage on the site. If you don't feel it's worth the $4.49/month, cancel anytime during trial before getting charged. Offer is here.
FINDING BARBASHEV
Craig MacTavish and Peter Chiarelli traded a mountain of 2014 and 2015 draft picks but these men still roam the earth (and play hockey) to this day. One of the things Edmonton can do in the next few months is identify useful forwards in entry-level deals, acquire them, and allow them to matriculate in Bakersfield. Perhaps one of them will be good enough to find work in Edmonton next winter.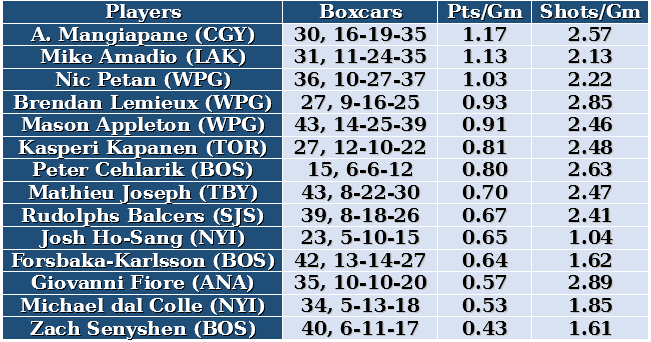 This isn't a list of players who are available, this is a list of players who would be worth pursuing.
I included

Andrew Mangiapane

to make a point. Lots of folks are mad about the Reinhart trade, and that's fair because it was a poor bet and an overpay from the moment it was made. There is another issue, though. In 2014, Edmonton had six picks and spent TWO on goalies and three more on kids who were headed to college. No return beyond Leon that was going to help within two years. In 2015, Connor McDavid and no more forwards. Edmonton blew it by drafting (basically) two forwards in 2014 and 2015 who were going to be able to help in pro hockey at 20 (or before). It was insane.
I'm not a draft expert. I had Mangiapane at No. 36 in 2015 just based on math. Calgary took him No. 166 that season, Edmonton could have taken him several times even with their trades. Oilers chose McDavid, Caleb Jones, Ethan Bear and John Marino before Mangiapane, so it's difficult to bitch because the arrows are good on all of them. Still, a forward (and Mangiapane) was available.
Oh. By the way. I also had Mangiapane No. 52 in 2014. Math informs the draft. I hope the Oilers have their analytics people helping them with this stuff, because Calgary has figured it out. If the Oilers don't select the next Mangiapane, the Flames will.
If I'm Chiarelli, I target Winnipeg. Nic Petan is a fine young player, and Chase de Leo (not listed) is pretty good, too. The Jets are drunk with prospects, maybe there is something there.
Mathieu Joseph is a player who caught my eye, Lightning are another team with a bunch of these kids.
In the 2017 draft, my highest ranked forward who remained unchosen was undersized burner Jacob Tortora. I had him No. 72. He is at Boston College this season. I was also high on an OHL forward named Kevin Hancock, both men are eligible this season.
Just call him Mr. Shorty, here's how @BMalone22 tied it late to get us a point. pic.twitter.com/hBRiHh2W66

— Bakersfield Condors (@Condors) January 27, 2018
I think Malone has a good chance to receive a recall at the deadline especially if Mark Letestu finds a new NHL home. Malone has played well this season, mostly in the minors. He could be a value contract on next year's team.