Someday, when my work is all done, I'm going to take a month and spend some time in California. I'll see Los Angeles and San Fransisco, and I'll cheer for the Condors a night or two. I'm going to spend at least a week travelling the I-880 and find my own answer about the different NHL worlds experienced by the Seals and Sharks. Then I'm going to find Lodi and see if there's a bar band in that town who can play the entire CCR catalogue. Maybe I'll visit some Gram Parsons and Warren Zevon haunts, too. Make it six weeks. Yeah. Six weeks.
Leon Draisaitl: "It shows we do have character & don't give up… But this year it seems like we find ways to lose those (close) games. It's frustrating."
THE ATHLETIC!
Great offer! Includes a free 7-day trial so you can try The Athletic on for size free and see if they enjoy the in-depth, ad-free coverage on the site. If you don't feel it's worth the $4.49/month, cancel anytime during trial before getting charged. Offer is here.
UP AROUND THE BEND, YEAR OVER YEAR
February 2016: 2-3-0, goal differential -3 (4 points)
February 2017: 2-3-0, goal differential -4 (4 points)
February 2018: 1-3-1, goal differential -3 (3 points)
The Oilers showed a great deal of gumption last night, pushing back from a major deficit to tie the game. However, it all fell apart after that, this team is not good enough plus letting go the rope in real time. As we have discussed at length on this blog, a losing streak now likely means even more change across the organization. Dangerous times.
AFTER 54, YEAR OVER YEAR
Oilers 15-16: 21-28-5, goal differential -32 (47 points)
Oilers 16-17: 28-18-8, goal differential +15 (64 points)
Oilers 17-18: 23-27-4, goal differential -26 (50 points)
The season's record was impossible to predict, in my opinion. Even those who suggested the team would fall back didn't see this kind of cratering. You are your record and the Edmonton Oilers aren't a very good hockey team. Who is responsible for that? We all have our opinions.
WHAT TO EXPECT FROM FEBRUARY
At home to: Colorado, Tampa Bay (Expected 0-1-1) 

(Actual 1-0-1)

On the road to: Los Angeles, Anaheim, San Jose (Expected 1-1-1) 

(Actual 0-3-0)

At home to: Florida (Expected 1-0-0) (Actual 0-0-0)
On the road to: Vegas, Arizona, Colorado (Expected 2-1-0) (Actual 0-0-0)
At home to: Boston, Colorado (Expected 1-1-0) (Actual 0-0-0)
On the road to: Los Angeles, Anaheim, San Jose (Expected 0-2-1) (Actual 0-0-0)
Overall expected result: 5-6-3, 13 points in 14 games
Current results: 1-3-1, three points in five games
The Oilers are bleeding now, you can see a win against Florida and Arizona this week but any team that can pressure the defense is going to find success.
DEFENSE, LAST NIGHT

Auvitu-Benning

were 19-10, 5-8 shots and 1-1 GF. I enjoyed the pairing immensely despite the chaos. Auvitu will drive a coach to distraction but there's no denying his uniqueness. Please play him more, especially on the stale power play. Benning gets a lot of negative comments in the game day posts, but I like his game and his possession number for this season is 51.65. Auvitu? 54.80.

Nurse-Davidson

were 14-16, 0-2 in GF. Some bad luck on one of the goals and Davidson was caught a couple of times, but I generally liked both players last night. Edmonton was trying to catch up and there was some riverboat gambler in each man. No complaints from here.

Klefbom-Russell

had tough evenings, going 9-18 together, shots 3-8 and goals 1-2. The pairing had both disorganization and hesitation in their game in key moments and that's all bad. I see Klefbom far better with the puck now, he's coming around.
Al Montoya stopped 24 of 29, .828. I saw him bad.
NaturalStatTrick and NHL.com.
FORWARDS, LAST NIGHT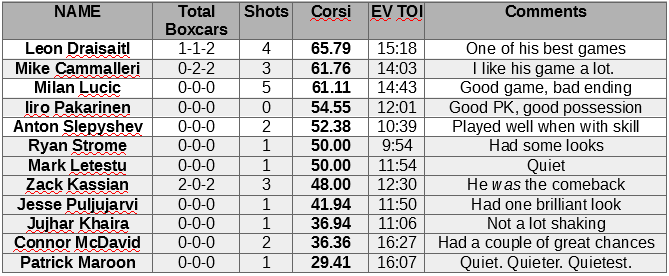 Lucic-Draisaitl-Cammalleri

were fire, although Leon was the catalyst. When the big man is playing this way, Edmonton is formidable. It's crazy he doesn't play center all the time. Lucic had some spaz moments, including the GWG, but also did some good things. I'm absolutely impressed with Cammalleri, if the Oilers can't get anything in trade for him, wonder if they'd bring him back on a one year deal? He is 1.94/60 scoring at 5×5.

Khaira-Strome-Slepyshev

were 6-8 (Khaira) and 3-1 (Slepyshev). Not enough happens when these gents are on the ice, meaning each of these forwards needs someone to push the river for their line. If a coach is running this group as a skill line, then he's probably also lighting candles.

Pakarinen-Letestu-Kassian

went 9-10, but the line shuffling impacted this line in a big way. Kassian was fire, scoring two outrageous goals and willing the Oilers back into the game.

Maroon-McDavid-Puljujarvi

were 9-17 on the night, McDavid was the only man in the group who had much going on (and he was not at his normal levels). There were a large number of fly-by's from this line in the last 48 hours, the clearest indication I have that we're all agreed about the season being lost.
LOWETIDE 2010 DRAFT LIST
In our continuing look at previous final draft rankings from this blog, we reach 2010. I'm still not punishing defensive defenders enough, but am giving pure skill (Tarasenko) more clean air. I'm enjoying this trek through the past, so much so I've kept the liner notes for you to read (all words below were published in my final draft 30 in 2010). There are incorrect notes here (Skinner is a fabulous skater!) but it's fun to look back. I did this post with Pink Floyd titles for some reason, kept them, too. One final item: I have my 2018 Top 62 list ready to go. Would you like to see it tomorrow morning as part of the GDT, or Wednesday, the next day in which there isn't a GDT or a post GDT? Let me know.
[1] LW-C Taylor Hall: 6.01, 180. Stunning offensive talent, exceptional skater. Blasts by defensemen ala Glenn Anderson and has a similar kamikaze approach. Lightning in a bottle, scored 123 OHL goals before his draft day. Risk is that he has a Pavel Bure career (shortened due to injury). Money.
[2] C Tyler Seguin: 6.01, 186. Slick, stylish centerman who reminds many of Steve Yzerman in style and substance. Lacks Hall's explosiveness but is a fine skater and an outstanding playmaker. Possesses a wider range of skills than Hall, could be a Joe Sakic family franchise C. Name is pronounced SAY-GANN. Risk is that he emerges as something less than an All-Star calibre #1 C. Wish You Were Here.
[13] D Brandon Gormley: 6.02, 187 A complete defenseman. Wonderful skater, he can close a gap in a heartbeat. Unlike many of this year's blue, he really is a 2-way defender with enough skill to project as a contributor on offense while having enough acumen without the puck to be considered best in class for 2010. Smart, consistent player even at this age. Welcome to the Machine.
[9] C Mikael Granlund: 5.10, 170. A smart center with terrific skills. "Hockey sense" is used in every scouting report as is "cerebral." Slick playmaker, slippery around the net. Very quick release, not afraid of high traffic areas. The downside includes size (5.10 might be a stretch) and just average footspeed. Having said that, you know his other skills have to be elite level for Granlund to be ranked so high. The Gnome.
[12] D Cam Fowler: 6.02, 190. Excellent puck mover. His scouting reports remind me of Paul Coffey every time I read them (sublime skater, effortless–as if he gets caught by a breeze; lacks physical element required to be an elite D) and I think he'll have those defensive question marks deep into his career (as did Coffey). Fowler will be an acquired taste–some coaches won't like him despite his skill set–so he'd be my bet as the first big name player from this draft to be traded by his team. Learning to Fly.
[4] C Ryan Johansen: 6.02, 190. C with size who spiked late. Outstanding passer, he's a big center who can make plays and as such has been compared to Joe Thornton. I don't think he'll be that good (Joe Thornton is a helluva hockey player) but he's that big skill center everyone is always looking for and that will punch his ticket early in the draft. Makes good decisions, has awkward skating style but he's not slow. A Saucerful of Secrets.
[16] R Vladimir Tarasenko: 5.11, 200. Terrific offensive talent, best Russian in the draft. Has that Soviet ability to handle the puck in tight quarters and emerge unscathed, but he can also score goals from outside the traditional areas (using an excellent snapshot) because he's so quick. He'd be higher if there was a transfer agreement and he still might get plucked in the top 5. Kirk Luedeke compares him to Marian Hossa. A Great Day for Freedom.
[3] D Erik Gudbranson: 6.03, 200. Big, tough D plays a smart game. A very smart defenseman with good wheels and a monster shot, he has been compared to Chris Pronger by several scouts. Desjardins NHLE suggests he isn't going to be the offensive player Pronger became, but there's a lot to like. Lots of wingspan, he's a good hitter, very physical player. Another Brick in The Wall.
[5] R Nino Niederreiter: 6.02, 207. Best PF in this year's draft, he's a big winger with soft hands. Scouts will worry some over his skating, but he's a physical player who will no doubt play in a team's top 6 and those player-types don't come along everyday. Desjardins suggests he may be a little shy offensively (meaning he's more of a complementary player) but he's going to be taken early. Pigs on the Wing (Part 1).
[7] C Jeff Skinner: 5.10, 197. 50 goals in 64 OHL games tells us Skinner is a pure scorer. His calling card is finding open areas and using a quick release. His footspeed is a real concern and he might go lower than this ranking, but goal-scoring is a very valuable asset and Skinner is one of this draft's best in that area. The first one-dimensional player on this list. The Gunner's Dream.
[6] R Brett Connolly: 6.02, 185. Tremendous across the board skills. He's an excellent skater with good hands, and also displays a willingness to play in the tough areas of the offensive zone. Smart, quick, good shot, intelligent. The negatives are famous (hip flexor, indifferent play at U-18's a couple of months ago) and despite reports that the hip problem won't be a long term problem my guess is NHL teams in the top 10 will pass over him. Is Anybody Out There?
[18] L Austin Watson: 6.03, 185. A wonderful prospect. Big man skates pretty well and has a powerforward's skill set, he has a great work ethic at both ends of the ice. Watson is the least creative forward at the top of the draft, but could flourish with a playmaking center. If the Oilers do trade into the middle of round 1, this is a player they might be looking at in that area. Pigs on the Wing (Part 2).
[25] C-L Quinton Howden: 6.02, 182. A quality 2-way player with enough offensive skill to be considered a top 6F option for an NHL team. He has a wide range of skills and although Howden doesn't possess one outstanding area of expertise his offense is strong enough for him to be a safe pick. Any Color You Like.
[29] C-L Emerson Etem: 6.00, 190. Speed burner with goal scoring skill. Strong skater who is tough to knock off the puck. Gets a lot of chances that come from turnovers caused by his footspeed and aggressiveness. He's a shooter, will test the goalie from anywhere. He is not a safe pick compared to the others around him on this list. Quicksilver.
[10] D Dylan McIlrath: 6.04, 212. Big, tough physical defender who can shut down the opposition. Oilers have drafted a big defensemen who can skate well (Matt Greene had this skill set) in the past and my guess is that they like this player a lot. I wouldn't be surprised if he goes higher than 15, all it takes is one Mike Remmerde at a draft table. Mother.
[15] D Derek Forbort: 6.05, 198. A complete skill set. The USA U-18 club is a blue factory, with Forbort the latest model off the assembly line. Size (tall!), skill and power, the kid has it all. Has a massive wingspan and offensive acumen. The downside (and the thing that will keep him out of the top 10) is that he's a raw player and will need time to develop. He'll be in college this fall and take his time before turning pro. Obscured by Clouds.
[19] C Nick Bjugstad: 6.04, 188. The third PF on this year's list, he's a huge kid with a "projectable" frame. Like Etem, this is a somewhat risky pick surrounded by safer selections so he could fall closer to the bottom of round one. Very good skater, has a very long reach and has been compared to Andrew Brunette. To give you an idea about what scouts are up against, Bjugstad was 5.10, 155 just 18 months ago. The Thin Ice.
[8] C Alexander Burmistrov: 5.11, 160. Skilled Russian, brilliant with the puck. Great puck handler, excellent vision and he has a motor that won't stop. Plays in the OHL (always an advantage for these Russian kids at the draft) and scored well in a tough league. His size is a major concern and there are whispers that his talent should garner better results (we heard that about Andrew Cogliano, as an example). UPDATE: A rumor out there has him possibly returning to his homeland this fall. Oy. Brain Damage.
[11] G Jack Campbell: 6.03, 185. Lanky goaltender is as famous in his country as Jordan Eberle is in this one–among hockey fans, anyway. Acrobatic goalie who plays angles well, has been compared to Ryan Miller. Handles the puck responsibly. Comfortably Numb.
[26] C Evgeny Kuznetsov: 6.00, 174. Another skilled Russian, and another Traktor boy. Redline has him coming to the OHL next season so that moves him up on my final list. A real talent with a real temper, he might take awhile to mature. Shine on you Crazy Diamond.
[31] C Tyler Pitlick: 6.02, 194. Already developing as a 2-way player and a safe pick at this point in the draft. He's an up and down grinding type with skill and scouts see him as a throwback winger when he reaches the show. Dogs.
[14] C Jaden Schwarz: 5.10, 193. Another USHL kid (that league is now the 4th major in terms of junior hockey) and another forward with a nice range of skills. A great motor, plus speed and according to a scout in the HN "there's nothing missing from his game other than height." High Hopes.
[47] R Tyler Toffoli: 6.00, 183. I really like this kid's resume and believe he could be a draft steal for a few reasons. He had a very poor start to his season so the boxcars (79 points in 65 OHL games) are very impressive. Also, he has a strange name (call it the Morris Titanic syndrome) and I've always felt that guys with names like Toffoli (and guys with pedestrian names like Mike Johnson) suffer in these popularity contests. Unreasonable? Hey, I know it seems weird but I've been following this stuff forever and the weird names have to be really good if they're going to be called in the first round. Hell, Christopher From Bjork didn't even get drafted! Grantchester Meadows.
[30] C Brock Nelson: 6.03, 205. This is already a big forward and he has skill to add to the resume. He's off to North Dakota (NCAA) which has become an Oiler favorite over the last few years (Vande Velde, Chorney). Eclipse.
[43] L Brad Ross: 5.11, 175. Good skater, a miserable cuss to the opposition and he has some skill. There's not a lot wrong with this player, although I have him much higher than most of these lists and he's a long shot for the first round. However, Oiler fans know from watching last season that a gritty winger with enough skill to play with the good players is an extremely valuable thing. Pigs on the Wing (Part 3….)
[49] G Calvin Pickard: 6.01, 195: Remmerde sums him up nicely as a prospect and this is a player Oiler fans should pay some attention to as the draft rolls along. Pickard is an outstanding prospect in an area of need for Edmonton. The Scarecrow.
[45] C Ryan Spooner: 5.10, 175. I should rank him lower because of the injury concerns, but it was a collarbone not a concussion and this kid has talent. Scored 30 goals in 08-09 in the OHL, and potted 54 points in 47 games this season. I think he might be a steal. Signs of Life.
[28] C Charlie Coyle: 6.02, 202. There's one thing I really like about him (skill set: size/speed/skill) and one thing I don't like (he dominated a poor junior league) and the latter is the reason he fell so far from my original list. He'll play for Boston University in the fall. Green is the Colour.
[33] L John McFarland: 6.00, 192. Skill winger with excellent speed and NHL shot (according to the scouts). He did not have a great season and he does have issues (the dreaded lack of hockey sense) but there's offensive talent here. Sheep.
[20] R Beau Bennett: 6.01, 183. Bennett scored 120 points in 56 BCJHL games and even though it's a tier 2 league that kind of offense is impressive in any division. Remmerde has his update on him here. Time.
KAILER YAMAMOTO
2016-17: 65GP, 42-57-99 (1.52 points-per-game)
2017-18: 25GP, 12-30-42 (1.68 points-per-game)
Massive recovery to his slow start and he is now tracking ahead of last season (which is important). Yamamoto is the least popular prospect among this blog's readers since Rob Schremp. As I understand it, the problem many have with this young player is performance during his nine-game audition early in the 2017-18 season. His underlying numbers had some very good arrows (covered here) and he is a quality NHL prospect. When I read the comments about Yamamoto in daily threads, I wonder why he has become a target and further wonder if anyone will stand up for him. I will. I believe in Kailer Yamamoto as an NHL prospect and further believe he has an excellent chance for an NHL career. He will be prone to injuries and physical punishment, just like all of the smaller players currently in the league. That point aside, he has real skill and I'm looking forward to seeing him again on NHL ice.