The Oilers are now at six losses in a row and things that should be happening—Jesse Puljujarvi 18 minutes a night—are not yet taking place. I'm not certain Peter Chiarelli will be here in the fall, nor Todd McLellan, but Jesse Puljujarvi is an important part of the future. Not playing him now makes no sense at all.
Even in a losing season there can be good things, and JP finding his way as an NHL player would be a huge development for this organization. Puljujarvi is averaging 14 minutes a night since the All-Star break (seven games), with zero points.
THE ATHLETIC!
Great offer! Includes a free 7-day trial so you can try The Athletic on for size free and see if they enjoy the in-depth, ad-free coverage on the site. If you don't feel it's worth the $4.49/month, cancel anytime during trial before getting charged. Offer is here.
 SOME DAYS ARE DIAMONDS, YEAR OVER YEAR
February 2016: 3-5-0, goal differential -3 (6 points)

February 2017: 4-4-0, goal differential -2 (8 points)

February 2018: 1-6-1, goal differential -9 (3 points)

February 18, 2016: Minnesota 5, Edmonton 2 (Source)
February 22, 2017: Edmonton 4, Florida 3 (Source)
Yesterday was one of this team's better efforts this month, Cam Talbot played well and then went off on the goal review process (welcome outburst, although I'd suggest the calls were correct). We're now at six games in a row lost, I think this team can hit 10 without a sweat.
 AFTER 57, YEAR OVER YEAR
Oilers 15-16: 22-29-6, goal differential -36 (50 points)

Oilers 16-17: 30-19-8, goal differential +15 (68 points)

Oilers 17-18: 23-30-4, goal differential -32 (50 points)

February 16, 2016: Anaheim 5, Edmonton 3 (Source)
February 16, 2017: Edmonton 6, Philadelphia 3 (Source)
 If I'm Daryl Katz, this is the point where all bets are off. How can you suggest to Oilers fans progress is being made if this group can't get past the 15-16 team? No sir. There are 25 games left, I think management and coaching staff are going to need 30 points from that schedule in order to have a chance to retain employment. This is serious damned stuff here, people are going to lose their jobs. Sobering moment for the franchise.
 WHAT TO EXPECT FROM FEBRUARY?
At home to: Colorado, Tampa Bay (Expected 0-1-1) 

(Actual 1-0-1)

On the road to: Los Angeles, Anaheim, San Jose (Expected 1-1-1) 

(Actual 0-3-0)

At home to: Florida (Expected 1-0-0) 

(Actual 0-1-0)

On the road to: Vegas, Arizona, Colorado (Expected 2-1-0) (Actual 0-2-0)
At home to: Boston, Colorado (Expected 1-1-0) (Actual 0-0-0)
On the road to: Los Angeles, Anaheim, San Jose (Expected 0-2-1) (Actual 0-0-0)
Overall expected result: 5-6-3, 13 points in 14 games
Current results: 1-5-1, three points in eight games 
Oilers were 17-17-2 on Boxing Day and are 6-13-2 since then. What happened? Injuries, communication and the Oilers long established tradition of addressing very little during the season. The Oilers have many millions in cap space, but no deadline urgency. All dressed up with no place to go. What a bitter pill for all. I don't think the players gave up but do wonder if there was ever a point where management felt some urge to add some help. Peter Chiarelli may never get a chance to add at a deadline for Edmonton. It's very difficult to suggest he had a handle on this team at any time during the season.
DEFENSE, LAST NIGHT
Nurse-Larsson

were 17-12 in 14:46 together, 5-2 HDSC's. Nurse transports the puck so well, seems to be the only blue who remembers to do it these days. Larsson's steady play was missed, this pairing was 10-4 in 4:40 with McDavid. Went 8-1 against Perlini-Stepan-Keller. Pairing had 11 DZ starts.

Klefbom-Russell

went 20-14 in 14:34 together, seven D-zone starts. Elliotte Friedman has mentioned shutting down Klefbom several times, but I think he's playing his best hockey of the season. Klefbom led the team with two rebounds created (all of this via NaturalStatTrick) 5×5. Went 8-9 against Martinook-Richardson-Cousins, 6-5 against the Stepan line.

Auvitu-Davidson

went 8-11, 0-1 GF in 11:28. Pairing even got an OZ push (5O, 3D) but it didn't work out. I am a fan of both defensemen, don't know if I like them together as they are kind of an odd couple. Went 5-3 against Domi-Panik-Rieder.

Cam Talbot

stopped 31 of 32, .969. Strong game by the goalie. That is a very good sign.
NaturalStatTrick and NHL.com.
FORWARDS, LAST NIGHT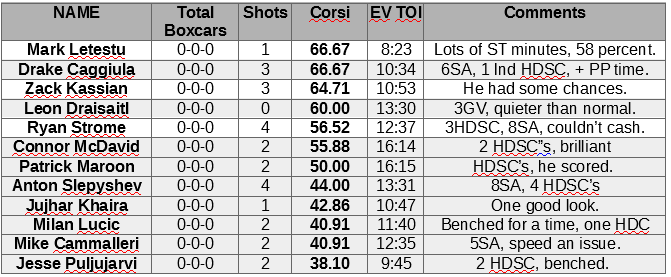 Caggiula-Letestu-Kassian

were 8-4 last night, the game was in good hands with this trio on the ice. All three fourth liners performed on special teams, that's important. Of course, you need to win games doing it but this line performed well enough to get another turn.

Maroon-McDavid-Draisaitl

went 9-8, 0-1 GF and 3-4 in high danger scoring chances. One of the stories we'll be talking about in the spring is deployment, a lot of that discussion surrounding Leon. I don't have an answer, he's a strong option at RW, where the team is weak, while also being a helluva center.

Cammalleri-Draisaitl-Strome

went 6-4 (Cammalleri) and 9-3 (Strome). I don't know how Strome didn't score he had some fabulous looks. I like a player who gets himself into that many scoring positions but he also needs to cash. Interesting 10 days in regard to this player.

Lucic-Khaira-Puljujarvi

went 8-10 and the wingers sat for a time. HDSC's were 2-1, I wonder if ML sits against his former team back here next week. It's a tough season for him but there are expectations of success he hasn't met. Jon's item at The Athletic is very informative about the why and how, highly recommend it. As for Puljujarvi, I have an opinion. More in a minute.

Anton Slepyshev

went 8-6 with McDavid, that combination looked good to me. Showcase? Islanders have been following Edmonton this week.
"There's no consistency and I'm f*****g sick of it. It's f*****g ridiculous. You can quote me, they can fine me, I don't give a f*** anymore." — Oilers goalie Cam Talbot on the mystery that is goaltender interference in the NHL

— Rob Tychkowski (@Rob_Tychkowski) February 18, 2018
I've no quarrel with the words of Mr. Talbot, it's a mess and seems completely arbitrary. However, the Oilers do have a tendency to drive opponents into their goaltender and that's one way to alter the call. Steve Lansky and Bruce McCurdy both mentioned this outburst should have come from the coach and I tend to agree with it, but don't really know the politics involved. Does this kind of public stance help? I'm not sure it does.
JESSE PULJUJARVI
Jesse Puljujarvu has scored 1.77 points-per-60 while playing with Connor McDavid this season, 12.11 shots-per-60 and this is all 5×5 via NaturalStatTrick. The season is lost, but the young phenom is not playing with a high-skill center. I don't understand. The reasons could include the coach not trusting player, or the players not developing chem on the ice. The numbers suggest that McDavid-Puljujarvi is a promising combination. Why aren't we seeing it?
It could be due to the trade deadline, Slepyshev is getting a push and Maroon's value might be increased if he goes off and scores three on a line with 97 and 29. That said, it's very important for the organization to put the young Finn in a position to succeed. If he's not solid enough without the puck for the McDavid line, then Leon Draisaitl should be the option.
The Oilers have been doing curious things with the roster all season long and it continues through these games leading up to the deadline.