Last night the Oilers received some fine performances from role players, including Mike Cammalleri (three assists), Ryan Strome (1-1-2), Jujhar Khaira and Anton Slepyshev (one goal apiece). Not all went well, a late collapse damn near killed "An evening with Dr. Feelgood" and Jesse Puljujarvi didn't play a bunch in the third period. Perhaps the biggest story came in net, where Cam Talbot posted yet another strong performance.
One tactical element. I think it's fairly obvious a team down one goal with very little time on the clock is going to send a big skill player to the net immediately upon gaining possession inside the offensive zone. Might want to have someone waiting.
THE ATHLETIC!
Great offer! Includes a free 7-day trial so you can try The Athletic on for size free and see if they enjoy the in-depth, ad-free coverage on the site. If you don't feel it's worth the $4.49/month, cancel anytime during trial before getting charged. Offer is here.
CALIFORNIA SUN, YEAR OVER YEAR
February 2016: 3-9-0, goal differential -11 (6 points)

February 2017: 6-6-0, goal differential -2 (12 points)

February 2018: 4-7-1, goal differential -6 (9 points)

February 26, 2016: Anaheim 2, Edmonton 1 (Source)

February 2017 schedule completed
The Oilers are slowly gathering some steam, long after their own season has been lost. The Los Angeles Kings were bitterly disappointed by the result, time to do it again this evening across town.
AFTER 61, YEAR OVER YEAR
Oilers 15-16: 22-33-6, goal differential -45 (50 points)

Oilers 16-17: 33-20-8, goal differential +18 (74 points)

Oilers 17-18: 26-31-4, goal differential -29 (56 points)

February 25, 2016: Los Angeles 2, Edmonton 1 (Source)
February 24, 2017: Washington 2, Edmonton 1 (Source)
Finally some clearance from the 2015-16 team and we'll see if this holds. Talbot isn't getting a lot of ink but this is a nice stretch for him and the save percentage is correcting like a bugger now.
WHAT TO EXPECT FROM FEBRUARY
At home to: Colorado, Tampa Bay (Expected 0-1-1) 

(Actual 1-0-1)

On the road to: Los Angeles, Anaheim, San Jose (Expected 1-1-1) 

(Actual 0-3-0)

At home to: Florida (Expected 1-0-0) 

(Actual 0-1-0)

On the road to: Vegas, Arizona, Colorado (Expected 2-1-0) (Actual 1-2-0)
At home to: Boston, Colorado (Expected 1-1-0) (Actual 1-1-0)
On the road to: Los Angeles, Anaheim, San Jose (Expected 0-2-1) 

(Actual 1-0-0)

Overall expected result: 5-6-3, 13 points in 14 games
Current results: 4-7-1, nine points in 12 games 
After a ghastly start to the month, Edmonton is 3-3-0 in the last six games and can salvage something from February. Two difficult opponents before the end of the month, one more before the deadline.
DEFENSE, LAST NIGHT
Nurse-Larsson

went 12-17 in 16:01, 1-1 GF, 3-3 HDSC. Larsson went 6-1, 1-0 GF in 2:24 with Oscar, more please! Nurse-Larsson spent 7:34 against Rieder-Kopitar-Brown, going 11-6, 2-0 GF. Well done! Larsson was punishing and a pure pain in the ass.

Sekera-Benning

went 7-11 in 10:55, 0-1 GF and 0-4 HDSC. Sekera had one brilliant chance that was the highlight for the pairing. Went 6-6 against Kempe-Carter-Iafollo, 0-0 GF. Duo played against Kopitar line just 2:13 but it was enough to go 0-1 GF. Once completely healthy, Sekera is capable of helping this duo and it's something to contemplate for next year.

Klefbom-Russell

were 7-18 in 14:07 together, 0-1 GF and 1-5 HDSC. Klefbom went 9-11 in 9:25 against the Kopitar line, 1-0 GF when the two Swedes were on the ice. Russell looked hurt (hand) late in the game, we'll see how things go today.

Cam Talbot

stopped 30 of 33, .909. He made an enormous save five minutes into the third period.
NaturalStatTrick and NHL.com.
FORWARDS, LAST NIGHT
Caggiula-Khaira-Pakarinen

went 7-3 in 4:55, 1-0 GF, 2-0 HDSC. Khaira, who is seeing less ice in recent days, scored what is becoming a familiar goal for him: Getting a clean look in the scoring zone, and then sending an underrated shot shelf. Caggiula didn't have his man on the Rieder goal. Went 4-1 against Rieder-Kopitar-Brown.

Lucic-McDavid-Draisaitl

were 14-19 in 16:25, 0-1 GF. Were 4-5 in HDSC's, McDavid having three of them. Cammalleri joined 97-29 for 51 seconds and there was a goal. Milan Lucic is going to need to reinvent himself over the summer of he's looking at five years of bottom 6F. McDavid was 10-16 against Doughty, that's going to be a tough match until Doughty signs with Toronto, and 9-11, 1-0 against the Kopitar trio.

Cammalleri-Strome-Slepyshev

went 8-12, 1-0, the line accounting for six points (!!!) while scoring early and late. Were 0-4 in HDSC, though. Went 5-9 against Kempe-Carter-Toffoli.

Puljujarvi-Letestu-Kassian

went 9-17, 0-1 GF in 12 minutes. Jesse Puljujarvi didn't play much in the third period (that I saw) and that's a concern. Went 3-8 against the Carter line.
🚨🚨🚨

The final goal of the 1st period was scored short-handed by @kailer_yamamoto. Showing why your coach always told you to follow your shot. #GoChiefsGo pic.twitter.com/OSTFVtFAa6

— Spokane Chiefs (@spokanechiefs) February 25, 2018
Yamamoto 2016-17: 65GP, 42-57-99 (1.52 points-per-game)
Yamamoto 2017-18: 32GP, 18-37-55 (1.72 points-per-game)
Yamamoto first 10 games: 1-8-9
Yamamoto second 10 games: 7-11-18
Yamamoto third 10 games: 8-14-22
Yamamoto last two games: 2-4-6
TY RATTIE
Oilers have recalled Rattie, we'll see how much work he gets now through the end of the season. There are slumping wingers (Puljujarvi is 10gp, 0-0-0, Lucic is 10gp, 0-0-0) so there should be opportunities.
50-MAN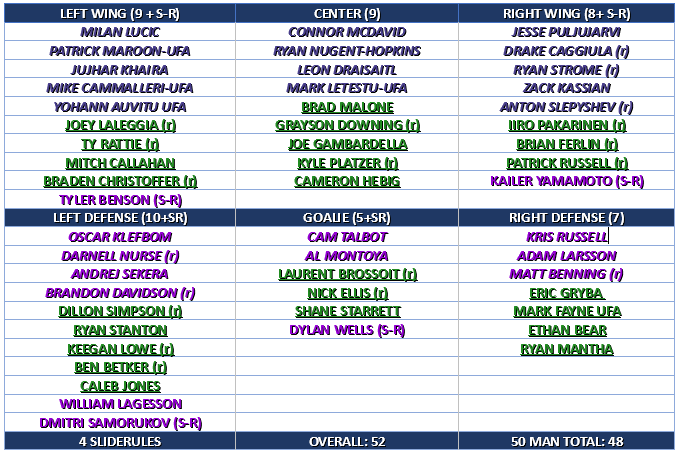 Delete Brandon Davidson from this list, we are now at 51, with four slide rules making it 47. Plenty of room for waiver pickups and trades.