In any given NHL game, there are 60 minutes given out by the coach for each position. There are five skaters on the ice, so the potential (no penalties) of 300 skating minutes in a regulation NHL game. Last night, the Oilers gave about 57 minutes to youngsters auditioning. Update: Anton Slepyshev is winning.
THE ATHLETIC!
Great offer! Includes a free 7-day trial so you can try The Athletic on for size free and see if they enjoy the in-depth, ad-free coverage on the site. If you don't feel it's worth the $4.49/month, cancel anytime during trial before getting charged. Offer is here.
LITTLE PEGGY MARCH, YEAR OVER YEAR
March 2016: 1-0-0, goal differential +1 (2 points)
March 2017: 1-0-0, goal differential +1 (2 points)
March 2018: 0-1-0, goal differential -2 (0 points)
Oilers had a lead and then were tied and then lost the game while auditioning youth. I am here to tell you it's the right thing to do. I may not agree with the deployment (Jesse Puljujarvi is the only one that matters) but cannot push back against the idea of giving these kids a chance to show what they can do at the NHL level.
AFTER 64, YEAR OVER YEAR
Oilers 15-16: 23-34-7, goal differential -45 (53 points)
Oilers 16-17: 34-22-8, goal differential +17 (76 points)
Oilers 17-18: 27-33-4, goal differential -34 (58 points)
One of the things I'm looking forward to is just how quickly the 16-17 team goes from 75 points to 100. Man, that was fun. This year's team needs to go on a run and the schedule maker has some possibilities ahead but the real fun was last year's hockey team. Need to get back to that.
WHAT TO EXPECT FROM MARCH
At home to: Nashville, NY Rangers, Arizona, NY Islanders, Minnesota (Expected 2-3-0)

 

(Actual 0-1-0)

On the road to: Calgary (Expected 0-1-0) (Actual 0-0-0)
At home to: San Jose (Expected 0-0-1) (Actual 0-0-0)
On the road to: Florida, Tampa Bay, Carolina, Ottawa (Expected 1-2-1) (Actual 0-0-0)
At home to: Los Angeles, Anaheim, Columbus (Expected 2-1-0) (Actual 0-0-0)
On the road to: Vancouver, Calgary (Expected 1-0-1) (Actual 0-0-0)
Overall expected result: 6-7-3, 15 points in 16 games
Current results: 0-1-0, 0 points in one game
DEFENSE, LAST NIGHT

Klefbom-Benning

went 11-13, 1-0 in 15:07 on the night. I like the pairing, mobile and good passers. Kind of a modern prototype. I still think Klefbom needs Larsson and vice versa. Went 13-6 against Forsberg-Johansen-Hartman which I count as the No. 1 line. A good night, save for the Watson goal (he got beat clean).

Sekera-Bear

went 11-13 in 10:27, 0-2 GF. Bear was -3 but the only goal that was really on him was the second one, just before the end of the period. Sekera sent a horrible pass in the range of Strome on the first goal, he had all kinds of better choices. The veteran isn't right. Still, Bear made numerous rookie mistakes and is clearly going to need more time, but it was nice to see him get an NHL look. Went 4-9 against Hartnell-Bonino-Jarnkrok.

Nurse-Russell

were 15-30, 0-2GF in 17:28. Lordy. Were 10-9 and 0-1 GF against the Johansen line, 4-11 against Arvidsson-Watson. Outlet passes were poor for both men to my eye, unusual for Nurse. Nurse had two HDSC, I believe both came on the same shift. Russell looked slower than usual, might have been an optical illusion.

Cam Talbot

stopped 37 of 41, .902. I thought he was once again solid.
NaturalStatTrick and NHL.com.
FORWARDS, LAST NIGHT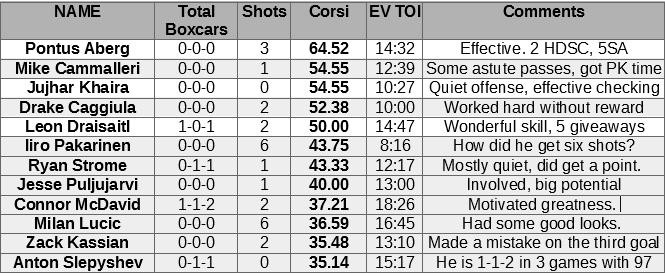 Caggiula-Khaira-Pakarinen

were an effective unit, going 11-10 in 9:30. Pontus Aberg-Khaira were 6-0 in 1:46 and that's a story to follow. Khaira was 10-3 in 2:55 against Johansen, which is incredible. Quiet offensively but the line had the puck going in a good direction. Pakarinen had the quietest six-shot game I have ever seen.

Cammalleri-Draisaitl-Aberg

went 12-10 in 12:12, good line with lots of positives despite not scoring. Line was 6-4 in scoring chances and of course Leon scoring a screamer of a goal. The man is impossible to overcome when he's on. He had trouble against Nashville but that defense are stern. Rangers won't be able to handle him Saturday.

Puljujarvi-Strome-Kassian

went 12-16 (JP) and 9-12 (Kassian) while posting 0-1 GF. I thought Puljujarvi had some moments last night, didn't cash but he was involved quite a bit. Strome had some promising moments as well but did not look good on the first Nashville goal.

Lucic-McDavid-Slepyshev

were 15-26 (Lucic) and 13-24 (Slepyshev). High event line was 1-2 on the evening at 5×5, McDavid's goal was crazy from start to finish. Slepyshev did some things, he can make a pass when he's of a mind to do so. Lucic kept getting set up and drilling it into the crest, he's in a deep slump for sure. This will be wildly unpopular but that was the best game by Lucic in a long time.
ETHAN BEAR
Lots to like by my eye, he passed well and didn't lose confidence despite some struggles. More capable skater than the scouting reports have suggested, hope we get to see him again soon. I don't think Andrej Sekera is right, so having him as Bear's partner was a mistake.
RE 17-18 PRIME CLUSTER

There are 99 goals projected over 82 games. How close is the prime cluster to reaching expectations?
RNH

is 46gp, 16-15-31 .674. He is three points ahead of my prediction and five goals ahead of my projections. Nuge was enjoying a quality season before his injury.

Oscar Klefbom

is 60gp, 3-14-17 .283. He is 17 points off my projection and that's a very large number. He has been hurt and when he isn't doing that he's playing hurt. Nine goals from par.

Ryan Strome

is 64gp, 12-18-30 .469. He is four points behind projection and minus four in goals. A reminder I had Strome spending 30 percent of his season with McDavid, so these numbers are solid.

Anton Slepyshev

is 34gp, 5-5-10 .294. He trails projection by two points and is on pace for goals this year.

Matt Benning

went 59gp, 4-11-15 .254. That's six points below par for this point in the season, one goal behind projection.

Zack Kassian

is 62gp, 7-9-16 .258. He trails the points race by five and goals by two.

Drake Caggiula

is 50gp, 8-6-14 .280. He trails points by two and goals by one.

Adam Larsson

is 47gp, 3-5-8 .170. He trails points by three, has one more goal than expected.

Jujhar Khaira

is 51gp, 10-8-18 .353. He is ahead on points by 12, goals by seven!

Laurent Brossoit

is 13gp, 3.22 .886. He is off his GA projections by seven goals.
Those 99 goals in 82 games projects to 77 goals in 64 games. This group has scored 68 goals, meaning they trail my projections by 16 goals (when including Brossoit's work). A reminder, the McDavid cluster (we covered it yesterday) trails their projections by just two goals. The prime cluster is having a tough time meeting expectations. Tomorrow: The veteran group. Stand back!
ANTON SLEPYSHEV
Is winning. It took forever for him to get healthy and by then he was shrapnel in a long and disappointing season. At some point, probably due to lack of alternatives, the decision was made to give him a push. Three games now with McDavid and the results are beginning to show. Here is God's flashlight this morning (5×5 points-per-60 by forwards):
Connor McDavid 3.00

Leon Draisaitl 2.57

Mike Cammalleri 2.12

Ryan Nugent-Hopkins 1.80

Jujhar Khaira 1.66

Ryan Strome 1.64

Anton Slepyshev 1.52

Milan Lucic 1.52

Anton Slepyshev 1.52
The 1.52 total represents a lot of recent success (he was trailing by a lot most of the season). If the Oilers get Slepyshev and Puljujarvi rolling now through season's end that would be a helluva useful final leg of 2017-18.
LOWDOWN WITH LOWETIDE
A great show on the way! Scheduled to appear, TSN1260, beginning at 10:
Olympic Gold Medalist Sebastien Toutant!

What an Olympics!

Steve Lansky, BigMouthSports

. Academy awards, who wins Stanley?

Matt Iwanyk, TSN1260

. What can the Oilers get from the final 18 games?

Kevin Radomski, Edmonton Oil Kings

. Suits up with Don Cherry!
10-1260 text, @Lowetide on twitter. See you on the radio!