The Edmonton Oilers used the Arizona Coyotes as slump busters last night, Milan Lucic and Oscar Klefbom ending long goal-scoring droughts. The club reached 60 points and Connor McDavid in 66gp, 30-50-80 and on pace 99. It was a nice rebound from Saturday's effort and (once again) the club looks to gain traction during a very difficult season.
THE ATHLETIC!
Great offer! Includes a free 7-day trial so you can try The Athletic on for size free and see if they enjoy the in-depth, ad-free coverage on the site. If you don't feel it's worth the $4.49/month, cancel anytime during trial before getting charged. Offer is here.
IN THE CITY, YEAR OVER YEAR
March 2016: 2-1-0, goal differential +2 (4 points)
March 2017: 2-0-1, goal differential +4 (4 points)
March 2018: 1-2-0, goal differential -2 (2 points)
A much needed victory last night and perhaps the team can cobble together a more complete game against their next opponent. I've always felt this Oilers team plays a little harder against Hall's Devils, that may just be my bias. I'm looking forward to seeing Jordan Eberle playing back in Edmonton, he gave this organization hope in the dark days of 2009-10 before we knew Taylor Hall was heading to the land of the ice and snow.
AFTER 66, YEAR OVER YEAR
Oilers 15-16: 25-34-7, goal differential -40 (57 points)
Oilers 16-17: 36-22-8, goal differential +21 (80 points)
Oilers 17-18: 28-34-4, goal differential -34 (60 points)
I don't think this team wins 10 of their final 16 games, so 80 points has slipped away. Can they make 75? I am interested in seeing how much Adam Larsson can bring on Thursday, this team missed his veteran play badly.
WHAT TO EXPECT FROM MARCH
At home to: Nashville, NY Rangers, Arizona, NY Islanders, Minnesota (Expected 2-3-0)

 (Actual 1-2-0)

On the road to: Calgary (Expected 0-1-0) (Actual 0-0-0)
At home to: San Jose (Expected 0-0-1) (Actual 0-0-0)
On the road to: Florida, Tampa Bay, Carolina, Ottawa (Expected 1-2-1) (Actual 0-0-0)
At home to: Los Angeles, Anaheim, Columbus (Expected 2-1-0) (Actual 0-0-0)
On the road to: Vancouver, Calgary (Expected 1-0-1) (Actual 0-0-0)
Overall expected result: 6-7-3, 15 points in 16 games
Current results: 1-2-0, 2 points in three games
DEFENSE, LAST NIGHT
Sekera-Benning

were 6-8 in 9:37 (1-0 GF), Benning had a 6-0 kicker with Nurse in 1:31. Sekera did some moonlighting of his own, going 2-0 in 1:13. Pairing went 7-6 in 6:58 against Domi-Dvorak-Fischer, and were 3-1 in 3:52 against the demon trio of Martinook-Richardson-Cousins. Oh my gentle lord those three men were pains in the collective ass for the Oilers.

Nurse-Russell

had a tough night, 11-25 in 15:37, 0-2 GF. The scoring chances were 2-10 and HDSC's 1-5. Kris Russell had a tough night, first GA went in off his foot in front of the net and the tying goal involved one of those shifts that will live on youtube for a long while. Went 9-8 against Perlini-Stepan-Keller but 4-8 in three minutes against the Richardson unit. Went 0-6 against Archibald-Panik-Freddie Hamilton, too.

Klefbom-Bear

were 4-22 in 12:09, that's hard to do. Seriously. If you assume a couple of shifts where the pairing just gets the puck out and then it charges back in, a bad half period might get you down 10 points Corsi. However, sooner or later the puck is going to spend 30 seconds in the other end. The amazing thing? Half of the time was with the McDavid line (6-11)!! Went 2-13 in 5:28 against the Richardson line, it was exhausting just watching them.

Cam Talbot

stopped 33 of 36, .917. He played well, first goal syndrome but zero blame to the goalie.
NaturalStatTrick and NHL.com.
FORWARDS, LAST NIGHT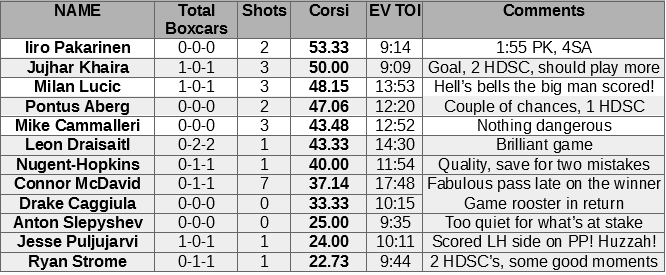 Natural Stat Trick won't load for me this morning, so I'm going to go all Bruce McCurdy with individual notes.

Iiro Pakarinen's

value is heavily weighted towards the PK, because he's good and the team is bad. At 5×5, he doesn't spend a lot of time with the puck but has a fine shot. He wasn't much of an offensive factor on the night.

Jujhar Khaira

scored shorthanded and played well 5×5, for me this is a guy who should be playing more 5×5 as well. Big, tough and skilled, he appears to be next year's 4C based on usage.

Milan Lucic

finally scored, it was a Frank Mahovlich goal to boot! A personal favorite of mine, glad to see him get it and hopefully the floodgates open. This will be just the second time in his career the big man will miss the playoffs.

Pontus Aberg

got some power-play time and had the puck on his stick in the offensive zone a few times. I think it will come down to training camp in the fall for him, suspect the Oilers run him on the third line this fall.

Mike Cammalleri

didn't get as many looks as usual but is one of the team's better players when he has the puck in the offensive zone. He can still play with skill, wouldn't be at all surprised to see him back.

Leon Draisaitl

had a fabulous game, you can usually judge his performance by giveaway-takeaway ratios (no giveaways, two takeaways on the night). Wonderful passer, he reminds me of the stories my Dad told me about Beliveau.

Ryan Nugent-Hopkins

had a few brilliant defensive moments, a couple of poor plays and a point on the night. Probably par for the course coming off injury, nice to see him in the lineup again.

Connor McDavid

is fun to watch when others are gathering points and he's still at zero. I imagine his competitive clock is on tilt all the time (this is a very good thing) and really he plays the entire game (no matter the situation) with a combination of blinding speed, insane skill and maximum urgency. I honestly have no idea why anyone would say a negative word to the guy, my goodness his parents did a masterful job raising a son.

Drake Caggiula

had some impact in the game, including an unusual push-pull with Max Domi. They reminded me of kids on the school ground where they were just mad enough to get everyone's attention. Caggiula has had a tough season, Bob Stauffer mentions the cage and range of vision quite often. He's in a tough spot for next year now, in my opinion.
If

Anton Slepyshev

is back in the KHL this fall, it's a game like this one that will contribute a lot. My Dad (don't know why I keep thinking of him this morning) used to say "he's neither fish nor fowl" which meant a person (or thing) had no real application. Slepyshev does, he is a shooter, but he's too quiet by too many.

Jesse Puljujarvi

is the one I worry about, all the time. I'm writing my umpteenth article on him at The Athletic today, it's my way of working through my worry. I think it comes down to do you trust Todd McLellan. I'm more a McLellan guy than most any of you but do know veteran coaches like players who are predictable and can repeat their role consistently. JP is from a different part of the brain and any coach is going to have to make allowances. He is 49gp, 11-7-18 now, I projected him 65gp, 14-14-28. He's not quite on par but in the range. I believe he is somewhat vulnerable as an Oiler, maybe it's the Dad in me.

Ryan Strome

had a good night, seems strange to say on an evening where his possession was 20 percent. He played the PK two-on-one very well, had some other looks and played in all three disciplines. He's not Todd Marchant, but if you look at his boxscore last night, that's a solid 3C (next year's C depth chart looks like McDavid-Draisaitl-Strome-Khaira).
#NHL officially announces Global Series games as reported in Jan. #Oilers vs #njdevils in Gothenburg, Swe. #FlaPanthers vs #nhljets (2x) in Helsinki, Fin. #njdevils exhibition vs SC Bern in Bern, Switz. and #Oilers vs Kolner Haie in Cologne, Ger. pic.twitter.com/HCkKWYzClR

— Frank Seravalli (@frank_seravalli) March 6, 2018
Oilers on the ultimate road trip, the nation travels like bandits so I imagine these sets will resemble a home game, especially in Cologne. I think this is pretty cool.
ETHAN BEAR
Many miles to go and he probably gets sent down in the next 24 hours, but this has been a pretty nice debut for the young man. Possession stats are poor and he's a mark five plus minus after three games, but you can see what he brings and it's a lot. Put him with a healthy Sekera in the fall and see how he shines.
LOWDOWN WITH LOWETIDE
A busy show, 10 this morning on TSN1260. We will have a lot of laughs! Scheduled to appear:
Jonathan Willis, The Athletic. What do the Oilers need before fall? How many solutions can come internally?

Andy McNamara, TSN.

NFL combine is over, we are straight ahead with draft and free agency.

Scott Cullen, TSN

. Hall for Hart? Barzal for Calder? Eberle for Byng?
10-1260 text, @Lowetide on twitter. See you on the radio!