Don't let the sun catch you crying. On November 1, 2008, I wrote a brief entry on this blog, pointing out a fabulous evening for Edmonton's latest first-round pick and trumpeting the team's scouting director: Jordan Eberle has a hat-trick tonight, and as of now his WHL stats read 17gp, 14-12-26, +4. That would put him in a first place tie in goals and tied for second in points. Stu MacGregor, you magnificent bastard. Almost 10 years later, it is still confounding things worked out as they did in those seasons. Opportunity missed doesn't begin to describe what happened to the Edmonton Oilers. The insistence on a 'five-year plan' and lack of balance and urgency have combined to sewer a generation of young talents. When will it end?
THE ATHLETIC!
Great offer! Includes a free 7-day trial so you can try The Athletic on for size free and see if they enjoy the in-depth, ad-free coverage on the site. If you don't feel it's worth the $4.49/month, cancel anytime during trial before getting charged. Offer is here.
CROSSING JORDAN, YEAR OVER YEAR
March 2016: 2-1-0, goal differential +2 (4 points)

March 2017: 2-0-1, goal differential +4 (4 points)

March 2018: 1-2-0, goal differential -2 (2 points)

March 6, 2016: Edmonton 2, Winnipeg 1 (Source)
March 12, 2017: Montreal 4, Edmonton 1 (Source)
Edmonton has a chance to get back to even in March tonight, the Islanders are beyond desperate at this point and it should be war. I watched Calgary flatten the Sabres last night, that should be the kind of effort we see from New York this evening. It could get ugly, mostly because both teams are flawed. Danger, 1980's straight ahead!
AFTER 66, YEAR OVER YEAR
Oilers 15-16: 25-34-7, goal differential -40 (57 points)
Oilers 16-17: 36-22-8, goal differential +21 (80 points)
Oilers 17-18: 28-34-4, goal differential -34 (60 points)

March 4, 2016: Columbus 6, Edmonton 3

(Source)

March 10, 2017: Pittsburgh 3, Edmonton 2 (SO)

(Source)
The 15-16 season is not much of a hurdle, but this year's Oilers have been unable to wrestle it to the ground. The schedule isn't easy, we'll see how long it takes the team to reach 70 points (the final total for that 2015-16 club). A long winning streak, still eluding the Oilers after 66 games, needs to arrive soon before the season runs out of track.
WHAT TO EXPECT FROM MARCH
At home to: Nashville, NY Rangers, Arizona, NY Islanders, Minnesota (Expected 2-3-0) 

(Actual 1-2-0)

On the road to: Calgary (Expected 0-1-0) (Actual 0-0-0)
At home to: San Jose (Expected 0-0-1) (Actual 0-0-0)
On the road to: Florida, Tampa Bay, Carolina, Ottawa (Expected 1-2-1) (Actual 0-0-0)
At home to: Los Angeles, Anaheim, Columbus (Expected 2-1-0) (Actual 0-0-0)
On the road to: Vancouver, Calgary (Expected 1-0-1) (Actual 0-0-0)
Overall expected result: 6-7-3, 15 points in 16 games
Current results: 1-2-0, 2 points in three games
How many wins do you see for the rest of March? I have Carolina, Los Angeles, Columbus and Vancouver. Can Edmonton get five more wins this month?
PROJECTED 18-19 50-MAN ROSTER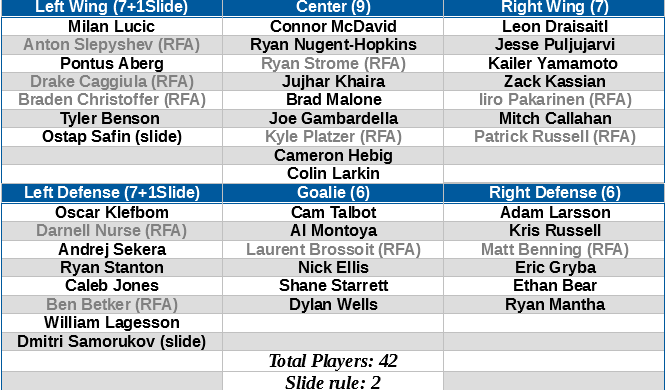 This is the projected 50-man before the RFA cull. I expect Darnell Nurse, Matt Benning, Ryan Strome, Iiro Pakarinen, Anton Slepyshev and Drake Caggiula to return.
I don't expect RFA's Ben Betker, Laurent Brossoit, Braden Christoffer, Kyle Platzer and Patrick Russell to return.
Among UFA's (not listed here), I expect Edmonton to sign Mike Cammalleri, Keegan Lowe and Dillon Simpson.
Among UFA's, I don't expect the following to return: Joey Laleggia, Grayson Downing, Ty Rattie, Brian Ferlin, Yohann Auvitu and Mark Fayne.
If all of this happens as predicted, Edmonton will be at 40-men on the 50-man. Plenty of room for summer.
PROJECTED PETER CHIARELLI ROSTER

If we assume Nuge and Klefbom are out (Peter Chiarelli's established "offload one young piece a summer" gets elevated) and Faulk+Paciretty return, we're looking at the lineup above. The cap room is actually $2.5M due to the Benoit Pouliot buyout and all numbers via CapFriendly.
I wouldn't make either trade but that's kind of what the combination of current management and assets available suggest we'll see this summer. We could see the first-round pick or Jesse Puljujarvi dealt but there are cap issues there, too. Trading Nuge allows Pacioretty, trading Klefbom allows Faulk/Nurse long-term extension.
The defense looks good, goaltending should recover (I've no issue betting on Talbot again but a more substantial backup is a good idea) and the wingers are better here.
Still, Edmonton will need Jesse Puljujarvi to emerge as a 20-goal man (that seems plausible), Kailer Yamamoto to play a complementary role (less plausible but possible) on a high-end skill line and for Milan Lucic to recover to his 20-goal level.
I remain convinced, and have suggested, a long, boring summer of smaller, meticulous procurement is the better way. I think the Oilers can afford to go out and grab one major piece (ideally a scoring winger) without breaking the bank and further impacting the team's overall balance and depth. It should be, needs to be, a measured summer.
GOD'S FLASHLIGHT (5X5/60 SCORING FORWARDS)
Connor McDavid 2.95

Leon Draisaitl 2.55

Mike Cammalleri 2.02

Ryan Nugent-Hopkins 1.74

Jujhar Khaira 1.60

Ryan Strome 1.59

Milan Lucic 1.53

Jesse Puljujarvi 1.46

Anton Slepyshev 1.44

Zack Kassian 1.27

Pontus Aberg 1.17

Drake Caggiula 1.14

Iiro Pakarinen .7
LOWDOWN WITH LOWETIDE
A busy Thursday, beginning at 10 this morning on TSN1260. Scheduled to appear:
Bruce McCurdy, Cult of Hockey

. Jordan Eberle memories, what can the Oilers gain from the final 15 games?

Rob Vollman, ESPN & NHL.com

. What is the trade value of Oscar Klefbom at this time?

Frank Seravalli, TSN

. Who among Oilers players is likely in play this summer?
10-1260 text, @Lowetide on twitter. Talk soon!