I used to go to Northlands to see the most ridiculous hockey. Glenn Anderson did the unlikely at breakneck speed while Wayne Gretzky did the impossible. Connor McDavid does both. We are not worthy. His goal involved catching a pass at a speed of over 100 mph, a change in gear that was incredible, his penalty shot was filthy and his shootout move stopped time itself. I have no words. Again.
THE ATHLETIC!
Great offer! Includes a free 7-day trial so you can try The Athletic on for size free and see if they enjoy the in-depth, ad-free coverage on the site. If you don't feel it's worth the $4.49/month, cancel anytime during trial before getting charged. Offer is here.
New Lowetide:

Hard Target Search for power-play quarterback (will link)

New Jonathan Willis:

Time for Peter Chiarelli to pay the price.

New James Mirtle:

10 GM's potentially on the hotseat (Chiarelli included).
Lowetide: Bob Nicholson speaks, Oilers' fans burn.
Lowetide: Draft 2018: The Oilers and Sweden.
Lowetide: Draft 2018: The Oilers and the QMJHL.
Lowetide: Draft 2018: Oilers and the WHL.
Lowetide: Oilers draft history and the OHL
Lowetide: Draft 2018: The Oilers and the NCAA
KASHMIR, YEAR OVER YEAR
March 2016: 3-1-0, goal differential +3 (6 points)
March 2017: 2-1-1, goal differential +1 (5 points)
March 2018: 2-2-0, goal differential -2 (4 points)
Last night's win was somewhat similar to last year in that the Oilers relied on Connor McDavid's offense and Cam Talbot's goaltending to get two points. It was a bullet to the heart of the Islanders, whose coach was barely audible post-game.
AFTER 67, YEAR OVER YEAR
Oilers 15-16: 25-35-7, goal differential -43 (57 points)
Oilers 16-17: 36-22-9, goal differential +21 (81 points)
Oilers 17-18: 29-34-4, goal differential -34 (62 points)
Edmonton has a five-point edge over the 2015-16 team, that's progress. It's been a weird year, we're still waiting for a winning streak and now it really doesn't matter but you'd like to see some sustain. Everyone is playing (if not completely healthy) so maybe we see it. From this point to the end of the season, the 15-16 team would add 13 points, the 16-17 team 22.
WHAT TO EXPECT FROM MARCH
At home to: Nashville, NY Rangers, Arizona, NY Islanders, Minnesota (Expected 2-3-0) 

(Actual 2-2-0)

On the road to: Calgary (Expected 0-1-0) (Actual 0-0-0)
At home to: San Jose (Expected 0-0-1) (Actual 0-0-0)
On the road to: Florida, Tampa Bay, Carolina, Ottawa (Expected 1-2-1) (Actual 0-0-0)
At home to: Los Angeles, Anaheim, Columbus (Expected 2-1-0) (Actual 0-0-0)
On the road to: Vancouver, Calgary (Expected 1-0-1) (Actual 0-0-0)
Overall expected result: 6-7-3, 15 points in 16 games
Current results: 2-2-0, 4 points in four games
The Oilers play Minnesota Saturday and then a big game on the road in Calgary (the Oilers may lose it but my guess is they play well against the Flames). There are 12 more games this month, could they win six more? I have them winning four more games.
DEFENSE, LAST NIGHT

Nurse-Larsson

were 30-21 in 19:58, 8-4 in HDSC. Spent 12:16 (15-15) against Bailey-Tavares-Lee, that's the tough nut and they fought the group to a standstill. That's a win.

Klefbom-Bear

went 18-15 in 16:22, shocking to me both men played in overtime. No shock to see Klefbom there, but Bear? Wow. The youngster did have his best game, collecting his first NHL point, but that's some big time trust. Went 4-10 against Beauvillier-Barzal-Eberle, who were buzzsaws on the highest, bent but did not break.

Sekera-Russell

were 13-11 in 14:31, the veterans getting third pairing minutes. Were 7-3 against Ladd-Nelson-Fritz but also 0-1, Sekera isn't close to being Sekera yet.
It's fascinating to see

Ethan Bear's

usage in the recent games. At some point he'll be heading to the farm, right? Yet, he was the de facto No. 4 defenseman in 5×5 usage and he played in overtime. I had him at No. 38 in 2015, making me the biggest Bear fan available. Even I'm surprised he's here and playing this well. Good sign. Oilers need to be patient.

Cam Talbot

stopped 30 of 31, .968. His save on Jordan Eberle in overtime was a fabulous moment for the Oilers.
NaturalStatTrick and NHL.com.
FORWARDS, LAST NIGHT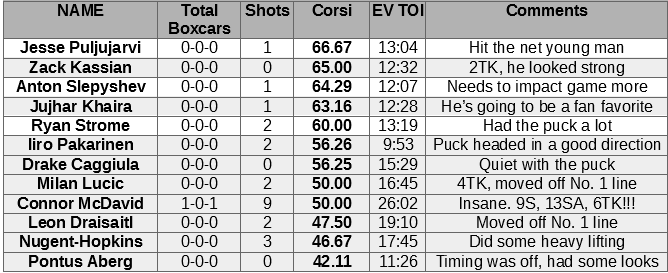 Pakarinen-Khaira-Kassian

went 9-4 in 10:07, 4-2 in HDSC. Khaira is increasingly becoming a story for this organization, transports the puck well, plays a rugged game and is scoring at a level that suggests he could be 3C at some point. The crowd's reaction to his dismantling of Cal Clutterbuck was impressive. Kassian didn't get credit but he was the man driving to the net on McDavid's regulation goal.

Slepyshev-Strome-Puljujarvi

were 15-10 in 10:39, impressive line that had some fine chances. Strome played very well against his old team, leading some rushes and delivering cherry passes to linemates. He is showing great patience and confidence with the puck. Puljujarvi ripped a shot in the second that hit Gibson's glove then mask and I swear it was a goal before it hit the mask. So close. The big man ripped a couple of shots in good spots that missed the range, needs to work on his accuracy. Slepyshev was noted for two HDSC by NHT but I didn't see him good, but rather, quiet.

Lucic-McDavid-Draisaitl

went 20-20, 0-1 GF and the line was eventually abandoned. I liked the fact the trio checked well (a bunch of turnovers, 5-4 HDSC) and if one of the monster chances had cashed maybe they would have been kept together. McDavid went 5-5 in 4:01 with Nuge, some of that including Caggiula (6-3 in 2:55) in what might be a preview of things to come. He actually scored his goal with Zack Kassian and Caggiula, but a glance at NTS proves McLellan basically ran 97 with everyone in the third period (he rarely left the ice after the 10-minute mark of the third period). I watched him closely during this period to see if McDavid was doing the Phil Esposito (lagging on back checks to conserve energy) but the opposite appeared true: He was grabbing the puck as soon as possible and pushing the pace at suicide speed. I honestly sat in awe of his performance in the third period, it is something I'll remember a long time. Perhaps not as long as Doug Weight, but a long time. On the GA, Lucic failed to make a simple play and that's all she wrote. Went 17-14 head-to-head against Tavares, neither line scored in that situation.

Lucic-Draisaitl-Caggiula

were on the ice for a brief time (2-2 in 1:06), banished from the McDavid Speedway for a brief period. I thought LD was a step slow earlier in the game, he has developed a bad habit of turning the puck over just inside his own zone. Still a great player but needs to bring it more consistently.

Caggiula-Nuge-Aberg

went 11-10 in 12:04 (Caggiula) and 5-10 in 9:10 (Aberg). The line was porridge frankly, and I found myself wishing RNH would be moved onto a line with more bite. He eventually found his way to 97's wing and, although not much happened, we may see it again. Nuge was assigned the 'demon seed' line of Beauvillier-Barzal-Eberle and went 8-12 in 10:28, 0-3 HDSC. I thought he did well, would have liked more substantial linemates in that situation.
KAILER YAMAMOTO
Yamamoto 2016-17: 65GP, 42-57-99 (1.52 points-per-game)
Yamamoto 2017-18: 37GP, 21-40-61 (1.65 points-per-game)
Yamamoto first 10 games: 1-8-9
Yamamoto second 10 games: 7-11-18
Yamamoto third 10 games: 8-14-22
Current seven games: 5-7-12
One thing I'd like to see is Yamamoto spend some time in Bakersfield after his WHL career ends this spring. Condors are not assured of the playoffs but it would give us more information about a player who is very likely to be in Edmonton this fall (at the start of the regular season).
LOWDOWN WITH LOWETIDE
It's a fun Friday with all of the usual suspects! At 10 this morning, TSN1260, scheduled to appear:
Paul Sir, The Basketball Show.

Raptors fire, March madness coming into view just ahead of Selection Sunday.

Steve Lansky, BigMouthSports

. Oscars, Oilers, ultimate Stanley Cup Final.

Matt Iwanyk, TSN1260

. I plan on discussing basketball's March Madness but knowing Iwanyk we'll end up yelling over daylight savings time.

Paul Almeida, SSE

. We will discuss the fact Connor McDavid is the best available entertainment in the wide wide world of sports.
10-1260 text, @Lowetide on twitter. See you on the radio!