The Edmonton Oilers lost the possession battle in a landslide, Cam Talbot performed many miracles and Connor McDavid called on the Gods of thunder and lightning for the Oilers 4-1 win last night. Special teams shined and the team outpaced the mistakes. In other words, it was throwback Saturday, an oldie but goodie from 2016-17.
THE ATHLETIC!
Great offer! Includes a free 7-day trial so you can try The Athletic on for size free and see if they enjoy the in-depth, ad-free coverage on the site. If you don't feel it's worth the $4.49/month, cancel anytime during trial before getting charged. Offer is here.
 MACHINE HEAD, YEAR OVER YEAR
March 2016: 3-2-0, goal differential 0 (6 points)

March 2017: 3-1-1, goal differential +7 (7 points)

March 2018: 3-2-0, goal differential +1 (6 points)
A nice run over the last few games is giving March a better feel, almost like one year ago. The club hasn't put together a real winning streak all year and in a way it would be maddening to see it happen now. Still, this was a fun week.
AFTER 68, YEAR OVER YEAR
Oilers 15-16: 26-35-7, goal differential -42 (59 points)
Oilers 16-17: 36-23-9, goal differential +18 (81 points)
Oilers 17-18: 30-34-4, goal differential -31 (64 points)
Some traction now and the ghastly goal differential is correcting slightly. That's an ugly number and this team, even with the extreme lack of depth, should be able to post a positive goal differential.
WHAT TO EXPECT FROM MARCH
At home to: Nashville, NY Rangers, Arizona, NY Islanders, Minnesota (Expected 2-3-0) 

(Actual 3-2-0)

On the road to: Calgary (Expected 0-1-0) (Actual 0-0-0)
At home to: San Jose (Expected 0-0-1) (Actual 0-0-0)
On the road to: Florida, Tampa Bay, Carolina, Ottawa (Expected 1-2-1) (Actual 0-0-0)
At home to: Los Angeles, Anaheim, Columbus (Expected 2-1-0) (Actual 0-0-0)
On the road to: Vancouver, Calgary (Expected 1-0-1) (Actual 0-0-0)
Overall expected result: 6-7-3, 15 points in 16 games
Current results: 3-2-0, 6 points in five games
 DEFENSE, LAST NIGHT

Sekera-Benning

were 13-11 in 11:40, 5-5 shots. Were 8-5 against Cullen-Coyle-Ennis. I'd bet on both men for next season.

Russell-Bear

went 15-17 in 13:34, 1-1 GF and 6-11 SF. The veteran made the biggest mistake for the pairing on the night, once again leaving his feet and becoming a stationary figure who could be avoided. Bear made some fine plays, including a nice breakup of a play that led directly to the Leon Draisaitl goal. Also drew a penalty. Needs work defensively and needs to get stronger, but he is an encouraging player for Oilers fans. Pairing went 4-10 against Zucker-Staal-Granlund, 7-5 (and 1-1 GF) against Cullen-Coyle-Ennis.

Nurse-Larsson

went 8-18 in 17:28, the pairing played monster minutes and got caved several times. Were 0-0 GF, 0-5 HDSC, and as is always the trend the time with and without McDavid is jarring. Pairing was 6-6 with 97, 2-12 without. Were 0-10 against Parise-Koivu-Niederreiter, who did not score but were dangerous. It was a bend not break evening from the pairing, would like to see sharper passing but Nurse once again showed his impressive transporting ability.

Cam Talbot

stopped 32 of 33, .970. The biggest difference between a win and a loss in the last two seasons is Talbot's brilliance. I'd bet on him again next year but would also give him a strong backup. Strong backup.
Set to turn 25 in mid-April, Ryna Nugent-Hopkins has provided consistent enough offence to now be tied for 7th on this list full of @EdmontonOilers greats pic.twitter.com/0FPovJvXBN

— StatsCentre (@StatsCentre) March 11, 2018
FORWARDS, LAST NIGHT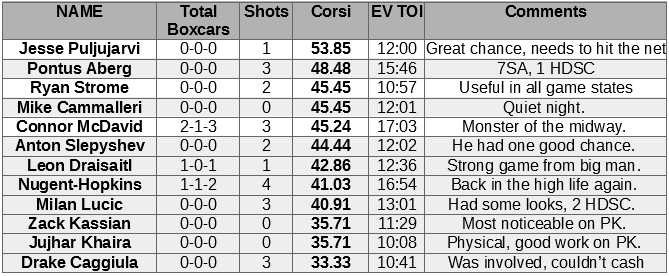 Puljujarvi-Strome-Slepyshev

were 10-12 in 10:30, 3-4 in HDSC. Each man had a strong chance and I like the JP-Strome combination quite a lot, to the point where it's an interesting idea for next season. Were 6-8 against the Coyle line (0-0) and had their share of good opportunities.

RNH-McDavid-Aberg

were 16-23 (Nuge) and 16-17 (Aberg). Nuge-McDavid were 1-11 in HDSC (!!!) which is basically impossible but that's what NST is telling me. Were 10-19 and 1-9 HDSC against the Staal line and we'll have to see this pairing again (Aberg had a couple of chances but there was no magic). On the other hand, Nuge scored and 97 chimed twice so yeah. I'd run them together again (97-93) and would run Jesse Puljujarvi as the other winger post haste.

Lucic-Draisaitl-Cammalleri

went 9-12 in 12:21, honestly the Draisaitl goal was a beauty and important. Edmonton badly needs its two best players to buy in to playing on separate lines, and the goal gave us a glimpse of what might be someday.

Caggiula-Khaira-Kassian

were 5-8, 0-1, the goal against coming on a quick turnover at the blue line. Bear rapped the puck but it didn't get out, there was some chaos and none of the forwards were able to impact the play. So much bad happens at the Edmonton blue line. I continue to see Khaira good.
I find it hilarious how some Oil fans dismiss my Oil opinion b/c "he's a Flames fan w/ a sad life" as if I never say positive shit about the Oil either.
•Ethan Bear would be the 4th or 5th best D prospect in CGY.
• Kailer Yamamoto would be the best F prospect in CGY.
Both true.

— SHoKTee (@akaRCN) March 11, 2018
If you're picking fights with RCN on twitter and an Oilers fan, I'm thinking you have some bias. It's good to follow and pay attention to intelligent people online who also offer credible opinions. He is correct on both points, although Andrew Mangiapane may end up being a terrific NHL player who rivals Yamamoto. A good line in the sand assessment of all involved.
"Here comes LaLeggia!" @Condors win it in overtime with a perfect finish from Joey LaLeggia! #SDvsBAK pic.twitter.com/meYXM4SPPy

— AHL (@TheAHL) March 11, 2018
Joey Laleggia will be unrestricted at the end of the season. It's possible he re-signs with Edmonton but the young winger may want to check out other opportunities. I wonder if the Oilers bring him up before the end of the season for a look. Maybe he could help the team offensively and offer them some recall depth for next season. Or maybe player and team have already made the call.