The Edmonton Oilers played some good hockey last night, while also showing fans and management just how far there is to go (again) before contention is the new normal. Oscar Klefbom hammered the puck like a young Dion Phaneuf (well, maybe not that much) and some of those complementary wingers found the scoresheet. On the downside, Leon had a poor night and I think the Oilers need a backup goalie.
THE ATHLETIC!
Great offer! Includes a free 7-day trial so you can try The Athletic on for size free and see if they enjoy the in-depth, ad-free coverage on the site. If you don't feel it's worth the $4.49/month, cancel anytime during trial before getting charged. Offer is here.
DANCE AWAY, YEAR OVER YEAR
March 2016: 4-3-0, goal differential -3 (8 points)
March 2017: 5-1-1, goal differential +12 (11 points)
March 2018: 3-3-1, goal differential -1 (7 points)
The Oilers have been mostly watchable this month, of course McDavid shifts belong in the HHOF upon completion. Two weekend games against the Florida clubs offers its own challenges.
AFTER 70, YEAR OVER YEAR
Oilers 15-16: 27-36-7, goal differential -44 (61 points)
Oilers 16-17: 37-24-9, goal differential +27 (83 points)
Oilers 17-18: 30-35-5, goal differential -33 (65 points)
The Oilers have 12 games left now, there's not much news left to tell but it'll be nice to see the full puzzle (this season's puzzle is from Clementoni and entitled "Poe's Murders in the Rue Morgue"). A more wretched season I cannot recall.
WHAT TO EXPECT FROM MARCH
At home to: Nashville, NY Rangers, Arizona, NY Islanders, Minnesota (Expected 2-3-0) 

(Actual 3-2-0)

On the road to: Calgary (Expected 0-1-0)

 

(Actual 0-1-0)
At home to: San Jose (Expected 0-0-1) 

(Actual 0-0-1)

On the road to: Florida, Tampa Bay, Carolina, Ottawa (Expected 1-2-1) (Actual 0-0-0)
At home to: Los Angeles, Anaheim, Columbus (Expected 2-1-0) (Actual 0-0-0)
On the road to: Vancouver, Calgary (Expected 1-0-1) (Actual 0-0-0)
Overall expected result: 6-7-3, 15 points in 16 games
Current results: 3-3-1, 7 points in seven games
Not to toot my own horn but the last few months have come in around my reasonable expectations. I think the club grabs three points from the four-game road trip out east, all three after the weekend in Florida.
DEFENSE, LAST NIGHT
Klefbom-Bear

were 16-11 in 12:18, 1-1 GF and 9-8 shots (4-4 HDSC). Both men showed well with the puck, Klefbom as the hammer and Bear with some striking outlet passes. Let's all calm our tits here, but Ethan Bear is looking good as a raw rookie. Went 10-6 against Meier-Tierney-Lebanc.

Nurse-Larsson

went 13-22 in 17:42, they were the top pairing by time and by opponent. Were 5-11 in shots and 2-6 in HDSC. Went 5-11 against Kane-Pavelski-Donskoi, the most dangerous of San Jose's lines.

Russell-Sekera

were 5-11 in 11:34, 3-7 in shots and 1-1 in HDSC. Were 2-7 against Hertl-Coutuer-Boedker line. Man Sekera isn't playing a bunch. Lordy. Russell blocked a shot with his hand, say NO if someone says 'do you want to see what Kris Russell's hand looks like?' at work today. It'll be awful, is my guess.

Al Montoya

stopped 36 of 40, .900.
FORWARDS, YEAR OVER YEAR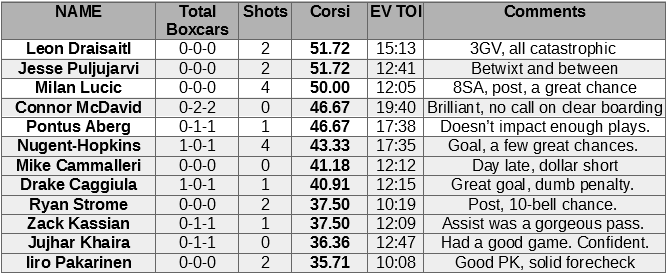 Lucic-Draisaitl-Puljujarvi

looked good in possession and had some looks. Lucic hit a post and had a hitch in his giddyup, Jesse Puljujarvi thinks the nets are 60 feet high and Leon turned over the puck three heartbreaking times. I like the line but that was a tough night. Were 6-7 and 0-2 against the Hertl-Coutuer-Boedker trio.

Nuge-McDavid-Aberg

were 14-16 in 16:55, 2-0 in GF. Just 4-3 in HDSC, mostly against Kane-Pavelski-Donskoi. I like Nuge and McDavid together, would love to see the giant Finn on the wing.

Cammalleri-Strome-Pakarinen

didn't get much done but the line itself is as mixed a bag as one could construct. The trio went 6-10 in 9:31, 1-6 in HDSC. Strome hit a post and was robbed in overtime after Nuge sent a brilliant pass to him in the slot. The wingers didn't get a lot done, although I do like Pakarinen on the penalty kill.

Caggiula-Khaira-Kassian

had an eventful evening, it began with a beautiful goal. Kassian's pass to Caggiula was the key, brilliant bit of business. Line went 8-14 in 11:25, 3-9 in shots and 1-3 in HDSC. The line had six defensive zone faceoffs, compared to just one for the Strome line. McLellan likes this trio, can't blame him.
NUGE FOR HOFFMAN
Mark Spector has a fine article up today about Pierre Dorion scouting the Oilers. Spec speaks of Nuge as being the target, Mike Hoffman the possible return. I wrote about scoring rates by wingers with McDavid back in December (here) and the truth is everyone performs at a pretty good level. I'm sure Nuge would also score in the range of the names I mention in the piece, and Hoffman might cash even more. I don't like the idea of giving up Nuge, would hope there's another deal to be made here. Spec's assessment does seem to make sense though. Nuge is signed for three more years, Hoffman for two. It's my belief the Oilers would be giving up too much in a one-for-one, which fits the Peter Chiarelli trade model. I'm a big fan of Hoffman on McDavid's wing as an idea, would prefer the payment come via the draft pick. I also wonder if the target might be Jesse Puljujarvi.
LOWDOWN WITH LOWETIDE
I'm down with the flu, ladies and men. You're going to have to endure an upgrade in the host position on the Lowdown this morning, 10-noon on TSN1260. Dave Jamieson's delivery and professionalism is exceeded only by his sense of humor and timing. I'd hate him if he wasn't such a nice guy. He'll be joined by all manner of guests, please tune in because (and this has always galled me) Jamieson gets all the breaking news and no doubt the sporting Gods will once again reward him. I will return tomorrow unless hit by a bus.