My Dad used to say there were two kinds of good music: Country, and Western. He'd chuckle after but, as with most things he said and did, he meant it. There is a pureness, a clarity, an innocence about great country songs, it can strip away every damn thing but the one thing that matters. My Dad's favorite country singer was Hank Williams, saw him in Vancouver a time or two. If Hank Williams' story and the endless youth movement of the Edmonton Oilers have anything in common, it's Leon Payne's Lost Highway. I was just a lad, nearly twenty two, neither good nor bad, just a kid like you.
THE ATHLETIC!
Great offer! Includes a free 7-day trial so you can try The Athletic on for size free and see if they enjoy the in-depth, ad-free coverage on the site. If you don't feel it's worth the $4.49/month, cancel anytime during trial before getting charged. Offer is here.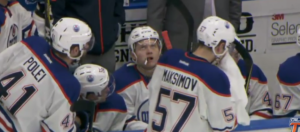 YOUNG TALENT
After a long and frustrating season like this one, it's easy to overlook the enormous gifts enjoyed by the Oilers organization. Allow me to refresh your memory about just how much talent will be available to Edmonton this coming season.
Bubbling Under:

Top-10 pick 2018; Kailer Yamamoto; Ethan Bear; Caleb Jones, Tyler Benson, Kirill Maksimov, Ostap Safin.

The McDavid cluster:

Connor McDavid, Leon Draisaitl, Darnell Nurse, Jesse Puljujarvi.

The prime cluster:

Ryan Nugent-Hopkins, Oscar Klefbom, Adam Larsson, Jujhar Khaira, Matt Benning, Ryan Strome, Anton Slepyshev.

The veteran cluster:

Cam Talbot, Milan Lucic, Andrej Sekera, Kris Russell.
It's important to stop the bleeding, by that I mean Nuge, Klefbom, JP and the first-round pick need to be parts of the machinery this fall (the pick might be in college or junior). There should be no whale hunts because there is no one magic formula to get out of this mess. Draft seven or eight kids every June, make smaller trades that improve quality and depth, and begin digging out of this mess by rolling up your sleeves. That's the ticket.
MORE THAN THIS, YEAR OVER YEAR
March 2016: 4-3-0, goal differential -3 (8 points)
March 2017: 5-1-1, goal differential +12 (11 points)
March 2018: 3-3-1, goal differential -1 (7 points)
March 14, 2016: Nashville 3, Edmonton 2 (Source)

March 20, 2017: Edmonton 2, Los Angeles 0

(Source)
Man that 2017 team was a rocking by this time, leveling some pretty good hockey clubs on the way to the 103-point season. McDavid is ripping it up again and Cam Talbot has finally come around as well. We're running out of daylight on the season, still some time to improve the final number.
AFTER 70, YEAR OVER YEAR
Oilers 15-16: 27-36-7, goal differential -44 (61 points)
Oilers 16-17: 37-24-9, goal differential +27 (83 points)
Oilers 17-18: 30-35-5, goal differential -33 (65 points)
March 12, 2016: Arizona 4, Edmonton 0 (Source)
March 18, 2017: Edmonton 2, Vancouver 0 (Source)
If you flipped the record (giving Edmonton 35-30-5 currently) it still wouldn't be enough. That's why adding a scoring winger and a power-play defenseman doesn't make sense. You are more than two players away.
WHAT TO EXPECT FROM MARCH
At home to: Nashville, NY Rangers, Arizona, NY Islanders, Minnesota (Expected 2-3-0) 

(Actual 3-2-0)

On the road to: Calgary (Expected 0-1-0) (Actual 0-1-0)
At home to: San Jose (Expected 0-0-1) 

(Actual 0-0-1)

On the road to: Florida, Tampa Bay, Carolina, Ottawa (Expected 1-2-1) (Actual 0-0-0)
At home to: Los Angeles, Anaheim, Columbus (Expected 2-1-0) (Actual 0-0-0)
On the road to: Vancouver, Calgary (Expected 1-0-1) (Actual 0-0-0)
Overall expected result: 6-7-3, 15 points in 16 games
Current results: 3-3-1, 7 points in seven games
WHAT SHOULD SUMMER LOOK LIKE?
I've been arguing for some time that the Oilers should not be bold this summer, but rather use the draft, free agency and trade route to add things that don't take away from the group above. Some examples:
Use the draft pick, keep the player

. After offloading the 2015 picks and Hall, the team could use one more impact prospect. Grab Svechnikov if you're lucky, but Wahlstrom or Hughes or Smith could also be available. There's still time to wait two years for a prospect, the Oilers window will still be open. Also, the Seattle expansion means this selection won't need to be protected, giving Edmonton a real advantage over most established teams.

Run with the current blue, use Ethan Bear as possible mid-season addition

. If the entire defense returns healthy, a top six D of Klefbom-Larsson, Nurse-Russell and Sekera-Benning should be able to hold its own. I think Ethan Bear needs a little more time, but is close enough that we shouldn't be hoping the Oilers deal for a big name. If it happens, and it is value, then fair enough. What would you give for Tyson Barrie? Justin Faulk? If it's Nuge, where are you acquiring a scoring winger? By dealing Klefbom? Are you buying more or less years? Is it really going to help?

See about Patrick Maroon, or Thomas Vanek

. A wise one-year deal with a veteran will offer cover to the young wingers and give the coach some options.

Find some penalty killers

. I actually like some of the current group (Nuge, Khaira, Pakarinen) but would like the third line to have more PK men.

Find Pitlick.

Edmonton got into some tough luck with Pitlick, a player who would have been under their control (RFA) before an injury allowed him full free agency. Edmonton needs another one like him. Ordinarily you develop your own, but the kids in the Oilers system who may turn into Pitlick (Tyler Benson is a strong candidate) will need some time.
There is no magic pill. There is no summer fix. Make smart decisions, not on Tyson Barrie, but on players who will eventually turn into Tyson Barrie. Draft. Procure. Rinse. Repeat. This is very basic stuff.