The road trip got off to a pleasant start in Sunrise but the Tampa Bay Lightning represent the state's hockey fist and the Oilers should expect a rough ride this evening. The home team played against Boston hours after Edmonton's game was complete, so fresh legs shouldn't be a problem for the visitors. Connor McDavid's Art Ross run is white hot, Ty Rattie's latest job application for NHL employment is moving up the pile and one of these days will be Oscar Klefbom's final game of the season. Plenty to discuss today.
THE ATHLETIC!
Great offer! Includes a free 7-day trial so you can try The Athletic on for size free and see if they enjoy the in-depth, ad-free coverage on the site. If you don't feel it's worth the $4.49/month, cancel anytime during trial before getting charged. Offer is here.
PYJAMARAMA, YEAR OVER YEAR
March 2016: 4-4-0, goal differential -4 (8 points)
March 2017: 6-1-1, goal differential +14 (13 points)
March 2018: 4-3-1, goal differential +1 (9 points)
March 16, 2016: Edmonton 6, St. Louis 4 (Source)
March 22, 2017: Anaheim 4, Edmonton 3 (Source)
Remarkable resemblance once again between this year's team and Todd McLellan's first group. Both teams with great gifts and flaws piled one upon the other. I don't recall great cries of anger over coaching deficiencies in 2015-16, but this year's staff has been hearing it since the first October sky.
AFTER 71, YEAR OVER YEAR
Oilers 15-16: 27-37-7, goal differential -48 (61 points)
Oilers 16-17: 38-24-9, goal differential +29 (85 points)
Oilers 17-18: 31-35-5, goal differential -31 (67 points)

March 14, 2016: Nashville 3, Edmonton 2

(Source)

March 20, 2017: Edmonton 2, Los Angeles 0

(Source)
The 15-16 team would manage just nine points in the final 11 games, last year's team squeeze 18 (!!) out of the same number of contests. There's a chance this year's model grabs 80 points, and as I've mentioned that's a better story for exit meeting day than something in the low 70's.
WHAT TO EXPECT FROM MARCH
At home to: Nashville, NY Rangers, Arizona, NY Islanders, Minnesota (Expected 2-3-0) 

(Actual 3-2-0)

On the road to: Calgary (Expected 0-1-0) (Actual 0-1-0)
At home to: San Jose (Expected 0-0-1)

 (Actual 0-0-1)

On the road to: Florida, Tampa Bay, Carolina, Ottawa (Expected 1-2-1) 

(Actual 1-0-0)

At home to: Los Angeles, Anaheim, Columbus (Expected 2-1-0) (Actual 0-0-0)
On the road to: Vancouver, Calgary (Expected 1-0-1) (Actual 0-0-0)
Overall expected result: 6-7-3, 15 points in 16 games
Current results: 4-3-1, 9 points in eight games
Slightly ahead of my monthly projection now, there's a couple of winnable games at the end of this road trip. That Calgary game on the road to end the month is suddenly wildly important.
DEFENSE, LAST NIGHT
Nurse-Larsson

went 23-17 in 16:27, 2-0 GF. It's a strong number for the top pair, but did the Panthers run their top line against them? Went 9-6 in 6:31 against the Bjugstad-Barkov-Dadanov line, 8-4 in 5:16 against the Huberdeau-Trochek-Vatrano trio. Duo was 12-10 in 6:43 with the 97 line. I was very impressed with Adam Larsson, the team has a lot more structure with him around (in my opinion). Nurse played well, his possession numbers have been looking since the turn of the year, this was a nice one-game recovery.

Klefbom-Bear

were 18-14 in 14 minutes, 0-2 GF. Went 11-7 in 5:51 against Bjugstad-Barkov-Dadanov line, 3-2 in 3:43 against Huberdeau-Trochek-Vatrano. Both men impressed with the puck, Bear made a grievous error on a pass but Talbot saved him. A wobble pass from Drake Caggiula to Oscar Klefbom resulted in an easy layup for Frank Vatrano on the game's first goal. You can blame the blue, I think it should be filed under 'shyte happens'.

Sekera-Benning

were 7-7 in 10:52, absolutely the third pair although Sekera was a PK staple on a successful afternoon. I thought Benning showed well, there were a couple of examples where a big Panthers winger had the edge on the outside and the youngster interfered (without taking a penalty) to get back into the play. I remain onside with Benning as part of the future.

Cam Talbot

stopped 40 of 42, .925.
NaturalStatTrick and NHL.com.
FORWARDS, LAST NIGHT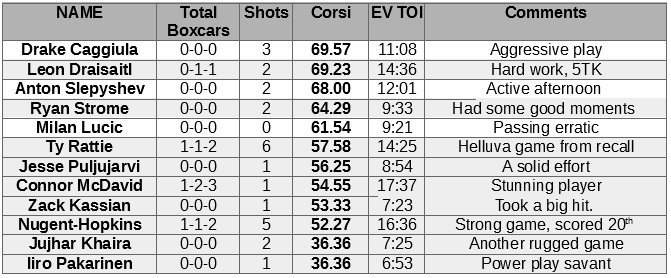 Caggiula-Draisaitl-Slepyshev

did well in possession, 15-7 in 10:31, including 10-5 in 8:28 against Huberdeau-Trochek-Vatrano. Lost the GF battle 0-1 but that's pretty good math for a road game. Slepyshev was flat out robbed by Luongo on a sure goal from the high slot, absolutely filthy play. Caggiula was aggressive and noticeable, one of his better recent games.

Lucic-Strome-Puljujarvi

didn't play a lot, going 8-4 in just eight minutes. Strome was the best of the three, making some fantastic moves on a solo effort in the final frame that gave Edmonton one of many third-period chances. Lucic missed a shift or two, not sure if it was injury or slow play. Puljujarvi had a quiet afternoon.

Nuge-McDavid-Rattie

were 23-20 in 15:01, the line was responsible for a lot of offense on the day. Went 15-11 in 10:49 against Bjugstad-Barkov-Dadanov. McDavid's early third-period goal signaled a change in the weather, with Edmonton breaking through in waves. Rattie earned another start, he looked exactly like a man grabbing a lifeline. Godspeed, Ty Rattie. Nuge is splendid, I hope they send him to a good home.

Pakarinen-Khaira-Kassian

went 3-6 in 5:30, all three men doing good work on the penalty kill. Kassian got drilled and Khaira came to his rescue, that's becoming a theme late in the season.
jujhar khaira is the first oilers bottom six guy i'm excited about in a long ass time. guy can do a little bit of everything.

— Jeff Chapman (@NewWaveOil) March 17, 2018
An organization can get something from a losing season. Jujhar Khaira is a real positive from this campaign, along with a nice step forward from Darnell Nurse and Jesse Puljujarvi's continuing development. Khaira's your good news centerpiece among the forward group and it's a helluva story.
TY RATTIE
You should not plan on Ty Rattie scoring five more goals before the end of the season, and even if he does it, remember the Don Ashby run (it does, on rare occasions, happen, but doesn't mean the magic returns in the fall). It's a nice story and I'll be cheering for him. For Rattie, six shots in one game is impressive. Now, he needs to do it again.
PONTUS ABERG