Ty Rattie scored the goal, but Jesse Puljujarvi found iron, and should be the actual future on right-wing for the Edmonton Oilers. Unless there's a real plot twist, and I'm talking flipping the script, the Finn will win the day and be a prominent player opening night in the fall. If we can agree on this, and land sakes it makes the most sense, then why I am still worrying over this? Alas, I have seen the Edmonton Oilers in their natural habitat and know the possibilities are as wide as the prairies on the first day of summer.
THE ATHLETIC!
Great offer! Includes a free 7-day trial so you can try The Athletic on for size free and see if they enjoy the in-depth, ad-free coverage on the site. If you don't feel it's worth the $4.49/month, cancel anytime during trial before getting charged. Offer is here.
TOM DOOLEY, YEAR OVER YEAR
March 2016: 5-4-0, goal differential -2 (10 points)
March 2017: 6-2-1, goal differential +13 (13 points)
March 2018: 4-4-1, goal differential -1 (9 points)
The early Rattie goal seemed to wake up the Lightning and they put the boots to Edmonton pretty much the rest of the way. I saw some angry comments on the blog yesterday, outraged tweets, too. Impressive that people still care so much during G72. I would, however, suggest to you that this edition of the Oilers are going to have a helluva time against any and all Stanley Cup contenders.
AFTER 72, YEAR OVER YEAR
Oilers 15-16: 27-38-7, goal differential -49 (61 points)
Oilers 16-17: 39-24-9, goal differential +31 (87 points)
Oilers 17-18: 31-36-5, goal differential -33 (67 points)
It's just so far. 20 points now, between last year and this one. You know, I've studied hundreds of seasons over seasons, mostly in baseball but also in hockey. And you just don't grab 30 points worth of improvement every second season. Even in an era of free agency, there are only so many impact players available and they get divided up, leaving teams with not much of a gap one to another. What's that line from Peter Chiarelli? Close around the margins? Yeah. You might find a kid on the farm with a nasty slider who can fool batters, but your veteran catcher can't run worth a crap and your Cy Young candidate has buggered himself up so badly there's three mile an hour between his fastball and change. It's always something. The Oilers are just on the blue side of lonesome, right next to the heartbreak hotel. It's a long way from the beach.
WHAT TO EXPECT FROM MARCH
At home to: Nashville, NY Rangers, Arizona, NY Islanders, Minnesota (Expected 2-3-0) 

(Actual 3-2-0)

On the road to: Calgary (Expected 0-1-0)

 

(Actual 0-1-0)
At home to: San Jose (Expected 0-0-1) 

(Actual 0-0-1)

On the road to: Florida, Tampa Bay, Carolina, Ottawa (Expected 1-2-1) (Actual 1-1-0)
At home to: Los Angeles, Anaheim, Columbus (Expected 2-1-0) (Actual 0-0-0)
On the road to: Vancouver, Calgary (Expected 1-0-1) (Actual 0-0-0)
Overall expected result: 6-7-3, 15 points in 16 games
Current results: 4-4-1, 9 points in nine games
There's a little room to wheel here, should the Oilers get solid goaltending from Cam Talbot and the penalty killing holds at recent levels. We know Connor McDavid is firing on all pistons, so this could be a fun week ahead.
DEFENSE, LAST NIGHT
Andrej Sekera

played less than 10 minutes due to injury. I thought he was just coming around on the penalty kill, hope he won't be out long.

Matt Benning

went 2-3 with Sekera and 1-5 with Darnell Nurse in a game that was a struggle. The Lightning are both fast and aggressive, meaning the defenders are going to be trying to catch up a lot.

Klefbom-Bear

went 8-18 in 9:58, although did manage 6-5 in 5:34 with Connor McDavid. That meant the duo was 2-13 in the 4+minutes without 97. Oscar played well to my eye, his rookie partner made a couple of good plays but had a helluva time with the Tampa Bay group. I'm not certain the wisdom of using Benning sparsely while Bear struggled, although it was an education I'm sure.

Nurse-Larsson

were 8-13 in 10:46, 1-1 GF. Nurse was 5-17 against Kucherov, who was flying while the Oilers had little answer.

Al Montoya

stopped 37 of 40, .925. It might have been his best outing as an Oilers goalie.
NaturalStatTrick and NHL.com.
FORWARDS, LAST NIGHT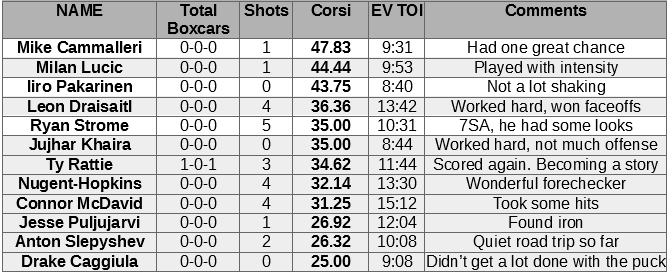 Caggiula-Draisaitl-Slepyshev

went 3-11 (Caggiula) and 4-7 on the evening, Jesse Puljujarvi joined in and went 3-3 with Leon during the game. Draisaitl was actually pretty effective against Kucherov-Miller-Stamkos (6-5 in 6:39) but the work cut into his offensive sorties.

Lucic-Strome-Puljujarvi

went 4-10, 0-3 in high danger chances. Lucic looked engaged and played a physical game, I think the third line is a good idea for the rest of this season. JP had a brilliant chance to tie it, goalie didn't move on a shot that hit the post. Strome played well, he was involved and made some positive plays with the puck. I'd like to see this line again.

Nuge-McDavid-Rattie

went 8-19, 1-1 in GF. Hedman-Stralman were very effective against 97, it was like Pronger was out there. If the Lightning can stay healthy, they have a chance to win it all. Nuge was very strong to my eye, I really am liking him on portside (and remember, I was agin it).

Cammalleri-Khaira-Pakarinen

went 6-6 in 6:28 pedestrian minutes. I find myself wishing Khaira was playing with more dynamic people.
JESSE PULJUJARVI
The young man is 740 minutes into his first full season and we're unlikely to get a bunch more information on him for next year. JP is performing pretty well on the Strome line, he has 11 goals on 119 shots. He has 49 individual high danger scoring chances in 55 games, all but one of his points are primary. I badly want to write a story on him over at The Athletic, but I've already written the story (worrying over impatient franchise being patient) and we're just going to have to watch how this plays out. I am encouraged by his season.
LOWDOWN WITH LOWETIDE
At 10 this morning, TSN1260, I'm also part of the round table this morning at 9. Scheduled to appear at 10:
Pierre Lebrun, TSN and The Athletic

. Expanding the playoffs.

Corey Graham, Oil Kings PBP

. The team ended on a strong note.

Jason Gregor, TSN1260

. Oilers running out the string.
10-1260 text, @Lowetide on twitter.