Last night the Oilers gave us (and themselves) a sense of what could be in the future. Connor McDavid had a 'hard nose the highway' evening against a tough matchup, but the Leon Draisaitl and Ryan Strome lines were highly successful against the soft parade. It was a rare 'laugher' for Edmonton, a nice reward late in a bitterly disappointing season. Fans can hope management and coaching staff learned the lessons of having plenty of firepower on as many lines as possible.
THE ATHLETIC!
Great offer! Includes a free 7-day trial so you can try The Athletic on for size free and see if they enjoy the in-depth, ad-free coverage on the site. Offer is here.
WRAP IT UP, YEAR OVER YEAR
March 2016: 6-4-0, goal differential 0 (12 points)
March 2017: 7-2-1, goal differential +16 (15 points)
March 2018: 5-4-1, goal differential +2 (11 points)
Oilers winning last night means they are in the range with two years ago. They won't catch last year's team, who put the boots to the NHL for the rest of the regular season. The club is winning some games (5-4-1 in the last 10) and seem to have repeatable good outings for maybe the first time all season.
AFTER 73, YEAR OVER YEAR
Oilers 15-16: 28-38-7, goal differential -47 (63 points)
Oilers 16-17: 39-25-9, goal differential +30 (87 points)
Oilers 17-18: 32-36-5, goal differential -30 (69 points)
Edmonton is now within one point of the 2015-16 team final number (70) and could move beyond on Thursday night. The schedule gets weird now, strong teams will be resting injured players and weak times will have addled games. Of course, the Oilers are in that spot as well.
WHAT TO EXPECT FROM MARCH
At home to: Nashville, NY Rangers, Arizona, NY Islanders, Minnesota (Expected 2-3-0) 

(Actual 3-2-0)

On the road to: Calgary (Expected 0-1-0) (Actual 0-1-0)
At home to: San Jose (Expected 0-0-1) 

(Actual 0-0-1)

On the road to: Florida, Tampa Bay, Carolina, Ottawa (Expected 1-2-1) (Actual 2-1-0)
At home to: Los Angeles, Anaheim, Columbus (Expected 2-1-0) (Actual 0-0-0)
On the road to: Vancouver, Calgary (Expected 1-0-1) (Actual 0-0-0)
Overall expected result: 6-7-3, 15 points in 16 games
Current results: 5-4-1, 11 points in 10 games
Edmonton moved ahead of Chicago in the overall standings last night, now rank No. 24 and would draft No. 8 overall before the lottery. One final game on the road (just a devastating story on the Karlssons) and then back home for a tough trio. The final two road games of the month should be winnable. So, three more wins this month?
DEFENSE, LAST NIGHT

Auvitu-Benning

were golden, 17-9 in 12:22, 2-1 GF. The goal against was a fluke, tipped in by Auvitu despite major efforts to blame Benning on the broadcast. Both defenders scored goals and both goals were very skilled. I'm a fan of both players. Pair went 11-3 against McGinn-Lindholm-Williams, just a rocking chair duo on the evening.

Nurse-Larsson

went 9-10 in 19:49, 1-0 GF. Although neither man is a dynamic offensive player, their quick picks and good positioning held them in good stead on the night. Went 2-9 in seven minutes against Aho-Staal-Teravainen, that line was a fierce opponent and kept everyone on their collective toes.

Russell-Bear

went 8-9 in 11:04, 2-0 GF. Were 4-5 against Skinner-Ryan-Stempniak, who seemed to be under Russell's skin for much of the night. Bear got hurt for a time, not certain if he'll be out for any length of time. I'm writing an item on his first 10 games for The Athletic, should be up later today. Russell had a good game.

Cam Talbot

stopped 29 of 32, .906. He made some great stops early.
NaturalStatTrick and NHL.com.
FORWARDS, LAST NIGHT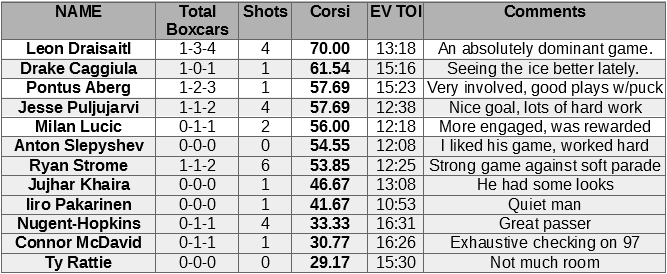 Caggiula-Draisaitl-Aberg

went 14-6 (Caggiula) and 13-6 (Aberg) with Jesse Puljujarvi along for the ride on one goal (line was 4-0 GF). Line was 5-0 in HDSC, absolutely tearing the cover off the ball. Were 5-2 against the Derek Ryan line, and 9-5 against the Dahlbeck-Faulk pairing.

Lucic-Strome-Puljujarvi

were 14-11, 2-0 in GF and 6-2 HDSC. One of the keys to this line was just one giveaway, and they had tons of chances (Strome had 5 HDC's alone). Puljujarvi was impressive on the night, great big 18-wheeler rocking through the night. He's a convoy all by his lonesome.

Slepyshev-Khaira-Pakarinen

were 6-4 in the low event trio on the evening. The line was quiet offensively but Khaira had a great chance and I thought Slepyshev was skating very well in a checking role. That's going to keep him here should he choose to pursue the role.

Nuge-McDavid-Rattie

got the heat treatment and there wasn't much clean air for the trio. Went 7-16, 1-1 GF. Were 1-11 against Aho-Staal-Teravainen, 97 was 4-14 against Brett Pesce. That's an insane line against Connor McDavid.
From worst to first, @James_J_Gordon ranks how each NHL team performs at the draft: https://t.co/GrAmZau4DM

— The Athletic NHL (@TheAthleticNHL) March 20, 2018
This is a fascinating look at an issue we've discussed many times over the years. James Gordon takes a rational look at teams and their drafting success, the results are very interesting. I won't ruin it for you but the Oilers perform well (mostly because of first-round performance that includes Oscar Klefbom and Darnell Nurse).
GOD'S FLASHLIGHT (FORWARDS 5X5/60 SCORING)
Connor McDavid 3.00

Leon Draisaitl 2.55

Pontus Aberg 2.44

Ty Rattie 1.88

Mike Cammalleri 1.88

Ryan Nugent-Hopkins 1.81

Patrick Maroon 1.80 (traded)

Ryan Strome 1.60

Jujhar Khaira 1.52

Jesse Puljujarvi 1.47

Milan Lucic 1.46

Zack Kassian 1.26

Anton Slepyshev 1.25

Drake Caggiula 1.18

Mark Letestu 1.17

Iiro Pakarinen 0.59
My line in the sand is 2.00/60 for No. 1 line, 1.80+/60 for No. 2 line and then anything above 1.50/60 is good if you are getting bottom six minutes. So, Strome's number can be defended because he hasn't been playing a ton with the top group. Lucic? That's different, he has been spending much of his time with the best players on the team. Jesse Puljujarvi is the one player you want to push toward 2.00/60. Perhaps he'll get there next season.
JESSE
I write about Jesse Puljujarvi more than anyone associated with the team currently. Why? His success is so damned important to the organization. When Peter Chiarelli traded Taylor Hall, he did so secure in the knowledge that the club had acquired another (potential) difference maker. We're about two full seasons past that draft and JP isn't pushing the river and doesn't have gaudy boxcars.
What we needed to see, and saw, was real progress year over year. Puljujarvi has the raw skills to be a prototype power forward and can already crash through the gates doing 98. He is a rare player and in the Oilers roster he is a unique one.
I think the Oilers would be wise to marry the big Finn to Leon Draisaitl next season. Both of them have mad skills while also being able to win battles. Add in a nifty marksman with agitating skills and you're talking a real load for any opponent. If Jesse Puljujarvi scores 20 goals next season, I think the Oilers will have themselves a big piece of the puzzle for the next decade.
LOWDOWN WITH LOWETIDE
At 10 this morning, it's going to be a fun show because my friend Bruce McCurdy gets to talk about a victory! TSN1260, scheduled to appear:
Bruce McCurdy, Cult of Hockey

. Leon goes wild in Raleigh, offside rule, the summer to come.

Keegan Matheson, Baseball Toronto

. The Jays lineup is coming into view.

Simon Boisvert, Prospect Insider

. We'll chat Ethan Bear, Oilers graduating prospects and the 2018 draft.
10-1260 text, @Lowetide on twitter. See you on the radio!