The Edmonton Oilers rolled through the Capital last night, with the Nuge-McDavid-Rattie line posting nine points and Pontus Aberg finding his way on a new roster. Ethan Bear played a lot, Drake Caggiula cashed and the team ended a successful road trip on a strong note. Back at home, Pacific Heights awaits.
THE ATHLETIC!
Great offer! Includes a free 7-day trial so you can try The Athletic on for size free and see if they enjoy the in-depth, ad-free coverage on the site. Offer is here.
SURF'S UP, YEAR OVER YEAR
March 2016: 6-5-0, goal differential -1 (12 points)
March 2017: 8-2-1, goal differential +19 (17 points)
March 2018: 6-4-1, goal differential +6 (13 points)
The Oilers were quality on this road trip and have a good record in March, plus the goal differential is heading in a good direction. Important not to get fooled by any of the positive, Ottawa and Edmonton are running out the string now. Still, better to win these games and it's certain the coach remains hungry for victories. Why? My guess is the organization (as Bob Nicholson stated) is wary of change, believing continuity is a key element for long-term success. A strong run to the end of the season (say 4-2-2) would make the final record 37-38-7, 81 points. It's easier to defend an 81-point season, that's about 14 points shy of the playoffs, than it is a 70-point season. These games matter to someone, just look at the lines and pairings.
AFTER 74, YEAR OVER YEAR
Oilers 15-16: 29-38-7, goal differential -45 (65 points)
Oilers 16-17: 40-25-9, goal differential +34 (89 points)
Oilers 17-18: 33-36-5, goal differential -25 (71 points)
Unforgivable to miss the playoffs with so damn much talent, but you can't change the results they are in the history books. You can change the approach and we're two precious weeks from finding out the plan. There's a difference between what they should do and will do, suspect we'll be talking about pawns as opposed to Kings.
WHAT TO EXPECT FROM MARCH
At home to: Nashville, NY Rangers, Arizona, NY Islanders, Minnesota (Expected 2-3-0) 

(Actual 3-2-0)

On the road to: Calgary (Expected 0-1-0)

 

(Actual 0-1-0)
At home to: San Jose (Expected 0-0-1)

 (Actual 0-0-1)

On the road to: Florida, Tampa Bay, Carolina, Ottawa (Expected 1-2-1) (Actual 3-1-0)
At home to: Los Angeles, Anaheim, Columbus (Expected 2-1-0) (Actual 0-0-0)
On the road to: Vancouver, Calgary (Expected 1-0-1) (Actual 0-0-0)
Overall expected result: 6-7-3, 15 points in 16 games
Current results: 6-4-1, 13 points in 10 games
March is tracking far better than my projection, with two winnable games at the end of the month. This homestand will be interesting, three teams playing and points matter for them. Will the Oilers get swept?
DEFENSE, LAST NIGHT

Nurse-Larsson

were 24-17 in 18:16, 4-1 in goals. Just three offensive zone starts, nine neutral and seven defensive zone draws. Pairing was 14-8 (4-0) with McDavid line, 13-6 in seven minutes against Hoffman-Duchene-Dzingel. A strong night.

Russell-Bear

went 11-13 in 14:04, 5-6 in scoring chances and 2-1 in high danger scoring chances. Ottawa has some injuries and took a period to get going but even with that this pairing held its own. Were 4-5 in five minutes against Hoffman-Duchene-Dzingel. Ethan Bear is smart. Full stop.

Auvitu-Benning

were 9-15 in 12:01, they were dominant in the first period. I keep wondering why the gap between Bear and Benning exists but it's real. Bear played almost seven more minutes last night than Benning. Were 1-9 against Burrows-Smith-McCormick.

Cam Talbot

stopped 33 of 35, .943. He's a big part of this late-season surge.
NHL.com and NaturalStatTrick.
FORWARDS, LAST NIGHT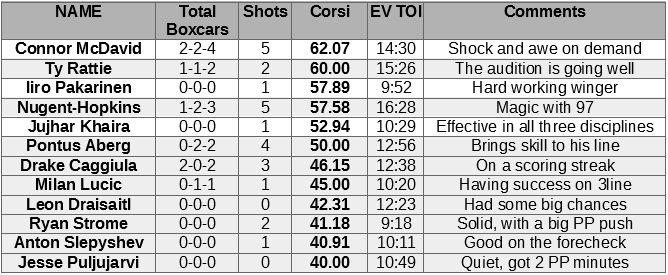 Nuge-McDavid-Rattie

are tearing up the blacktop, this might be something. The key is Leon being able to score on a separate line, and we should still discuss 93-29 as an option for next season. 93-97-8 went 17-11, 4-0 goals. The line was up against the pairing of Chabot-Ceci and the trio of Pyatt-Smith-Paajarvi and went 16-10 and 12-6, respectively. Rattie has now scored three goals in 16 shots over six games. Hot. Is he earning a job for next season? History suggests no, but this team needs value contracts so you never know.

Slepyshev-Khaira-Pakarinen

were 7-8 in nine minutes, 0-2 in HDSC. They didn't score but the job is making sure the other guy doesn't either.

Caggiula-Draisaitl-Aberg

were 11-12 overall, went 7-5 against Hoffman-Duchene-Dzingel. Leon had a bunch of chances but his timing was off a little. Line could have had at least one more goal by my estimate.

Lucic-Strome-Puljujarvi

were 7-10 in 9:13, 0-1 GF. Lucic got the only point for the line, a power-play assist on Caggiula's second goal. Strome had a couple of brilliant chances, JP was a little out of the mix on the second Ottawa goal. Otherwise I thought he played well and was heavily involved in the play. I like this line.
JESSE PULJUJARVI
Beyond a wholesome discipline, be gentle with yourself. You are a child of the universe no less than the trees and the stars; you have a right to be here. And whether or not it is clear to you, no doubt the universe is unfolding as it should. Therefore be at peace with God, whatever you conceive Him to be. -Max Ehrmann
I'm not going to quote the rigmarole out there, you've no doubt seen and heard much of it. Bottom line: Sometimes a situation is perceived as being a test for one (Jesse Puljujarvi) when in reality it is a test for another (Edmonton Oilers).
I've mentioned this many times, but the Oilers view young talent as an endlessly renewable resource. It's the thing that allows the organization to preach patience even during Connor McDavid's entry level deal. If you view Jesse Puljujarvi as vital to the future, you are moving heaven and earth to find a productive path for this young man. If you view Puljujarvi as the latest flame, easily replaced after another season of failure, then none of this really matters.
Jesse Puljujarvi is a child of the universe, and this is unfolding as it should. If you are pointing at Jesse Puljujarvi, perhaps a quick browse through Oilers history will benefit you. Blaming teenagers is an ugly look.
Report: Flames looking to add a first round pick https://t.co/ha7FspUvZv

— FlamesNation (@FlamesNation) March 23, 2018
I'd move the first-round pick in a deal for Dougie Hamilton, if the selection landed between No. 6 and No. 10 overall. Not a chance in hell Calgary does it, but it is a lovely dream. I wanted to touch base on a theory of mine and it goes like this: Both Alberta teams are in a very dangerous spot. It's possible we see Hamilton or Johnny Gaudreau or Ryan Nugent-Hopkins or Oscar Klefbom sent away this summer, with management in both cities experiencing panic at the disco. I think the team that focuses on what they have, and builds on that, will come out of this as the winner. If either team enters summer with the idea that the "mix" or the "leadership" or the "chemistry" needs a fix, then they're bloody doomed. The California teams and Vegas merely have to keep on keeping on, while the Alberta teams chase the intangible. It's pretty incredible.
POSTMORTEM: I picked the #Oilers to win the Stanley Cup. What happened? It's like a plane crash – too layered and too complex to blame on any one person or one symptom. A lot went wrong: https://t.co/zz8Aoc1e07 #TSN pic.twitter.com/4r9vH9EGH4

— Frank Seravalli (@frank_seravalli) March 22, 2018
I had Frank on the Lowdown yesterday, we covered his story as it hit the web. It's a very good summary of the season, and in my opinion the "layered" nature of the problem and the fact so much went wrong will offer cover to Peter Chiarelli in his role as general manager. I'm less certain about Todd McLellan, the possibility exists that he will have at least one new assistant coach and perhaps he balks at that idea and announces he has been too long at the fair. My guess is an assistant coach from the NHL team and a shuffle in Bakersfield is what we'll see first week of April. That's not the same as saying I believe it to be the right move, but it's the one we're most likely to see based on evidence (Nicholson interview on HNIC, brazen trade this week with risk involved the absolute personification of a Chiarelli trade).
LOWDOWN WITH LOWETIDE
A fun, busy show this morning on TSN1260 beginning at 10. Scheduled to appear:
Steve Lansky, BigMouthSports.

The Flames are out, meaning Winnipeg or Toronto. Which team goes deeper into the postseason? Also, can McDavid win the Hart on a team that misses the playoffs?

Warren Currie, The Easy Rider

. Warren has been snowboarding for decades and running Easy Rider for 20+ years, and plans to celebrate over the long weekend. We'll chat about the industry's growth and what's to come.
Matt Iwanyk, TSN1260. Point counter Point will discuss Jesse Puljujarvi and his handling, March Madness and why Canada can't support Toronto.

Paul Almeida, SSE

. Do the auditions of Ty Rattie and Pontus Aberg have any long-term meaning?
10-1260 text, @Lowetide on twitter. See you on the radio!