You never want to push a young player beyond his limits, but the Edmonton Oilers may be sorely tested in the fall by Ethan Bear. A team badly in need of a right-handed defenseman who can quarterback a power play sees in Bear a possible internal solution. If he can do it, music! Manna from heaven. Important not to lose the player by pushing him, Bear's first 13 games surely give the organization something to think about over the summer. Perhaps some cover on a one-year deal with Cody Franson? I kid. Kind of.
THE ATHLETIC!
Great offer! Includes a free 7-day trial so you can try The Athletic on for size free and see if they enjoy the in-depth, ad-free coverage on the site. Offer is here.
UP AROUND THE BEND, YEAR OVER YEAR
March 2016: 7-6-0, goal differential 0 (14 points)
March 2017: 10-2-1, goal differential +21 (21 points)
March 2018: 7-4-2, goal differential +6 (16 points)
March 2018 is one of the stronger months this season for the Oilers, with the goal differential finally improving (albeit in a small way). I know there's disappointment this morning because of the third period collapse and overtime loss, but we know this is a flawed team and we further know there will be improvements in the summer.
AFTER 76, YEAR OVER YEAR
Oilers 15-16: 29-40-7, goal differential -48 (65 points)
Oilers 16-17: 42-25-9, goal differential +38 (93 points)
Oilers 17-18: 34-36-6, goal differential -25 (74 points)
This was a tough week for the team in terms of quality of competition, and the Oilers went 3-0-1. We're six games from the end of the regular season, Edmonton could hit 80 points before the curtain closes. After that, we'll see what may come, but I've been observing this organization for a long time and would be willing to bet at least one job has been saved during March. That may or may not appeal to you.
WHAT TO EXPECT FROM MARCH
At home to: Nashville, NY Rangers, Arizona, NY Islanders, Minnesota (Expected 2-3-0)

 (Actual 3-2-0)

On the road to: Calgary (Expected 0-1-0) (Actual 0-1-0)
At home to: San Jose (Expected 0-0-1) 

(Actual 0-0-1)

On the road to: Florida, Tampa Bay, Carolina, Ottawa (Expected 1-2-1) (Actual 3-1-0)
At home to: Los Angeles, Anaheim, Columbus (Expected 2-1-0) (Actual 1-0-1)
On the road to: Vancouver, Calgary (Expected 1-0-1) (Actual 0-0-0)
Overall expected result: 6-7-3, 15 points in 16 games
Current results: 7-4-2, 16 points in 13 games
The team has posted a strong month and there are three more games to come. I think we'll see a very difficult opponent in the Blue Jackets, followed by two winnable games on the road. Edmonton this season has played down to its competition often, so those road games shouldn't be counted on. Canada's western teams usually play each other tough no matter the sitatuation.
DEFENSE, LAST NIGHT
Russell-Bear

were 15-15 in 14:07 together, 0-2 GF. I believe the team should play the third pairing more, and run this duo a little less. Great goal by Ethan Bear, who is doing enough to be in the conversation for next season. I'm not sure that's a good idea, his shots-against rates are poor. I'm a fan, but this is a stretch from here. Went 8-10 against Cogliano-Kesler-Silfverberg in seven minutes, got drilled by Rakell-Getzlaf-Perry (0-2 GF) in just five minutes. Russell won't like the photo on the Perry goal. Nice pass by Bear on the Leon goal.

Sekera-Benning

went 13-19 in 10:58, 1-1 GF. Both men did good things with the puck and defended well, but the Ducks are a tough team against a pairing that can't find the passing off ramp. Went 7-13 against Ritchie-Henrique-Kase. I think these two men should play more.

Nurse-Larsson

were 11-19 in 15:57 on the evening. Spent 10:33 against Rakell-Getzlaf-Perry and were 10-15, but 1-0 GF. The pairing need help, but there's none coming of course. Nurse's Corsi for 5×5 is still over 51, but he's been flagging for the last 25 games (or so) in possession. Larsson is also in that range, he's had a difficult season for all kinds of reasons. Not sure we can drill down much on any wobble there, he's been a rock all year.

Cam Talbot

stopped 33 of 38, .868. I thought the Manson goal was either a perfect shot or Talbot wasn't out far enough but that's a guess.
NaturalStatTrick and NHL.com.
FORWARDS, LAST NIGHT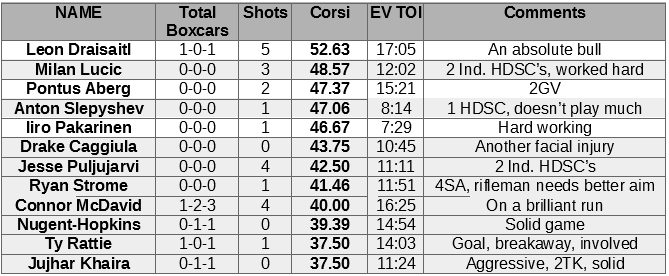 Caggiula-Draisaitl-Aberg

were 9-9 in 14:21, 0-1 in GF. Caggiula was hurt and Khaira stepped in for a time, that's when the goal was scored. Something to ponder. Went 9-5 against Rakell-Getzlaf-Perry, 1-1 GF. I think you'd take that deal 10 times out of 10, counting on the McDavid trio to outscore their assignment. I like Aberg, don't know where he lands but suspect he is here in the fall.

Lucic-Strome-Puljujarvi

went 16-18 in 10:49, 0-0 GF but all three men had some good looks. Were 11-17 against Ritchie-Henrique-Kase, 4-10 in HDSC. That's a crazy scoring chance ratio, and to come out of it with zero goals is amazing. Strome needs to find the range with these great chances.

Nuge-McDavid-Rattie

were 13-20 in 14:24, 2-1 GF. Scored 2-3-5 on the evening, going 13-14 against Cogliano-Kesler-Silfverberg (2-1 GF). Rattie is in a similar situation to Bear, in that he is exactly what the team is looking for, and having success while carrying an ideal contract. Mirage? I'd sign him and also bring in an established player on right-wing. If Rattie, Puljujarvi and Yamamoto all flourish next season, the team will have someone to offload for value at the deadline.

Slepyshev-Khaira-Pakarinen

were 8-8 in 7:27, 1-1 GF. I like the group not only as a No. 4 line but as a parts department for the top three lines. Slepyshev has been passed by newcomers Rattie and Aberg, I still think he has enough skill to play in this league. Khaira may push beyond 4C, he has delivered pretty solid offense from outside the skill lines this year.
Ethan Bear | 1st NHL Goal | Mar. 25th, 2018 https://t.co/wNJwkOkJ17 via @YouTube

— Matt Mosewich (@EDMFutureWatch) March 26, 2018
A great night for the young man, who is certainly forcing the issue when it comes to where he lands on the depth chart in the fall. His offensive instincts are quality, I love his ability to headman pass, you can see the elements he brings to a team—many of them unique to the rest of the group. That said, the NHL game is about outscoring opponents, and Bear (at this stage) gives a lot back. His Corsi for 5×5 (44.14) ranks No. 10 among Oilers defensemen, and his Shots-against 60 5×5 (39.66) is also last, by some margin. I think you know, if you've been reading this blog, that Ethan Bear is a personal favorite. Math screamed his name early, and Bear has made excellent progress. I think he might need 40 more games in Bakersfield. I don't think the Oilers will agree.
https://twitter.com/FriedgeHNIC/status/978269924870144000
I don't know much about Robertson, beyond the fact his NHLE (16) is shy of Joe Gambardella's a year ago (39) and he has size (6.02, 201). He has never, at any time, been an outstanding scorer. Is he a checker? Robertson is 23 in June, making him one year younger than Drake Caggiula.
TY RATTIE
I'd sign him. He's brilliant insurance for next season, and maybe more than that in actual fact. Rattie's working his ass off, a one-year deal and a possible opportunity to establish himself as an NHL player is a no-brainer from the player side. Edmonton has Jesse Puljujarvi, Kailer Yamamoto and Pontus Aberg (plus the ghost of Anton Slepyshev) as possible options, and can sign/trade for more cover. Makes sense.
LOWDOWN WITH LOWETIDE
A busy Monday morning with plenty to discuss and excellent guests. 10 this morning, TSN1260, scheduled to appear:
Pierre Lebrun, The Athletic and TSN

. McDavid for Hart? Winnipeg makes the playoffs! What does Calgary do?

Eric Fawcett, Press Basketball.

Final Four is set, what a weekend! Plus, Raptors hit wall.

Jason Gregor, TSN1260.

What about Bear? Rattie?
10-1260 text, @Lowetide on twitter.