The Edmonton Oilers finished their season schedule against the Calgary Flames with a loss on Saturday night. The final tally (3-2-0) was decidedly unsatisfactory, especially since both March games featured one-goal losses. We can say nothing matters (and what if it did?) but the bottom line is that losing to Calgary on Saturday night is a bitter pill. It's another 'wait until next year' Sunday morning in Edmonton.
THE ATHLETIC!
Great offer! Includes a free 7-day trial so you can try The Athletic on for size free and see if they enjoy the in-depth, ad-free coverage on the site. Offer is here.
New Lowetide:

Is Milan Lucic tradeable? (will post link)

New Black Dog Pat:

What's the use of continuity when the results don't inspire confidence?
Jonathan Willis: Aberg and Rattie audition for jobs as value contracts in major roles.
Lowetide: Condors Curios: Interesting things bubbling under in Bakersfield.
Jonathan Willis: Does Anton Slepyshev have a future with the Edmonton Oilers?
Lowetide: Jujhar Khaira's spot in the order.
Lowetide: The college way doesn't necessarily represent the best way.
Lowetide: A superb summer in three movements.
Jonathan Willis: McDavid's season shows how much the NHL has changed.
Lowetide: What are the Oilers getting in Cooper Marody?
Lowetide: Draft 2018: The Oilers and the Republic of Finland
Lowetide: Draft 2018: The Oilers and Sweden.
Lowetide: Draft 2018: The Oilers and the QMJHL.
Lowetide: Draft 2018: Oilers and the WHL.
Lowetide: Draft 2018: Oilers draft history and the OHL
Lowetide: Draft 2018: The Oilers and the NCAA.
CAPE FEAR, YEAR OVER YEAR
March 2016: 7-8-0, goal differential -3 (14 points)
March 2017: 10-2-1, goal differential +21 (21 points)
March 2018: 7-7-2, goal differential +1 (16 points)
The bottom line is that the team got the record deserved and that's a bad way. If you have peak Connor McDavid and can't win more than seven of 16 games, what are you?
AFTER 79, YEAR OVER YEAR
Oilers 15-16: 30-42-7, goal differential -48 (67 points)
Oilers 16-17: 44-26-9, goal differential +38 (97 points)
Oilers 17-18: 34-39-6, goal differential -31 (74 points)
This Oilers team has earned four extra points compared to the first Todd McLellan team. The roster erosion isn't on Todd McLellan, but the deployment is going to get he or members of his stuff into a long and deep conversation in the coming days. We'll see how this plays out, but at this point my suspicion is that those who are most responsible will not pay the ultimate (hockey) price. We wait.
WHAT TO EXPECT FROM MARCH
At home to: Nashville, NY Rangers, Arizona, NY Islanders, Minnesota (Expected 2-3-0)

 (Actual 3-2-0)

On the road to: Calgary (Expected 0-1-0)

 

(Actual 0-1-0)
At home to: San Jose (Expected 0-0-1)

 (Actual 0-0-1)

On the road to: Florida, Tampa Bay, Carolina, Ottawa (Expected 1-2-1)

 

(Actual 3-1-0)
At home to: Los Angeles, Anaheim, Columbus (Expected 2-1-0)

 (Actual 1-1-1)

On the road to: Vancouver, Calgary (Expected 1-0-1) (Actual 0-2-0)
Overall expected result: 6-7-3, 15 points in 16 games
Current results: 7-7-2, 16 points in 16 games
Turns out I did have this team surrounded (very close prediction) but not in the right order. The goal differential is the distressing part, perhaps if Oscar Klefbom had been able to hang around.
DEFENSE, LAST NIGHT

Sekera-Russell

were 9-3 in 12:37, 2-1 GF and it's an encouraging pair. Sekera appears to be returning to form, and Russell seems more settled. If they could clean up the outlet passing and take a little more care with the turnovers, I'd be prepared to recommend bringing both back in the fall. Spent half of their 5×5 minutes with McDavid's line, who were just 2-3 in Corsi and 0-1 in GF. Were 4-3 (1-1 GF) against Frolik-Backlund-Brouwer, that's not bad for six minutes.

Auvitu-Bear

went 14-11 in 9:46, 0-1 GF. The pairing were 0-4 in HDSC's and it felt as much. Were 7-3 in 4:04 against Gaudreau-Shore-Foo line, that was an unusual trio (they kept coming in on the left side and trying to perfect driving to the net. It was measure twice cut once all night and they got nothing done). This pairing is less than ideal.

Nurse-Larsson

were 13-9 in 13:55, 0-0 GF. Despite the loss, I'm pleased McLellan is using this pairing a more reasonable amount (as a percentage). Were 2-6 against Gaudreau-Shore-Foo but 11-3 against all others.
Cam Talbot stopped four of seven, .571. He was poor. Al Montoya stopped 13 of 13, he was better.
NaturalStatTrick and NHL.com.
FORWARDS, LAST NIGHT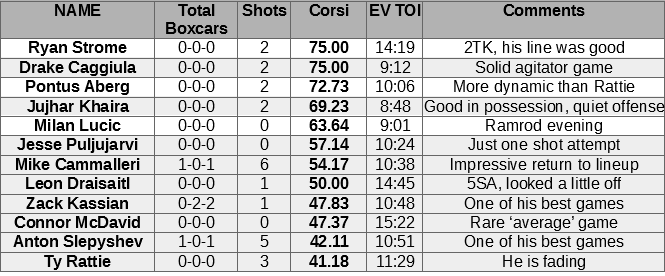 Lucic-Strome-Puljujarvi

went 8-4 in 9:22, 0-0 GF and 4-1 SF. The line was 2-1 in scoring chances but did nothing of the high danger variety. I like the line but they need to score more often. Went 6-1 against Bennett-Jankowski-Ferland.

Caggiula-Khaira-Aberg

went 8-5 in 7:30, 0-0 GF and 5-1 in SF. The line was 3-2 in scoring chances but no high danger here. Edmonton needs a dynamic player on these two lines, Leon Draisaitl would ordinarily be on this one. Were 5-4 against Gaudreau-Shore-Foo.

Slepyshev-Cammalleri-Kassian

went 9-11 in 9:46 and earned the extra icetime, 2-0 GF and 6-7 in SF. The trio was 6-6 in scoring chances and 4-4 in HDSC. One of the more effective evenings by an Oilers fourth line this season. Were 7-4 against Glass-Lazar-Hathaway.

Draisaitl-McDavid-Rattie

were 9-11 in 11:51. They were 3-7 in SF, 0-2 in GF. Line was 4-5 in scoring chances and 0-2 in HDSC. Lots of people yelling shoot last night but for me 97 has more experience on two-on-one's and I'll trust his decisions. The line didn't rhyme but we're talking about a player who is coming off one of the truly outstanding scoring streaks in recent history. Shyte happens, and it did. Went 6-10 against Frolik-Backlund-Brouwer, 0-2 GF. It was not a successful evening from the world's best hockey player. Reading more into it is silly. Oilers fans have myriad problems, Connor McDavid isn't one of them.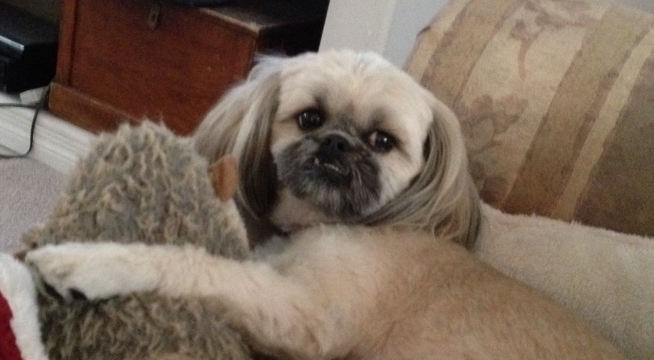 HAPPY EASTER!
Ziggy is sleeping next to me, hogging the coyote blanket and dreaming of chasing rabbits. We have a bunch of them in the neighbourhood, sometimes there's one in the backyard when she goes out to walkabout in the morning. Ziggy often looks at the rabbit, the rabbit back, and then the two animals go about their business while being very aware of the other. Sometimes she chases the rabbit but man my girl has no chance. These St. Albert rabbits are damned quick and Ziggy is no coyote. She's spoiled but in fairness to us she's a sweetheart. Even my neighbour John, the object of many hours of barking (she can see him in his kitchen, apparently some kind of illegal activity), is fond of her.
The kids are well, working and schooling and finding their way. This Easter they've been ripping the crawl space apart in search of games from their collective youth. "Spyrow" and "Sims" and all manner of games they were playing a decade ago (Playstation 2 is the format of choice after all these years).
The parents are well, enjoying life while remaining busy and pretending to be productive. I find myself thinking about the people no longer with us these days, seems lots of things remind me of those individuals lost along the way. Suspect it's an age thing, at some point, if you live long enough, you run out of your people.
We are blessed in many ways, including a turkey coming out of the oven around 7 tonight (later than Dad wishes because kids are working). We have two kinds of pies (cherry and strawberry rhubarb) on the way, plus dressing and mashed potatoes and two kinds of vegetables plus salad. I look forward to these turkey days so much, partly because we get to take stock and see our kids laughing with friends and enjoying themselves. I never thought it would be so good to be old and boring but that's where we are today. I wish you the best at Easter and Passover, if you celebrate one or both. I wish you all the best if you celebrate neither. Be good to yourself and each other. I think we need that more than anything right now.
GOAL! Give him the puck! @safinostap from way downtown. #Condors20 pic.twitter.com/CW1GucEhqC

— Bakersfield Condors (@Condors) April 1, 2018
Safin is making a case for turning pro in the fall and the Oilers certainly have room. If we assume all of Kailer Yamamoto, Tyler Benson, Safin and Cooper Marody turn pro, that's four of 18 wingers (nine for Edmonton, nine for Bakersfield) who will be new hires with some degree of pedigree. If we add these men to the signed wingers for next season, the depth chart looks something like this:
Ryan Nugent-Hopkins
Milan Lucic
Zack Kassian
Jesse Puljujarvi
Pontus Aberg
Kailer Yamamoto
Joe Gambardella
Mitch Callahan
Cooper Marody
Tyler Benson
Ostap Safin
There are any number of RFA and UFA forwards, including Ty Rattie, Anton Slepyshev, Drake Caggiula, Iiro Pakarinen, Mike Cammalleri, Patrick Russell, Braden Christoffer and Brian Ferlin. In a way, this is a very easy problem to identify: The Oilers need skill on the wings. I think the group who will play in Bakersfield next season (from Yamamoto down) is an encouraging group, reflecting the organization's realization that trading Taylor Hall and Jordan Eberle left the team with real problems in terms of skill on the wing. The issue is how to get skilled men on the NHL roster by fall. That's a sticky wicket.
NHL releases Draft Lottery odds.

Lottery takes place on April 28th. pic.twitter.com/eIxrUCWqev

— John Shannon (@JShannonhl) March 28, 2018
Oilers are currently slated to draft No. 8 overall before the lottery, meaning a six percent chance of moving up. The lottery takes place late this month.
🚨OVERTIME🚨GAME🚨WINNER🚨@kailer_yamamoto wins it for Spokane!

🥅 – Yamamoto
🍎 – Anderson-Dolan
🍎 – Reid#GoChiefsGo #WHLPlayoffs #PORvsSPO pic.twitter.com/jvZTVoIIML

— Spokane Chiefs (@spokanechiefs) April 1, 2018
The young man is shooting more in these playoffs, a good sign. I will have "The 100 best players in the 2018 draft" for you on Wednesday. Oilers are going to get a good one in the first round.