The farm team is probably more important today than it was when the Edmonton Oilers arrived in the NHL, 1979. The 1979-80 Houston Apollos would eventually produce NHL players Charlie Huddy and Tom Roulston. The 2018-19 Bakersfield Condors are going to need to do at least as much, possibly more. All Condors photos by Mark Williams.
THE ATHLETIC!
Great offer! Includes a free 7-day trial so you can try The Athletic on for size free and see if they enjoy the in-depth, ad-free coverage on the site. Offer is here.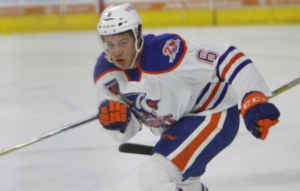 Brian Conacher: As in other areas of modern society, hockeys teams too have their generation gaps. This situation stood out on the Rochester team in 1965 which consisted of three groups: the veterans (had all resigned themselves to making the best of their minor league hockey careers), the young ones (who have stars in their eyes and are in the AHL for just a little time, or so they think) and the group somewhere in between (these players kept hoping that a break would come their way and they might get their chance in the "big tent").
Conacher's book The Way it Is remains one of the truly phenomenal pieces of hockey literature I've encountered (Conacher is a fascinating figure in hockey history). Conacher has written two books and they're both golden. Only Scott Young himself has written two better in the game's history (both co-authored with Punch Imlach). I do a Farm Workers every year. Last year's is here. I haven't cleaned it up and tweaked the format in years, so it has a little different look in 2018.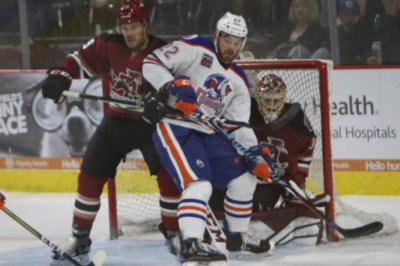 Men who are over 30 and come out of the minors to establish (or re-establish) themselves are pretty much a thing of the past. 
Condors 2017-18: Bakersfield used Ryan Hamilton (signed to an AHL deal) and the Oilers rode the final year of Mark Fayne's deal (although they sent him to Springfield mid-season, Fayne's contract rode all the way home). Eric Gryba is 29, has another year on his contract and Todd McLellan likes his ability to defend. I could see Gryba playing NHL hockey, for the Oilers, next season. Ryan Stanton and Brad Malone are 28 and hold contracts for next season. Both men, especially Malone, may have a pretty nice look at extended NHL employment next season.
The original Conacher thought remains as true as the North Star. Johnny Bower was (reportedly) 32 when he entered the nets for the Toronto Maple Leafs in 1958-59. The kind of career he enjoyed from that point forward is no longer available in the modern game. Too many jobs, scouts are too good.
Pretty much everyone who is in the AHL past (say) 21 has some issues and is going to do some meandering.
Condors 2017-18: Condors fans have seen Leon Draisaitl, Darnell Nurse and Jesse Puljujarvi in the last few seasons, but (mostly) for a brief time. Chances are Bakersfield fans won't see Kailer Yamamoto for long, either.
This year's 21+ group encountered so many hurdles the mind boggles. Ryan Mantha suffered an eye injury, and even though it sounds like everything will be fine by the fall, eye injuries are a difficult process. Ziyat Paigin bolted back to Russia in half the time it took to watch Dr. Zhivago (still a very long time) for reasons we know not. Ethan Bear and Caleb Jones, both 20, should be in this group a year from now. They represent the top end (imo) of the available prospects in Bakersfield, but still have some things to figure out.
If you haven't established yourself as a prospect of interest by 22 you are in trouble. The players who have graduated to useful NHL careers have at least played some NHL games by the end of their entry level deals.
Condors 2017-18: Greg Chase, Ben Betker, Braden Christoffer and Kyle Platzer couldn't move the needle in their third and final seasons of entry. The best players in the 21-25 group were Josh Currie (AHL contract) plus Ty Rattie and Keegan Lowe (UFA signings last summer). It isn't supposed to work that way, and it isn't on Chiarelli in this instance. We're supposed to be talking about Yakimov and Marco Roy along with Platzer and the group above. The 2011 draft was very good for Edmonton, the club badly needed 2013 to duplicate (three NHL players). Looks like it might just be Nurse and then crickets.
Cooper Marody shift pic.twitter.com/FvPZlsmoAH

— Rouel (@bpry8) April 6, 2018
Exceptions are college men. Playing 4 NCAA seasons means turning pro at 22, meaning a "late start" for some quality prospects. 
Condors 2017-18: Peter Chiarelli has been very aggressive in college procurement, with Matt Benning and Drake Caggiula grabbing NHL jobs basically out of the box after signing. Joe Gambardella had a pedestrian first year in the AHL but he finished well and could emerge as a legit prospect with a strong 2018-19. Dave Gust, an AHL-only contract who signed out of Ohio State University, showed enough skill to score 12 goals in 50 games on an offensively shy club.
Nick Ellis struggled in year two after a strong rookie campaign, Oilers have options so we'll see if he returns. Patrick Russell had a strong second season in Bakersfield. I'll be interested to see if the organization sees enough in him to bring Russell back. Shane Starrett spent most of his first pro campaign in the ECHL, sporting a .912 save percentage. Colin Larkin was added late and Cooper Marody was signed just this week, trumpeting another aggressive spring in college procurement. Marody should be among the top new arrivals in camp this fall, along with Yamamoto, Tyler Benson and William Lagesson. Marody is heading to Bakersfield, could play this week.
A large group of players on the current team could be described in the "tweener" division.
Condors 2017-18: Jujhar Khaira and Anton Slepyshev were in about the same spot a year ago, and maybe they will be again. Right now, Khaira is entering the final year of a real value contract and Slepyshev is an RFA who the Oilers were willing to deal not so many months ago. Their careers have taken unique paths since this time one year ago.
As for this year's Condors, Ty Rattie, Joey Laleggia and Dillon Simpson would seem to fit the description, plus all of the AHL contracts and men like Patrick Russell and Grayson Downing. There might be some players there, in fact Rattie might get a one-way deal based on a strong late showing. I think Laleggia is going to bust a move to another organization, kind of like Brad Winchester did years ago. He needs a second opinion.
If we make a list of the minor league RFA's each summer, we can probably as a group pick the cuts and be fairly close. That 50 man list gets a haircut every summer.
Condors 2017-18:  Prospects separate themselves in that three year entry period, sometimes grabbing an extra year just to make sure. Last year, I wrote "as for RFA's we can be fairly certain about, expect new cities for Anton Lander, Henrik Samuelsson, Bogdan Yakimov, Jere Sallinen, David Musil (who is already gone but still on the 50-man), Zach Pochiro and Eetu Laurikanen. Keepers? Jujhar Khaira, Iiro Pakarinen, Joey Laleggia, Griffin Reinhart, Dillon Simpson. That's five keepers, and you might see the team cut bait on Pakarinen (but I doubt it)." Prospects really do separate themselves.
Among this year's RFA's, I'll bet Nick Ellis and Patrick Russell get signed. It's also fairly certain Kyle Platzer, Ben Betker and Braden Christoffer find their way to new cities by the fall. Ellis is a bit of a question mark because Edmonton could sign Stuart Skinner and turn him pro plus have to make a decision on Laurent Brossoit. I think the Oilers bring back Ellis.
For Rob Schremp fans, there's exactly ONE pure offensive player who made it: Mike Walton. 
Condors 2017-18:  The longer a skill player (Rob Schremp) spends in the AHL, the less likely he's going to be an NHL top 6F of note. The first-round picks go up in mere seconds, meaning they (Kailer Yamamoto) get earlier and more chances than lower picks (Kirill Maksimov, Ostap Safin). It's always been this way. Mike Walton was disliked by his coach, Punch Imlach, for reasons. He won a Stanley with my Bruins, so he's alright for me.
I've waited years for someone to bring this category to life again. Ty Rattie come on down. He has a chance to prove me wrong, bet there's a one-way contract at around $800,000 available sometime this spring. Sign it, young man.
Daniel Cleary, Fernando Pisani and Jason Chimera became productive players in the toughest league on the planet. THEY are the stars in this study.
Condors 2017-18:  It's true every year. I always fall into this trap, call it the Marc Pouliot blind spot. If your favorite AHL player spends more than 100 games in that league during his entry deal, pray he's Cleary, Pisani or Chimera. He isn't going to be a top 6F, or rather it's quite unlikely. What does that mean to this group?
Ethan Bear might have enough skill to spend less than 100 games in the AHL, suspect Caleb Jones might take a little longer based on their rookie seasons. After that, Ty Rattie has received a late opportunity on a skill line and Joe Gambardella has a heartbeat.
This will be a stronger list next season, we'll have more information on the matriculating defensemen, plus Yamamoto, Benson, Marody and others will make the forward group more substantial.
Condors 2017-18: Last year I named Jesse Puljujarvi, Anton Slepyshev, Jujhar Khaira and Griffin Reinhart. This season, I'll go with Ty Rattie and Ethan Bear, although the defender might spend another season in the minors.
LOWDOWN WITH LOWETIDE
A busy morning, we'll probably get knocked out by a Peter Chiarelli media avail at some point this week but waiting on the news. We have a rollicking (ROLLICKING!) show this morning, starting at 10 on TSN1260.
10:20: Jonathan Willis, The Athletic. Postmortem, looking forward.

10:40: Jonah Birenbaum, The Score

. Jays are looking good early days.

11:05: Scott Cullen, TSN.

NHL playoffs get ready to roar.

11:40: Dave Jamieson, TSN1260

. Oilers, NFL draft.
10-1260 text, @Lowetide on twitter. See you on the radio!