This is important stuff. The 50-man list is like a photograph, it's a moment frozen in time. We all have our opinions and biases and lord knows framing issues should be an Olympic sport by now if you bunch reflect society as a whole. The 50-man list from a specific time and place never changes, it looks back at you from the distance of time and re-tells its own story. Photographs and memories. (Photo by Rob Ferguson).
THE ATHLETIC!
Great offer! Includes a free 7-day trial so you can try The Athletic on for size free and see if they enjoy the in-depth, ad-free coverage on the site. Offer is here.
50-MAN THE DAY CHIARELLI TOOK OVER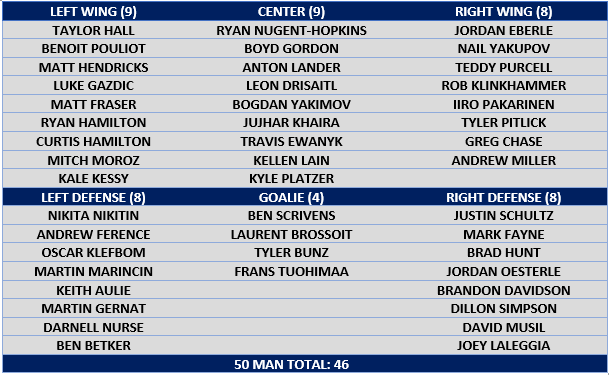 Chiarelli knew he'd be getting Connor McDavid on draft day, so the center position was going to be a monster.
Defense was a major issue, with the veterans unable to play the difficult minutes. That forced youngsters like Justin Schultz into prominent roles and those young players lost confidence and performed poorly after a time. The general manager needed to address those problems, or the Justin Schultz issue would become an issue for all the other young blue coming down the pipe. Nikitin, Ference and Fayne had been productive NHL players but could not neutralize the NHL's top forwards.
The wingers look good but there isn't a lot of depth past Hall, Pouliot, Eberle and Purcell.
Foot speed was an issue.
Ben Scrivens didn't work out, but even if he had, the team badly needed to improve the goalie depth chart.
Balance was nowhere to be found.
CURRENT 50-MAN LIST
We don't have the RFA and UFA so it's difficult to project the roster quality. I'll add them in our next slide.
Hearing Mikko Koskinen is leaving SKA and is set to sign in the NHL. Others sources mention #Isles as a destination, but it's unlikely

— Igor Eronko (@IgorEronko) April 11, 2018
PROJECTED 50-MAN FOR THE FALL 
My list of needs is (in order) scoring right-wing, backup goalie (substantial) and if there's room a two-way forward who can help out on special teams. In  a perfect world, Mike Hoffman would come over, play with 97, and Nuge-Draisaitl would form the second line.
The Oilers list of needs (in order, via Bob Stauffer) are right-defense, scoring winger, depth forward who can help on special teams, backup goalie. They are going to overpay for the defenseman, create a big hole elsewhere, and get less than 100 cents on the dollar.
The Oilers need money. Andrej Sekera buyout information is here. I think it's an option.
I don't think the Oilers need to bring in a RHD but if they do, hope for a young player with years under control.
Jesse Puljujarvi is vulnerable here. Pretty sure.
Top NHL draft prospect Oliver Wahlstrom is currently looking at options for next season, which indicates he probably won't be going to Harvard. @JeffCoxSports reported about this in February.

— Brad E. Schlossman (@SchlossmanGF) April 10, 2018
PUFF OF SMOKE
I understand the idea of parsing words, in fact that's a big part of what we all do as fans and observers of any sports team. I will tell you, in my 38 years of broadcast experience, the idea that the rights holder's 'insider' tips off the fans of an impending release of the general manager is unlikely. Bob is a pro, he isn't going to get ahead of a massive change in management even if he has knowledge. I'm not trying to protect Bob here (he doesn't need my help), but if you think about it, whatever well he goes to would dry up in a quick damned hurry if he conducted business this way. On the other hand, if the general manager is staying put, then dropping that as a hint would be very dangerous for the insider. Bob isn't a fool. For me, the 'puff of smoke' comment was at the end of the show and was probably meant as "we'll see what tomorrow brings".
WHAT IS GOING ON?
As of this writing, we haven't received a head's up for a media avail. That means the Oilers are flying through the 10am opening. Could be noon, 1, 2, 3pm today, or it could be tomorrow. Until this morning, I think a normal human could cobble together a reasonable explanation. Season ends Saturday, McLellan off to Saskatchewan on Sunday and holds his media avail on Monday. The delay (no Sunday window) in discussions means that yesterday (and possibly today) are spent making decisions on assistant coaches, et cetera.
To my mind, if Peter Chiarelli was going to be fired it would have happened by now. Reasons for the delay include the sublime to the ridiculous:
Exit interviews and assessment are taking longer this year.
Bob Nicholson is leaving and the organization wants to have their ducks in a row before the avail.
There has been a coup d'etat involving the Boys on the Bus and we're going to see more prominent Gretzky's.
Todd McLellan balked at the coaching cuts imposed on him and spent the night contemplating his future.
LOWDOWN WITH LOWETIDE
A fluid schedule, as we're uncertain of that media avail. Scheduled to appear:
10:20 Bruce McCurdy, Cult of Hockey at the Edmonton Journal.

We'll chat about the Oilers situation and what may come.

10:40 Sam Werner, Pittsburgh Post-Gazette.

The Penguins could become a modern dynasty with a third Stanley Cup in a row.

11:05 James Mirtle, The Athletic.

The Toronto-Boston series is about to send a thunderclap across this nation. Love or hate watch, this is damned compelling.
10-1260 text, @Lowetide on twitter. See you on the radio!