The Edmonton Oilers signed Ty Rattie yesterday. It's a fabulous opportunity for the player, who has been trying to get a regular gig in the NHL since the fall of 2013. Rattie had a rather short audition but the Oilers are bringing him back for 2018-19. He won't be the only option for McDavid's right-wing but he will be the most cost effective.
THE ATHLETIC!
Great offer! Includes a free 7-day trial so you can try The Athletic on for size free and see if they enjoy the in-depth, ad-free coverage on the site. Offer is here.
NEW 50-MAN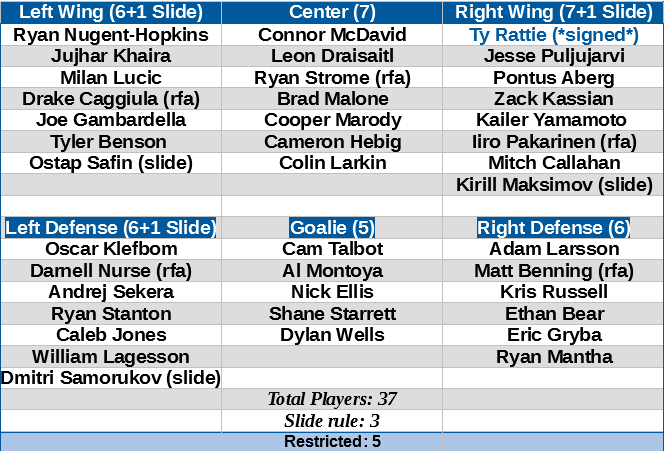 Ty Rattie

is an important signing in that it gives some cover for the right-wing position. Plenty of work to do at the position—ideally there's so much depth Kailer Yamamoto is forced to Bakersfield—and I do think one veteran addition is required at this spot.

Ryan Nugent-Hopkins and Jujhar Khaira

are listed here as left-wingers, possible based on the team's current depth chart. That leaves an opening at 4C, Bob Stauffer has been mentioning Derek Ryan quite a bit this spring.
Edmonton needs more forwards who can play successfully away from the puck. Remember Radek Dvorak? Fernando Pisani? Shawn Horcoff? A couple of those forwards will help this group enormously.
I'm not against acquiring a RHD this summer, I just think the cost will be too dear.
PROJECTED 2018-19 OPENING NIGHT ROSTER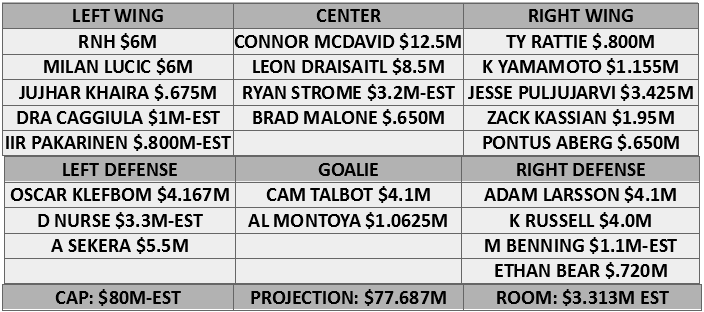 The McDavid line

appears here as it ended the season. I'm not certain Rattie can hold the job and the organization will likely attempt to add a veteran, but the signing makes a lot of sense even if the trio lasts 25 games next season. Edmonton needs to find as many skill guys who can play with 97 as possible—and paying them less than $1 million a year is ideal.

The Draisaitl line

should be able to push the river, I'd look for two new linemates for the big man. His passes are sublime, ideally the team could find a shooter to run with him. James Neal? JVR? I don't think the Oilers have enough heavy heavy fuel to get that done.

The Strome line

as above is intriguing, they just didn't score enough. Ideally, one of McDavid or Draisaitl takes Puljujarvi under their wing beginning in the fall. JP has responsibility too, of course, I wonder how great the disconnect between player and coaches on the calibre of his shot. JP can hammer it but takes a lot of time to release. Is there a way to speed it up?

Klefbom—Larsson

is a strong combination because the two men complement each other's skills. Larsson can shut it down and Klefbom can lug that puck out with style.

Nurse—Benning

would be my choice for second pairing, at least until Sekera establishes he's back to 100 percent. I'm not sure Nurse can anchor a second pairing but he had several months of quality play in 2017-18.

Sekera—Russell

would be a strong third pairing if Rej is healthy, in my opinion. Sekera has taken a lot of criticism for his 5×4 play but he's terrific with fewer men on the ice. I think he and Klefbom can probably handle the power play minutes next season and would rather see that tried than some wacky trade for a RHD with power-play chops.

Cam Talbot

should regress but I would get him a strong option to serve as insurance and perhaps push the starter.
CONDORS WIN!
Bakersfield ended its season last night, in the last couple of weeks the team found the range offensively and made the playoff race interesting. Some strong performances last night from prospects:
Joe Gambardella

scored again, added an assist and finishes his rookie pro season 50, 13-6-19. He has a strong two-way reputation and the late season offensive spark breathes some life into his prospect status.

Dmitri Samorukov

had an assist, finishing 5, 0-2-2 in his audition. Samorukov was drafted out of the OHL, so will be heading back to junior next season. Based on reports, he looked very capable at the AHL level. A good arrow.

Cooper Marody

played well enough to create a buzz among Oilers fans currently. He finished 1-2-3 and was dangerous in each game. Like Gambardella, we should at least allow for the possibility he spends some time in Edmonton next season.

Tyler Vesel

doesn't have a contract but showed well (11, 3-3-6) in his pro audition. All three goals came in the final four games, suggesting he found the range. I wonder if the Oilers attempt to sign Vesel to an AHL deal.

Ethan Bear

had two assists, finishing his AHL rookie season 37, 6-12-18 (NHLE: 19.4). I think he'll start next season in the minors but there's a player here. I love his passing ability 5×5, was less enamored with the power-play work, although relying on a rookie to fix an addled power play is a poor idea. I'm pleased with his season.

Laurent Brossoit

stopped 22 of 23 last night and finishes the year 29, 2.68 and 9.12. I have zero idea what the plan might be for Brossoit and what the player might want for his own future.