As we spend our spring mornings wondering if we'll ever see spring and discussing a trade of No. 9 overall, I return to the cap projections and repeat the truth: Edmonton has to offload some salary in order to add any prominent piece. There's no way around it.
THE ATHLETIC!
Great playoff special! Try The Athletic on for size free and see if they enjoy the in-depth, ad-free coverage on the site. Offer is here.
PROJECTED ROSTER WITH CAP, 2018-19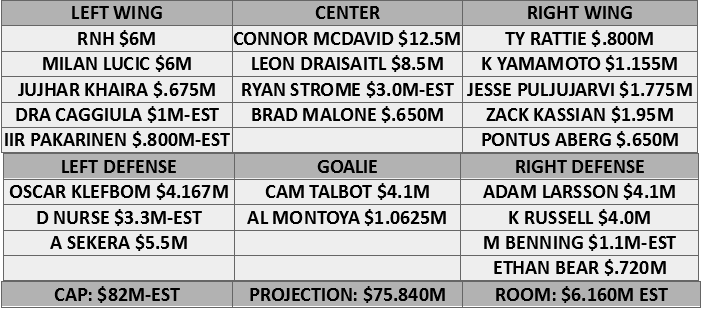 I have the cap outer marker at $82 million, went low on estimating the rfa contracts.
I altered the Jesse Puljujarvi number to shave some money there (hat tip to Chris Lewkowicz who wrote something about Leon Draisaitl that has some applications now).
Even with all of that, the Oilers have $6 million in room and you want a cushion.
If the team wanted to make a big trade, adding John Carlson or Mike Green or Justin Faulk, someone making over $2 million has to be going.
Peter Chiarelli is a very aggressive general manager. This is an interesting scenario but the journey is fraught with danger.
There are options. Iiro Pakarinen and or Pontus Aberg could play the 4R role, allowing the Oilers to spend $1 million (Cooper Marody makes $925,000, he could be added as an extra forward, saving about $1 million from Kassian's hit) by trading Zack Kassian. Jonathan Willis has mentioned this as a prudent way to add some cap room. That gets the team to $7 million.
Ryan Strome's next contract is probably around $3 million, can the Oilers get that down to $2.5 million? Or does the club pursue Derek Ryan or Riley Nash in free agency to save $1 million?
I have to say that, when it comes to defense, I'd rather stay the course. Mike Green is famous but he'll be expensive. Edmonton has a guy like Ethan Bear who may be able to fill that role a year from now. I understand the idea of 'muddle through' has little appeal, but in my opinion that's the play here.
For me, finding a quality goaltender who could play 30 games if required, a scoring winger and a two-way forward are important items, more important than adding an expensive puck mover. I'm pushing a giant boulder uphill, but for me this is worth repeating. Ethan Bear might be your answer a year from now, Filip Berglund has some of the required skills, why sell the farm again?
I would like a quiet summer, something tells me it will be the opposite.
To me, a good AHL coach is one who gives a lot of ice time to his 20/21-year old guys, and not one who loads up his top 6 with career AHLers. Ideally, two young guys should play with a veteran on each line. And basically, the top prospects should play 20 minutes a game.

— Simon Boisvert (@simonsnake70) April 18, 2018
Prospect-stats.com gives us an estimate of 5×5 playing time and it's a fascinating to see the usage for Condors forwards this season. Worth mentioning the team had very few legit prospect options most of the season, and that's not on the coach. Ages 20-23 are in sky blue. Here we go:
Cooper Marody: 3 games, 18.99

Anton Slepyshev: 1 game, 17.33
Tyler Vesel: 11 games, 16.30

Chad Butcher: 7 games, 16.22

Ty Rattie: 53 games, 15.24
Joey Laleggia: 68 games, 14.98

Tyler Benson: 5 games, 13.73

Brad Malone: 56 games, 13.66
Zach O'Brien: 43 games, 13.30
Josh Currie: 68 games, 13.10

Ostap Safin: 9 games, 12.76

Jesse Puljujarvi: 10 games, 12.73

Joe Gambardella: 50 games, 12.34

Ryan Hamilton: 41 games, 12.16
Grayson Downing: 48 games, 12.07
Patrick Russell: 68 games, 11.89

Braden Christoffer: 63 games, 11.26

Dave Gust: 53 games, 10.68

Kyle Platzer: 44 games, 10.56

Iiro Pakarinen: 26 games, 10.37

Evan Polei: 30 games, 10.14

Brian Ferlin: 8 games, 10.03
Mitch Callahan: 45 games, 9.82

Colin Larkin: 15 games, 7.63
A player like Kyle Platzer didn't see big minutes at any time during his entry-level deal. A late spike (he finished 7, 3-2-5) suggest some promise but it would have been a good idea to give him more playing time in the last three years. The Puljujarvi usage is quite discouraging, assuming these numbers are close to actual.
WILLIAM LAGESSON
Jon has a great piece at The Athletic this morning, Lagesson is coming over and his SHL season just completed is buzz worthy. Edmonton has all kinds of options on defense in the future, another reason I believe they'll pass on Ty Smith and grab a forward at No. 9 (if they even keep the pick).
Why are Oiler fans penciling in Drake Caggiula next year? This experiment failed. He is not an NHLer. Aim higher. #Oilers

— Vaughn Woodruff (@conkanen) April 15, 2018
He was No. 4 on the team in goals (13) and shouldn't cost more than $1 million or so. One of the things I would like to see this season? A designated spot for Caggiula. He's been Casey Candaele so far in his career, time to find a role and allow him to deliver.
LOWDOWN WITH LOWETIDE
The sun is out, the grass is, well, it'll be visible soon! At 10 this morning, TSN1260. Scheduled to appear:
Bruce McCurdy, Cult of Hockey

. Now that the exit pressers are in the rear view, what kind of summer does Bruce expect? Bold? Quiet?

Summit Sports Show

is coming, we'll talk all about it!

Eric Koreen, The Athletic.

Raptors love that home cooking.
10-1260 text, @Lowetide on twitter. See you on the radio!