In describing his team and things he would like to acquire, Peter Chiarelli often uses vague terms. "Heavy sticks" was one he used in the early days of 2015 and more recently (last week) he spoke a lot about "higher pace" but was quick to add that didn't necessarily mean speed. PC then discussed areas and gave a litany of examples: "Thinking more quickly, moving the puck through all three zones more quickly. You know you start at some point on the rink, whether it's breaking out, whether it's recovering in the neutral zone, whether it's how you attack in the offensive zone, how you manage odd man rushes. It's across the spectrum."
THE ATHLETIC!
Great playoff special! Try The Athletic on for size free and see if they enjoy the in-depth, ad-free coverage on the site. Offer is here.
New Lowetide: Milan Lucic at a crossroads after disastrous season.

New Jonathan Willis:

The problem was never Ryan Strome, it was Oilers' expectations.

New Justin Bourne:

What the other 30 GM's can learn from Vegas Golden Knights.
Jonathan Willis: William Lagesson ready to compete for a job with the Oilers.
Lowetide: Connor McDavid's outstanding 2017-18 season.
Jonathan Willis: Leon had a good season but should be better 2018-19.
Jonathan Willis: Oilers Prospects and how they fared this season.
Lowetide: Oilers summer to-do list short and sweet.
Lowetide: Draft 2018: The Oilers and Russia: A draft tragedy.
Lowetide: Draft 2018: The Oilers and the Republic of Finland
Lowetide: Draft 2018: The Oilers and Sweden.
Lowetide: Draft 2018: The Oilers and the QMJHL.
Lowetide: Draft 2018: Oilers and the WHL.
Lowetide: Draft 2018: Oilers draft history and the OHL
Lowetide: Draft 2018: The Oilers and the NCAA.
PETER CHIARELLI'S SUMMER LIST
Defense. Chiarelli stated a righty was preferable but a puck mover was the key. PC: "I think our speed starts at the back end and getting the puck up through the zones quickly. That's not putting all the onus on the defense, but I that's part of it, and so that's an area where we'll have to tweak."
Edmonton wants better outlet passing and I endorse this plan wholeheartedly. I don't endorse sending away any of the good passing or transporting blue that are currently on the roster and within spitting distance of the NHL. That means no Oscar Klefbom, no Andrej Sekera, no Darnell Nurse, no Ethan Bear traded.
Leaving us with Adam Larsson (the Oilers aren't going to deal him), Kris Russell (he has a NMC) and Matt Benning. I think Benning and the first-round pick for a RHD is a possibility. I don't like it, because Benning is a good young defenseman. It might come to that over the summer.
Scoring winger. It might be two, but one is possible. The general manager likes his forwards and feels they are making their way. PC: "So we could do a better job finding a winger or two, it's certainly on the to-do list, but I think our wingers, you know they're obviously not good enough as a whole when you look at our performance this year, but I don't think we should just pin it on the wingers."
LW depth is Nuge, Lucic, Khaira and Caggiula. RW is (in no specific order) Ty Rattie, Kailer Yamamoto, Jesse Puljujarvi, Iiro Pakarinen, Pontus Aberg. How many of these men can we project to score 20 goals next season? Now, take away McDavid's two wingers, how many beyond 97's line? I don't think we should pin this on the wingers, either. We'll find out if the general manager believes in his wingers in the fall. If most or all of this group return, that would be amazing.
Backup goaltender. I think this is an admission that Laurent Brossoit isn't going to get more audition time and that Al Montoya isn't the answer. PC: "I know we have contracted goalies for next year, Cam and Al Montoya. But it's (upgrading backup) certainly, that's closer near the top of the list of things to look at, and it's something that we'll have to look at closely, because there are rigors of the travel schedule, there are rigors of playing a lot of games. I would hope that Cam is our goalie going forward, like beyond next year, contractually he goes to next year, so we have to put him in a position to succeed too. And we have to manage that better, and I've talked to Todd and the staff, about managing that better. Managing it better means maybe you need a better alternative too."
They don't like Montoya as a 30-game option and that Flames game on HNIC was the Brossoit stand and deliver moment. They're moving on.
Increase the footprint of the '94s. Peter Chiarelli spent extended time on this area during his media avail. The '94s, as I understand it, are Drake Caggiula, Jujhar Khaira, Anton Slepyshev, and probably names around that birth year like Pontus Aberg and Ty Rattie. PC: "Did we over project on a couple of young guys? Maybe early on we did, and you know part of what we're trying to accomplish here, is getting each age group of players to progress, and whether it's the earlier really top end players to inherit, not just more responsibility playing but more responsibility leading, whether it's those group of 94s, get them to take the next step so that we have a real good gradual churn that'll take place, and it's hard. So that was as a management perspective, that is in part what we were trying to do, and you know when you talk about the underperformance of wingers, there's some young wingers you're talking about, whether it's Jesse or the 94s. So we're trying to do that, sometimes it's a little bit forcing it, but that's kind of part of the overall plan that we're trying to accomplish here, and that plays a part of it."
The auditions look like they will continue next season, at least for Drake Caggiula, Jujhar Khaira, Pontus Aberg and Ty Rattie. I suspect Anton Slepyshev is Ten Years After at Woodstock.
ICYMI: My first-round mock draft for @sn_nhl. I also did a Top-62 ranking for the #2018NHLDraft. https://t.co/q9jfI66jhj

— Steve Kournianos (@TheDraftAnalyst) April 19, 2018
Steve's Top 62 is unique as his mock draft. Some names in his ranking may not be familiar to you, making it a worthwhile exercise. His take at the top of the draft has been expressed to me by scouts as well. Mock is fascinating. I'll have Steve on the show today.
PROJECTED 18-19 OPENING NIGHT AND CAP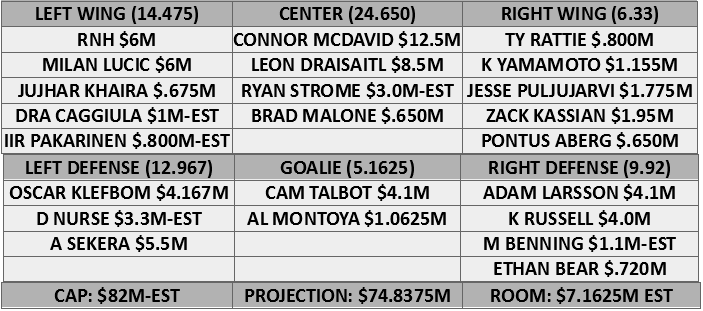 I ran this yesterday and a few people came up with different numbers, so I've re-done and shown my work. You need to add $1.33 million for the Pouliot buyout and there is in fact $1 million more in cap room than I estimated yesterday. My thanks to those who posted, getting it right is the most important thing. I blame Woodguy's phone.
LOWDOWN WITH LOWETIDE
A fun morning with all kinds of things busting out. Spring, NFL schedule, Ducks lose! At 10 this morning, scheduled to appear:
Steve Kournianos, The Draft Analyst.

Steve's take on the 2018 draft and what might be available at No. 9 overall.

Rob Vollman, ESPN and NHL.com.

Gulutzan's firing in Calgary, Sid's record, curious Vezina.

Frank Seravalli, TSN.

NHL playoffs are down to 14 stories and heartbreak in California.
10-1260 text, @Lowetide on twitter. See you on the radio.