The biggest news over the weekend surrounded a Finnish goalie playing in Russia and running a pretty strong save percentage. The Oilers are running a string of unusual decisions in goal and that sets up summer in a Mystery Science Theatre way. What will happen? Stay tuned, and bring your inner smartass.
THE ATHLETIC!
Great playoff special! Try The Athletic on for size free and see if they enjoy the in-depth, ad-free coverage on the site. Offer is here.
CHIARELLI'S SUMMER LIST (2017)
This was my list on May 31, 2017.
Get Connor McDavid signed to a long-term contract.

(Five years times ??)

Get Leon Draisaitl signed to a long-term contract

. ($7.5 million times 8?)
Negotiate the expansion draft rapids (Reinhart, Khaira, Letestu. Brossoit)

Find a second pairing D with two-way acumen.

(Shattenkirk, Hamonic, Pysyk)

Find a short term solution to Sekera injury

(Brian Campbell)

Find a forward who can help the offense.

(Hanzal, Strome)

Make enough cap room

to get everyone in under the number with enough room to spare for the trade deadline.
The club got max deals on McDavid and Draisaitl, lost Reinhart, didn't get a second pairing defender and replaced Sekera with Kris Russell. Got Strome but traded Eberle for him in order to find cap room (they wouldn't need the room until this summer).
ASSETS OUT, 2017
Jordan Eberle

 He was in fact dealt to the NY Islanders. Scored 25 goals.

Ryan Nugent-Hopkins

 From the moment Chiarelli and McLellan arrived, I was worried they would trade the Nuge. Damned if he's the only one they kept.

Jesse Puljujarvi. 

I'd forgotten he was on last year's list. One of the reasons the general manager may want a shuffle in the coaching is a talented player like JP having a slow build.

No. 22 overall

 Oilers kept the pick, at least partly due to the fact they flat out loved Kailer Yamamoto's game. That would be confirmed in the fall when they kept him through training camp and nine game into the season.

Caleb Jones.

 He struggled early, came on late and we'll probably see him get his first NHL cup of coffee in 2018-19.

2018 first-round selection.

 Probably wise they didn't trade the pick. Calgary did deal their selection and are now in a tough spot.

Anton Slepyshev. 

I would guess he has less value this summer than a year ago.

Jujhar Khaira

 He absolutely spiked in value to the point I doubt the club would trade him this summer.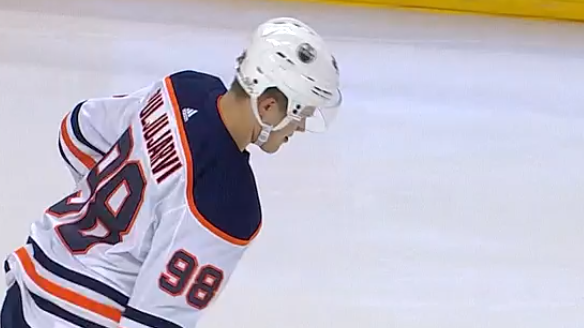 CHIARELLI'S SUMMER LIST (2018)
Defense. Chiarelli stated a righty was preferable but a puck mover was the key.
Scoring winger. It might be two, but one is possible. The general manager likes his forwards and feels they are making their way.

Backup goaltender.

 Mikko Koskinen may not be better (or as good) as Al Montoya or Laurent Brossoit, but he hasn't failed in Edmonton. He might be the signing for this summer at this positon.

Increase the footprint of the '94s.

Names like Caggiula, Khaira, Benning, Slepyshev need to take on bigger roles. The next group up (Cooper Marody, Kailer Yamamoto, Tyler Benson, et cetera) may not be able to push this coming season, so that older group needs more Khaira/Benning type emergence.
POSSIBLE ASSETS OUT, 2018
Most likely to least likely.
No. 9 overall pick. Does this pick get you Josh Manson?
Oscar Klefbom. Of the established group, he is the most likely to go.
Andrej Sekera buyout/trade. It saves many dollars. I wouldn't do it.
Matt Benning. Does he get you Brandon Montour? Is that a deal Edmonton should do?
2019 first-round pick. If I am Chiarelli, that 2019 draft is absolutely available. The whole damn thing.
Ryan Strome. The money will be the thing. Strome will want 3+ million and Edmonton may want to spend that money on a more substantial scorer.
Zack Kassian. Credit Jonathan Willis with this, Edmonton can save $1 million by trading Kassian and replacing him with (say) Iiro Pakarinen or Pontus Aberg. Do they want to do it?
Anton Slepyshev. Craig MacTavish once said that Brad Winchester "needed a second opinion." With Slepyshev, we are here.
Jesse Puljujarvi. I would not trade JP, it's the exactly the kind of move that bites you in the ass for a decade. You can finish the joke if you wish.
On Koskinen from story: The 29-year-old former 31st overall pick is expected to sign a two-year deal with the Edmonton Oilers with an AAV of $2.5mil per season. https://t.co/uNHJilFXnN

— Aivis Kalniņš (@A_Kalnins) April 23, 2018
Hmmm. I wrote about Koskinen yesterday, here and at The Athletic, and if this number is true then the Oilers must love this goaltender. Perhaps the club got into a bidding war with the NY Islanders (Garth Snow!) but this pokes a hole in the limited cap budget left. If this is true, I'm going to bet the Oilers plan to trade a $4 million plus defenseman.
CAN THE OILERS DO THIS?
Yes, but it looks like an unforced error if true. A two-way deal with an AAV of $1.25 million seems far more reasonable. Here is a way Edmonton could construct the roster with this contract at $2.5 million per year.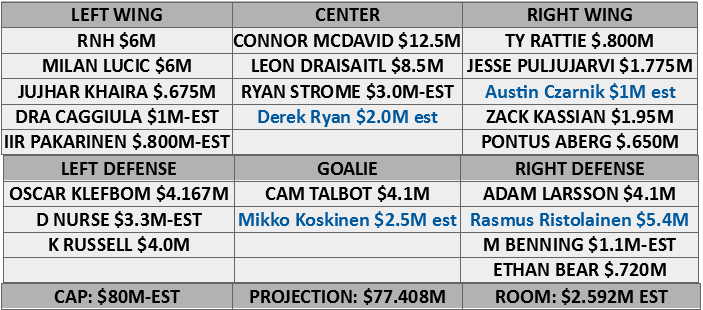 There are three free-agent signings and a trade. I wasn't concerned with what it would cost to get Ristolainen, because I don't think it's a trade that will be made. I was trying to find a $5 million defender as a the showcase piece of summer. I think PC is headed in that direction.
It can be done without trading Oscar Klefbom, which is different than saying it will be done without trading Klefbom.
If it is $2.5 million for Koskinen, why not sign an NHL goalie in that range? You could get a good NHL goalie in free agency for that price.
I went the inexpensive route at right-wing, suspect (if the goalie money is true) this will be the route chosen.
Matti Virmanen is the European pro scout. I credit him with the Belov signing. He may also have been involved in the drafting of Samu Perhonen, Frans Tuohimaa, Erik Gustafsson, Bogdan Yakimov and Anton Slepyshev.
LOWDOWN WITH LOWETIDE
We have so many avenues we can go today, the show remains fluid but we'll bring it I promise. At 10 this morning, TSN1260. Scheduled to appear:
Pierre Lebrun, TSN and The Athletic

. The second round is set in the Western Conference, we'll chat Preds-Jets in what might be the best series of the year.

Jason Gregor, TSN1260.

Flames are moving on today, hiring a new coach. Should Edmonton do the same?
10-1260 text, @Lowetide on twitter. See you on the radio!