Saturday night brings us another draft lottery and as you know the Edmonton Oilers are the kings of that game. I wrote an item for The Athletic this morning, about what would happen if Edmonton won the lottery, the impact of Rasmus Dahlin, and the likely popularity of the phrase 'Dahlin-to-McDavid" in the coming years. I hope you have the time to read it. He's a special player.
THE ATHLETIC
Great playoff special! Try The Athletic on for size free and see if they enjoy the in-depth, ad-free coverage on the site. Offer is here.
THE 2018 DRAFT
I have completed the Top 120 list, planned to publish it on Monday. Would you like to see it before or after the lottery? Let me know. I can publish tomorrow of Friday morning if that works. Here's my latest mock if the Oilers finish No. 9.
First Round—No. 9 overall—RD Evan Bouchard, London Knights (OHL). "He's got a big-time shot and as his junior career has progressed, he has learned to use it more. Great poise with the puck and he may be the best passer in the entire draft class." (Ryan Kennedy, The Hockey News via OHL Prospects).
Second Round—No. 40 overall—R Jonatan Berggren, Skelleftea (SuperElite). "Berggren is one of the most fearless forwards I've seen in recent years, which says a lot when you consider he's listed at 5'10. A two-way winger with a nonstop motor, Berggren's speed and anticipation causes havoc for opposing defenders, but it's the plays he makes after forcing turnovers that separate him from most players his age. His active stick and quick hands turn harmless dump-ins into quality chances, and his speed allows him to blow past defenders at the blue line. Playing and thinking at the same time is a rare combination for young players, but Berggren does both at high level. He scored a nice goal after he turned what looked like an average one-on-one entry into a clean dash and stuff-in at the cage." (Steve Kournianos)
Third Round—No. 71 overall—

L Liam Foudy, London Knights (OHL).

 I am strong on him because of the way he finished the regular season (35, 20-14-34). Even with the very slow start to the year, Foudy ended up No. 30 among forwards in goals per game (18 and under) in the OHL.
Fourth Round—No. 102 overall (Oilers acquired goaltender Al Montoya from the Montreal Canadiens in exchange for a conditional fourth-round pick in 2018. Montoya covered the condition).
Fifth Round—No. 133 overall—

LC Ryan Chyzowski, Medicine Hat Tigers (WHL).

 Strong forward with skill (21 goals and 52 points in 72 games) and Kournianos describes his shot as heavy and accurate.
Sixth Round—No. 164 overall—

LC Connor Dewar, Everett Silvertips (WHL).

 He had a strong reputation for being a strong two-way center but a little shy offensively. Spiked this season and would be real value at this number.
Seventh Round—No. 195 overall—

L Kevin Hancock, Owen Sound Attack (OHL).

 I liked him a year ago, still like him now. He gets zoomed by linemates and isn't a fast train but his primary point count is good and he can turn pro now.
While I have a minute, want to reiterate how my list is put together. I publish the final list June 1, long before the professional lists are out. I do pay attention to Corey Pronman, Scott Wheeler, Bob McKenzie, Craig Button, The Black Book, Simon Boisvert and several others who will be noted when I publish my updated list. I also have some support from the scouting community (basically making sure these prospects have 10 fingers and toes).
Math is king for my list, that's what makes it unique. Gabriel Desjardins and Rob Vollman originated and tweaked NHLE's, respectively. I think an NHL team could go a good job just by sussing out the math of the draft, maybe place it alongside Bob McKenzie's list.
Finally, when I publish the final 120 on June 1, I will be adding a 'touch list' featuring players who I like but don't have enough information on. They could be draft and follow options.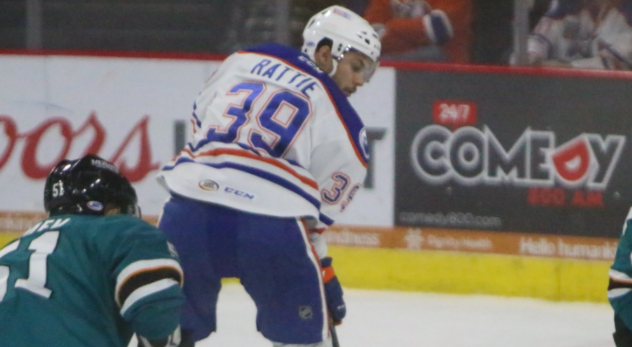 -Photo by Mark Williams-
OILERS AHL FORWARDS IN 2010-11
How bad was it? We know the Bakersfield Condors didn't have many forward prospects pushing offense last season, but how did the efforts of last year's team compare to Oilers farmhands past?
The fabulous site prospect-stats.com gives us a chance to compare seasons and therefore prospect snapshots (through the past, darkly). I've chosen primary points (it's a gooder, like God's flashlight with fresh batteries) and here are the notables in 5-on-5 primary points per 60 for Oklahoma City Barons. I'm listing all forwards, prospects in blue.
Liam Reddox 0.54

Linus Omark 0.50

Alexandre Giroux 0.44

Mark Arcobello 0.38

Brad Moran 0.35

Colin McDonald 0.33

Teemu Hartikainen 0.30

Milan Kytnar 0.23

Phil Cornet 0.23

Ben Ondrus 0.17
Greg Stewart 0.16

Chris VandeVelde 0.15

Matt Marquardt 0.11

Ryan O'Marra 0.11
Reddox would spend significant time in the NHL during the 2010-11 season, then head to the SHL where he carved out a nice career. Linus Omark would also spend time in the NHL during '10-'11, and posted some impressive offensive numbers. I think there was an NHL player there. Mark Arcobello, Colin McDonald and Chris VandeVelde would all carve out NHL careers of varying degrees. The 2010-11 team produced no long-term solutions for the Oilers, none remain in the NHL.
OILERS AHL FORWARDS IN 2017-18
Ty Rattie 0.43

Zach O'Brien 0.35

Josh Currie 0.31

Joe Gambardella 0.30

Joey Laleggia 0.29

Brad Malone 0.27

Dave Gust 0.26

Patrick Russell 0.25

Mitch Callahan 0.20

Braden Christoffer 0.19

Grayson Downing 0.17

Kyle Platzer 0.16

Evan Polei 0.13

Ryan Hamilton 0.12

Greg Chase 0.12
Remember this is primary points per 60, so heavily reliant on the player in question. Ty Rattie was easily the best Condor forward this past season, but the big issue is how few players reached even Colin McDonald's level. The Oilers simply didn't have enough skill a year ago and that must change.
LOWDOWN WITH LOWETIDE
At 10 this morning, TSN1260. I am loving the lineup today, we should have a lot of fun. Scheduled to appear:
Bruce McCurdy, Cult of Hockey.

Toronto-Boston Game 7 should be a classic, we'll chat with Bruce about two famous Game 7's involving the Oilers (1987 and 2006).

Pete Blackburn, CBS Sports Boston.

Love that dirty water! It's Game 7!
Zac Jackson, The Athletic Cleveland. The Browns have picks No. 1 and No. 4. Where are they going?
10-1260 text, @Lowetide on twitter. See you on the radio!