Keith Gretzky was head scout of the Boston Bruins for the 2014, 2015 and 2016 drafts. He arrived in Edmonton late summer 2016 and joined forces with Bob Green and the Oilers scouting staff in time to contribute to the 2017 Oilers selections. I firmly believe you need five years to judge a draft (sometimes longer) but you can count arrows. Keith Gretzky has a lot of good arrows for four draft summers.
THE ATHLETIC!
Great playoff special! Try The Athletic on for size free and see if they enjoy the in-depth, ad-free coverage on the site. Offer is here.
KEITH GRETZKY
Keith Gretzky joined the Boston Bruins as a scout during the 2011-12 season, and moved up to scouting director after the 2013 draft. The Bruins 2014 entry draft (David Pastrnak, Ryan Donato, Danton Heinen, Anders Bjork, Emil Johansson) is one we'll probably be talking about for years. In 2015 the club made some big trades (Milan Lucic, Dougie Hamilton) and drafted three times in the first round and three more times in Round Two. Fans often rip Bruins scouts for not grabbing Mathew Barzal, Kyle Connor, Brock Boeser and others, and there was a lot of talent passed over by Boston (and other teams). That said, early hits like Jake DeBrusk and Brandon Carlo suggest Gretzky and his crew did in fact get value from the picks. We'll see about Jakub Zboril, Zach Senyshyn, Jakob Forsbacka-Karlsson and others down the line.
The 2016 draft saw Boston pick Charlie McAvoy over Dante Fabbro and at the time it seemed like a big deal. It was, but the Bruins got the right guy. The rest of that draft is still matriculating but there are some good signs from Trent Frederic, who was a controversial selection at the time. I'd grade Gretzky and Co.'s three Boston drafts as A. Lots of talent here already in the NHL (Pastrnak, McAvoy, Heinen, Donato, DeBrusk, Carlo) and plenty more on the way. The Bruins gave up some exceptional NHL talent during that 2015 draft and may not have gotten 100 cents on the dollar. The bottom line is they re-set the team's main cluster and are rebuilding on the fly effectively. Music!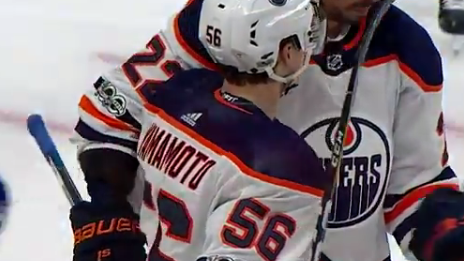 In his first draft in Edmonton (and I honestly don't know what the management structure looks like, assume Gretzky and Green work closely together), Gretzky and Green chose Kailer Yamamoto. High skill, undersized, quick, effective, 5.07, 153 on draft day. Wow. Paul Almeida from Saturday Sports Extra told me about David Pastrnak back in January of 2015 when he returned from Europe. I asked Paul to describe his game in what would have been Dec-Jan of his draft year:
Almeida:

At the World Juniors in Malmo, Sweden Pastrnak was the most dynamic forward for the Czechs. He constantly drove the puck to the net at high speed with elite skill and never backed down from a puck battle. He often won those battles against much bigger and stronger players with his tenacity, elusiveness, fast feet and matching hands. He had an accurate shot and quick release that seemed to surprise goalies. Top talent with compete to match.
If we use Pastrnak, McAvoy and Yamamoto (skill, skill, skill) as the Gretzky draft template, perhaps we can inform ourselves a little about what may come in this year's draft.
PRIMARY PTS (F) 2017 DRAFT CHL
The next several segments are using 'primary points per game' and are all available at prospect-stats.com. Oilers pursued skill at No. 22, no chance Yamamoto is available at No. 22 if he is 6.0, 180. I don't know if he'll work out and we'll see about this fall, but Edmonton went skill in a big way with the first round pick in 2017. Kirill Maksimov had a primary points-60 number of 0.52 (the group above is all CHL forwards chosen in the first two rounds).
PRIMARY PTS (F) 2018 DRAFT CHL
Based on primary points per game, Svechnikov is the best CHL offensive forward this or last season. Zadina is also a solid prospect and then things fall off. Justin Almeida (he is a 1999, meaning he was eligible a year ago. I had him at No. 84 on my last list but he's moving up) is a fascinating curio. This isn't a good year for skill forwards in the CHL. Not many kids pushing the river. We may see the Oilers draft from Europe (Jonatan Berggren is spiking in real time) or take a defenseman.
PRIMARY POINTS FROM THE PAST
Yamamoto's draft total above got me wondering about the previous Oilers chosen from the CHL. Here are some numbers through the years.
Connor McDavid 2015 (OHL)

2.00

Taylor Hall 2010 (OHL)

1.44

Leon Draisaitl 2014 (WHL)

1.34

Nail Yakupov 2012 (OHL)

1.29

Kailer Yamamoto 2017 (WHL)

1.17

Ryan Nugent-Hopkins 2011 (WHL)

1.00

Marco Roy 2013 (QMJHL)

0.85

Tyler Benson 2016 (WHL)

0.77

Daniil Zharkov 2012 (OHL)

0.62

Greg Chase 2013 (WHL)

0.61

Tobias Rieder 2011 (OHL)

0.60

Jackson Houck 2013 (WHL)

0.59

Kirill Maksimov 2017 (OHL)

0.52

Curtis Hamilton 2010 (WHL)

0.42

Mitch Moroz 2012 (WHL)

0.36

Kyle Platzer 2013 (OHL)

0.29

Travis Ewanyk 2011 (WHL)

0.28
Interesting list, seems 1.00 primary points per game is an indicator based on this quick look. Kailer Yamamoto was 0.96 in the previous season so the offense is bona fide. Two final takeaways: Someone should sign Nail Yakupov, there's talent there. Also, Tobias Rieder is the only player on the list to produce less than 1.00/game primary points and have a substantial career. It would be worthwhile to drill down on why he beat the odds.
LOWDOWN WITH LOWETIDE
At 10 this morning, TSN1260. A huge day across the sports and we have you covered. Scheduled to appear:
Andy McNamara, TSN4Downs.

NFL Draft Day!! We'll tee up one of the truly amazing events in sports.

Seerat Sohi, The Athletic and SB Nation.

Raptors calmed the waters and won a big game last night.

Rob Vollman, ESPN and NHL.com.

Looking forward to the final four series and projecting winners.

Frank Seravalli, TSN.

Leafs out, Bruins move on, draft lottery and what it may mean.
10-1260 text, @Lowetide on twitter.