If the Edmonton Oilers are going to use the No. 9 overall selection, it will probably be spent on a European forward or a puck moving defenseman somewhere in the northern hemisphere. We looked at the forwards via primary points yesterday, let's see what we can find out about the blue.
THE ATHLETIC!
Great playoff special! Try The Athletic on for size free and see if they enjoy the in-depth, ad-free coverage on the site. Offer is here.
PRIMARY POINTS (D, 5X5) 2017 DRAFT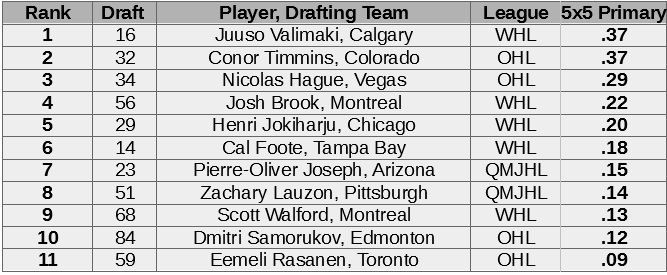 A quick note: This is a little unfair for some defensemen, but I tried to even out the playing field by taking away special teams boxcars. In what was a down year for CHL defensemen offensively, the fantastically talented Juuso Valimaki and Connor Timmins were the class of the group. This year's group is a larger and more talented offensive pool.
PRIMARY POINTS (D, 5X5) 2017 DRAFT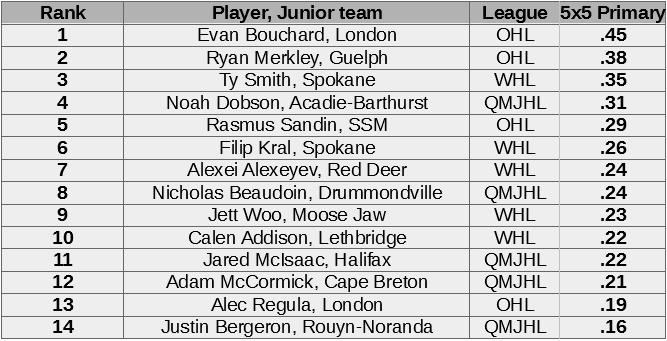 Evan Bouchard is the class of the group, with Ryan Merkley and Ty Smith trailing. Noah Dobson is a nice option and there are a bunch of interesting players from 5-10 on this list. If the Oilers choose a forward at No. 9, some of these names would be available when they select in the second round.
PRIMARY 5X5 POINTS/GAME FROM THE PAST
Darnell Nurse 2013 (OHL)

.26

David Musil 2011 (WHL)

.21

Ethan Bear 2015 (WHL)

.14

Dmitri Samorukov 2017 (OHL)

.12

Brandon Davidson 2010 (WHL)

.10

Markus Niemelainen 2016 (OHL)

.09

Alex Plante 2007 (WHL)

.09

Jeremie Blain 2010 (QMJHL)

.08

Ben Betker 2013 (WHL)

.04
As you can see, Edmonton has been pursuing two-way and shutdown defensemen in the CHL pools over the last decade. Darnell Nurse is sometimes mentioned as an offensive option but Edmonton still hasn't used him consistently in that role (Klefbom, Sekera). All 26 of his points this past season were at even strength, placing him among the 40 best defenders in the NHL in the category. Drafting a Bouchard or a Merkley or a Smith would be a departure from previous CHL selections.
KEITH GRETZKY FOLLOWUP
Lowetide:

  Fans often rip Bruins scouts for not grabbing Mathew Barzal, Kyle Connor, Brock Boeser and others, and there was a lot of talent passed over by Boston (and other teams). That said, early hits like Jake DeBrusk and Brandon Carlo suggest Gretzky and his crew did in fact get value from the picks.
I received some push back on that statement yesterday, the reaction being I glossed over some pretty damning picks (I think they missed on one player, Barzal). It brings up an excellent question: How many misses should a scouting department be allowed? I think the answer must be "more than one" and of course all scouting departments miss on players who eventually become impact assets. Here are the selections from that fateful run in 2015, and my rankings for each player involved.
No. 13 Boston D Jakub Zboril

(Lowetide No. 22)

No. 14 Boston L Jake DeBrusk

(Lowetide No. 20)

No. 15 Boston R Zach Senyshyn

(Lowetide No. 26)

No. 16 NYI C Mathew Barzal

(Lowetide No. 8)

No. 17 Winnipeg C Kyle Connor

(Lowetide No. 19)

No. 18 Ottawa D Thomas Chabot

(Lowetide No. 23)

No. 23 Vancouver R Brock Boeser

(Lowetide No. 31)
Boston reached three times, one of that trio looks like an astute choice. The other two are lagging but we are three years into the process. Absolutely should have taken Barzal (same can be said for Florida and Dallas) but Connor, Chabot and Boeser weren't drafted out of order based on my list. Your mileage may vary, but the only player I can fault Boston for passing on is Barzal (we didn't know Boeser was Boeser).
Put another way, legend has it the Oiles would have chosen Joel Eriksson Ek at No. 16 if the team held their position. I ranked him No. 17 (my list is here) and that would have been in the range. Lots of teams missed on Barzal, missed on Boeser, missed on Connor. I don't see missing on Barzal as a mortal sin. He blossomed and is clearly one of the best names in the draft. I had him No. 8, and can't tell you why teams passed on him (might have been size or speed). Doesn't matter now.
On this year's list, I have Ty Smith at No. 4. He may not go top 10. No one knew Barzal was going to be Barzal (I didn't, despite the ranking) and no one knows if Smith will turn into Duncan Keith. The Bruins made good bets in my opinion, with some wobble in 2015 mid-first. How much do you punish their grade for that? Do you take the David Pastrnak pick away as a 'gain'? That might be the most equitable way of looking at it, and I'm still onside with the draft record for other quality picks (McAvoy, Carlo, Heinen, Donato). Interesting discussion.
Phase One of EDM (assistant) coaching shuffle expected, perhaps as early as Friday. Multiple moves, including (as has previously been speculated) Jay Woodcroft to be new head coach in Bakersfield (AHL). No replacement hiring(s) just yet.

— Bob McKenzie (@TSNBobMcKenzie) April 27, 2018
Sounds like the Oilers may be moving out all of last year's assistants (Jim Johnson, Jay Woodcroft and Ian Herbers), with Glen Gulutzan and Trent Yawney rumored to be coming aboard. Yawney is a fascinating option, he coached up a lot of AHL players into NHL players during his time in the minors. Our own Supernova wrote about him (without saying his name) in this piece three years ago. Yawney coached the Syracuse Crunch in 2011-12, and then Norfolk in the two seasons following. Overall, I think this is good, resumes look good and we'll see. There would be two potential replacement coaches on the team, that can't be lost on Todd McLellan. He also appears to have lost what we conceive as a power struggle over Woodcroft, who has been his lieutenant for more than a decade. As for Woodcroft, it is not a promotion but could end up benefiting him heavily. If he can improve the success average for graduating prospects from Bakersfield, it will be noticeable in a big way.
LOWDOWN WITH LOWETIDE
It's Friday and that means a fun show, beginning at 10 on TSN 1260. Scheduled to appear:
Steve Lansky, BigMouthSports.

Oilers coaching changes, Leafs out, Penguins and VGK win.
Seerat Sohi, The Athletic and SB Nation. Raptors calmed the waters and won a big game last night.

Matt Iwanyk, TSN1260.

NFL draft went off last night, round one was nothing close to what was expected.
10-1260 text, @Lowetide on twitter. Giddyup!