What we've got here is failure to communicate. Peter Chiarelli told us he would like to improve backup goaltending, add a winger or two, and that adding a puck mover for the power play (prefer a righty, might not be possible) was a major priority. Edmonton is up against it when it comes to the cap and added a $2.5 million backup goalie yesterday. There's only two ways this can go now. You won't like one and the other probably means missing the playoffs. Are we having fun yet?
THE ATHLETIC!
Great playoff special! Try The Athletic on for size free and see if they enjoy the in-depth, ad-free coverage on the site. Offer is here.
Mikko Koskinen is a fascinating gamble for the #Oilers – expensive, but potentially worthwhile. Here's what his addition means for Edmonton: https://t.co/uJGqhs2udC

— Jonathan Willis (@JonathanWillis) May 1, 2018
Jon's piece offers a range of possible outcomes and frames the Koskinen signing well. For $2.5 million on the cap, one would hope for more certainty but if Koskinen delivers we'll not hear a discouraging word about it. Peter Chiarelli's signing of Koskinen is somewhat similar to his acquisition of Anders Nilsson in 2015 (except more expensive and less proven). Edmonton's pro scouts must be convinced of him, I'm surprised PC didn't aim higher in what is a make or break summer for him. Or, maybe he did and I can't see it from here. It does look like another Chiarelli expensive bet and gives the organization even less cap room to go shopping.  I think you hope this goalie is Roloson (very late career peak) and appreciate the team can get out from under if things go sideways.
PROJECTED 'BUDGET' OPENING NIGHT ROSTER '18-'19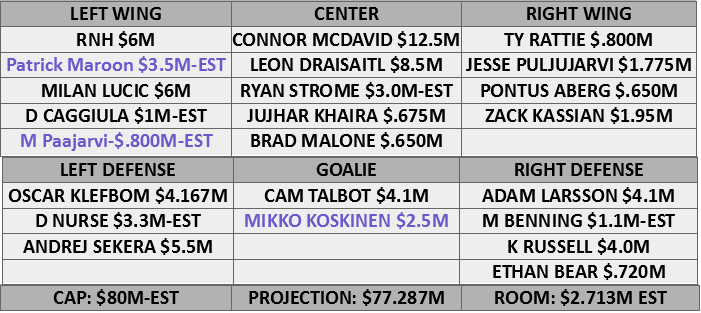 This lands the Oilers at $77 million and gives the club room to wheel at the deadline. I don't know that they would need the extra money for buying.
In this example, I left the defense alone. That's not a bad idea by the way. Oscar Klefbom should rebound, Andrej Sekera too. I have Ethan Bear as the No. 7 option, more likely we see a Keegan Lowe or Dillon Simpson.
There isn't much money left, so I added two free agents (Patrick Maroon and MPS) to help left wing. You can choose others but the general idea is adding a couple of useful forwards.
Bringing back Maroon gives the Oilers some options despite the lack of speed.
Plenty of reaction to Ty Rattie at No. 1 right wing I expect, you can place Jesse Puljujarvi there, or Kailer Yamamoto, or Drake Caggiula. Bottom line: One of Yamamoto or Puljujarvi will eventually grab that role, Rattie was the man in that position when everyone laid down their sticks.
PROJECTED 'CHIARELLI' OPENING NIGHT ROSTER '18-'19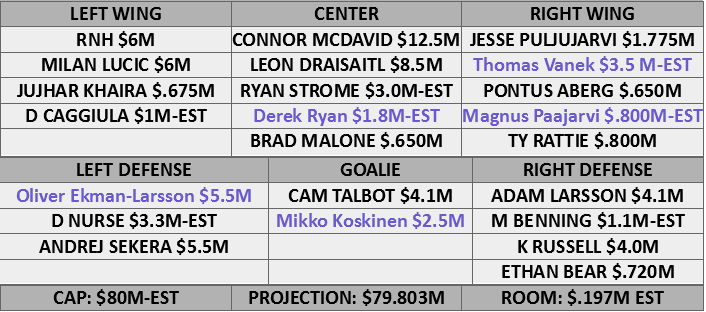 This is probably closer to Peter Chiarelli's dream scenario. Gone are Oscar Klefbom, Zack Kassian and the first-round selection, new hires are in blue. OEL is a free agent in summer 2019, so that's a major downbeat. The cap room is razor thin, but I've included $850,000 of Jesse Puljujarvi's bonus in this model. Edmonton could use that money as a cushion and any overage would be applied to the 2019-20 cap, so we can estimate around $1 million in space with this model. I did include the Benoit Pouliot $1.33 million buyout penalty above.
This route bleeds young talent but if the team can sign OEL and players like Ethan Bear, Caleb Jones, Kailer Yamamoto, Tyler Benson and Kirill Maksimov develop the organization should be okay. The key for Edmonton is Jesse Puljujarvi. He was chosen No. 4 overall and needs to be an outscorer at even strength. I believe he'll make it.
Draft year in SM-Liiga:

Mikko Rantanen – 56GP/9G/19A
Jesperi Kotkaniemi – 57GP/10G/19A

The big difference is Rantanen was already an 18-year old in his second season. Kotkaniemi was a 17-year old rookie. #2018NHLDraft

— Tom Hunter (@PuckDontLie) April 28, 2018
Kotkaniemi would be an interesting choice for Edmonton. If you look at the current prospect pool, Edmonton has a plethora of defenders (Bear, Jones, but also Berglund, Lagesson, Samorukov et cetera) and might be more interested in a forward. Some very good arrows for the Finn.
Ryan Merkley breaks down a team from the offensive blue line about as well as any 17 year old I've seen. Vision and skating ++

— Corey Pronman (@coreypronman) April 26, 2018
He's such a dynamic player with the puck, I wonder if the Oilers might take a chance. I know the back story and understand the organization is all about good eggs but if you're trying to win Stanley the idea is to collect more impact players than the other guy. No one argues this young man's offensive talent. No one. I'd give a 2-4 to know what the Oilers think about him.
LOWDOWN WITH LOWETIDE
At 10 this morning, TSN1260. We have a great list of guests and a variety of topics. Scheduled to appear:
Bruce McCurdy, Cult of Hockey.

Edmonton's brand new goalie.

Jeff Krushell, Krush Performance.

Some eye popping numbers from mlb's best early this year.

Bill Hoppe, Times Herald.

The Sabres finally win a lottery.
10-1260 text, @Lowetide on twitter. See you on the radio!