Last summer, during my "The Davenport Hotel" look at every Oilers prospect and where they were heading in 2017-18, I wrote the following about Jesse Puljujarvi:
Destination 2017-18: NHL from the start, if he scores well he'll be here until 2030 and beyond. Peter Chiarelli wants Jesse Puljujarvi in the everyday lineup and inside the top 9F. No doubt in my mind based on Edmonton's moves this week. If Puljujarvi can score 20 goals this coming season, the Oilers will have made the right bet all down the line. Source
That was July 3, and at the end of the month (during my RE series) I projected Puljujarvi to score 14 goals and 28 points in 65 games with Edmonton. The big Finn played in exactly 65 games, scored 12 goals and 20 points.
THE ATHLETIC!
Great playoff special! Try The Athletic on for size free and see if they enjoy the in-depth, ad-free coverage on the site. Offer is here.
https://twitter.com/CareyPriceless/status/990796010522857473
There are all kinds of good arrows for Jesse Puljujarvi, here are a few:
His 10 5×5 goals rank him No. 5 among Oilers forwards.
His .74 goals per 60 at 5×5 ranks him No. 4 among Oilers forwards (200+ minutes).
Led Oilers forwards in shots per 60 (200+ minutes) with 9.27.
Led Oilers forwards in rebounds created per 60 (200+ minutes) with 1.25.
Edmonton needs JP to emerge as a quality NHL player, whatever that may be in his case. I've said all along we might be looking at a quality scorer or a quality two-way outscorer, but whatever that looks like the club needs him pushing every night beginning in October. Puljujarvi after two seasons has a lot in common as an offensive player with the good (Mike Cammalleri, Jaden Schwartz, Ryan Johansen, Mikael Granlund) and the not so good (Taylor Pyatt, Nikita Filatov, Alex Nylander). A big year ahead. I have Rob Vollman on the Lowdown today to discuss Puljujarvi's comparables and possible future.
HERE COMES THE SUN (REVISITED)
Every draft morning since the McDavid edition I publish a "Here comes the Sun" post. It includes my rankings for that draft, a few notes and basically serves as a comment post until the team makes a selection. I'm not sure the Oilers will pick on the Friday night but I'll continue the tradition in the hopes the teams adds to a list that includes Connor McDavid, Jesse Puljujarvi and Kailer Yamamoto.
Today, I'd like to go back to that list of 150 players from a season ago and see the names who didn't get picked, and if they still warrant draft consideration.
No. 68: RD Artyom Minulin, Swfit Current Broncos (WHL). Big defender, math liked him and the verbal on his coverage was solid. He had the identical season with Swift Current and remains eligible for this season.

No. 72: L Jacob Tortora, U.S. National Deveopment Team (USHL).

Speedy skill winger lacked size and little else. He moved on to Boston College (34, 6-7-13) and is draft eligible.

No. 74: L Kevin Hancock, Owen Sound Attack (OHL)

. He had a fine offensive season and repeated it this year. Small and skilled, he's a guy who probably gets a contract if he doesn't get drafted.

No. 77: 

R Emil Oksanen, Espoo (Mestis)

. Skill winger, another math darling and he moved over to North American for 2017-18. He played for the Regina Pats (58, 16-32-48) and he might get drafted this summer.

No. 95: L Ivan Kosorenkov, Victoriaville Tigres (QMJHL).

Offensive winger from Russia, average in size but a 34-goal score in 2016-17. Scored 36 this season.

No. 96: LD Rickard Hugg, Leksands (SuperElite)

. Intelligent two-way defender, he moved over to North America (Kitchener) this season and played well.
There are more from my list of one year ago, we'll touch on those names before draft day. Among the group listed here, I would suggest Kosorenkov and his goal scoring prowess would rank as the most likely player to be chosen this time.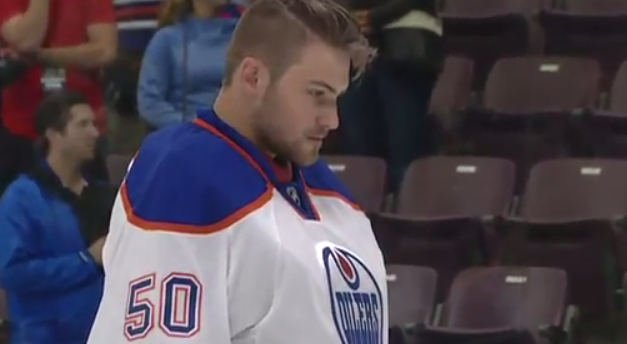 -Stuart Skinner-
WHAT ABOUT A GOALIE?
Edmonton has been drafting goalies often since Peter Chiarelli arrived in 2015 (three in three years) and maybe we'll see it again. There's a bottleneck forming with Dylan Wells and Stuart Skinner both turning pro this fall, Edmonton may want to draft a goalie who is potentially five years out like Purpura on the list below.
Jakub Skarek, Jihlava (Czech). Big goalie, calm feet and plays angles well.
Oliver Rodrigue, Drummondville (QMJHL). Athletic butterfly goalie (via Elite Prospects). Outstanding at U18's.
Lukas Dostal, Brno (Czech). Average size, less developed than Skarek.

Olof Lindbom, Djurgardens (SuperElite).

Great glove, he's a July 2000 so one of the youngest goalies in this draft.

Christian Propp, North Bay (OHL).

Played well after trade in front of a chaotic team.

Justus Annunen, Karpat (Sm-Liiga Jr).

Good size, calm, big. Good numbers.

Roman Durny, Des Moines (USHL).

Not much on him, good numbers going back awhile.

Vincent Purpura, Omaha (USHL).

Hugh goalie, .916SP, off to Boston College eventually. Fits Oilers at this position because he is a draft and follow (heading to college 2019).

Joel Hofer, Swift Current (WHL).

Solid rookie season for the Broncos.

Keegan Karki, Muskegon (USHL).

Big goalie had more buzz about him a year ago, consistency may be an issue.
https://twitter.com/A_Kalnins/status/992015082069610496
At some point, blaming the players simply isn't enough. The failure of Edmonton's procurement department over many years includes bad bets and obscure alternatives, but holy lord these kids died on the vine 10 at a time in the AHL. Godspeed, Jay Woodcroft, there has to be a better way. I suggest playing these prospects. Crazy train idea, maybe it works.
STORY/NOT A STORY
I've been hesitant to write about this because it isn't a story and probably won't be one, but it could be. Kind of like an offer sheet. Edmonton has four men (Milan Lucic, Andrej Sekera, Cam Talbot and Kris Russell) with varying degrees of no-trade clauses. All spring (and probably all summer) we have to tack on a line to any trade idea that says "and maybe one of the NTC's will agree to a move" because it's out there.
There's a lot of evidence piling up now. Edmonton spent $2.5 million on a backup goalie, the Darnell Nurse contract could go well into the $4 million+ range per season, we don't know what the costs are on Ryan Strome. I posted two distinct rosters yesterday, one that brought everyone back and another that sent away several players. At this point, I wonder who is leaving.
Oscar Klefbom? Cam Talbot? Andrej Sekera? Milan Lucic? Kris Russell? I think that's the list folks, from what I can see. Or they can buy out Sekera or Russell. I believe my math is correct here, Oilers have to send away at least one $4 million man in order to get things done. The absolute tightest screw they could manage would be Nurse bridge, Strome one year, trading Oscar for a similar cap hit and let the river run on right wing. That's not Chiarelli's style.
LOWDOWN WITH LOWETIDE
A busy Thursday on the show, all kinds of happenings. TSN1260, 10 this morning, scheduled to appear:
Steve Lansky, BigMouth Sports

. Winnipeg Jets are rocking in the playoffs, best analysts, Jays hanging in.

Corey Graham, Oil Kings PBP.

Oil Kings have the No. 1 overall pick in today's WHL bantam draft, do they make the pick or deal it?
Rob Vollman, NHL.com and ESPN. We'll talk Jesse Puljujarvi and his future.

Frank Seravalli, TSN

. Capitals-Penguins may be flipping the script.
10-1260 text, @Lowetide on twitter. 90 minutes!