There will be internal solutions to roster problems for the Oilers this season, it's just that we can't seem to agree on any of them. We have a series of factions, which include the "Kailer Yamamoto should play a FIFTH junior season" the "Ty Rattie isn't a real solution group" and the church of "the coach hates Jesse Puljujarvi" camps. Instead of arguing October, let's have a look at the long term.
THE ATHLETIC!
Great playoff special! Try The Athletic on for size free and see if they enjoy the in-depth, ad-free coverage on the site. Offer is here.
KAILER YAMAMOTO

One of the things we can't agree on is Kailer Yamamoto. If we compare him to Jordan Eberle, the two men marched in lock step until Yamamoto's final junior season (and even then he finished 1.93 per game after December 31 by going 27, 19-33-52).
Yamamoto should flourish in Bakersfield and I think there's a good chance he has success in the NHL from the start. Although he's undersized, his quickness allows him to dart in and out of situations and grab the puck. He doesn't need to carry the puck to be effective, is an expert passer and can find open lanes and clean air. He has to play with a skill center, to me that means Connor McDavid or Leon Draisaitl.
Maroon-McDavid-Yamamoto: 58 minutes, 64.6 Corsi for 5×5, 1-3 GF, Expected GF percentage 66. Via Corsica.
The McDavid-Yamamoto combination didn't cash but the trio (with Maroon) tilted the ice and should have scored six instead of one based on expectation. It would behoove the coach to try McDavid-Yamamoto again.
JESSE PULJUJARVI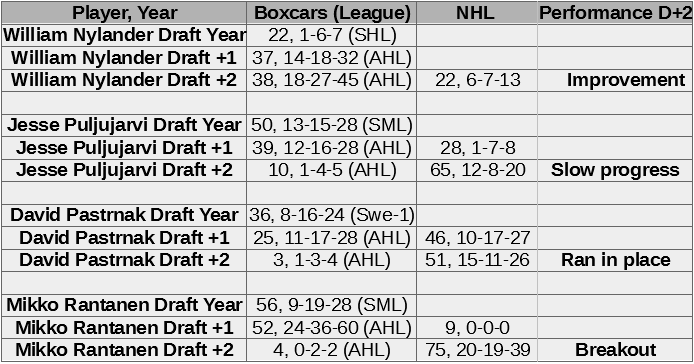 Interesting to look at these players who have compared closely to JP at one time or another. His draft year is close (and in the same league) to Rantanen; his second year resembles Nylander's (AHL time). Last year? He was a behind all three but scored well enough to project as an NHL regular at 20. Will he score 15 goals? 20? Here are the draft +3 seasons for the three men listed above:
Mikko Rantanen 81, 29-55-84
David Pastrnak 75, 34-36-70
William Nylander 81, 22-39-61
Each man played with terrific skill and we don't know where JP is going to land on next year's roster. That said, even if he doesn't manage to reach the heights reflected here, a 15-to-20 goal season seems manageable as a projection.
Zadina said he couldn't believe it when #Habs moved up to 3. Felt that his dream of playing in MTL could come true. Says MTL likes him and he wants to be there. Convinced he can make a big difference. Isn't afraid of the media pressure.

— Habs Chronicle (@HabsChronicle) May 8, 2018
I believe the Oilers will pick a forward (Kotkaniemi, Veleno, someone in that range) or deal the selection. The team has several youngsters on blue bubbling under, suspect the addition on blue this summer comes via the trade market.
WHEELER'S TOP 100 FOR 2018
Scott Wheeler dropped his final Top 100 for the 2018 draft today, it's a terrific overview of the draft class with original (and well written) rankings. As a draft fan, I want to know why (as an example) Wheeler values Joe Veleno over Akil Thomas. He is concise and gives a very good overview of each player. Recommended read and good to bookmark for draft day. One curio: Jack McBain. Because he plays outside the established junior leagues, there's a vagueness about him. Wheeler does a great job of describing him and what can be expected after draft day.
LOWDOWN WITH LOWETIDE
A busy morning with much to discuss, TSN1260 starting at 10. Scheduled to appear:
Jonathan Willis, The Athletic. Darnell Nurse: his season, his next contract and his ideal partner.
Pierre Lebrun, TSN and The Athletic. A classic series should include a Game 7 and we have one later this week in Nashville.

Scott Cullen, TSN

. Scott's Offseason Game Plan's for all 31 teams has begun. In his Carolina Hurricanes piece, he had them acquiring Jesse Puljujarvi from the Oilers for Justin Faulk. We'll discuss.
10-1260 text, @Lowetide on twitter. Talk soon!