It goes by in the wink of an eye. One day there's some teenager throwing on an Oilers jersey and a few years later they're either part of the solution, part of the problem, or 10,000 miles down the road. Get good players, keep good players, the old saying goes. Talent has never been the problem, but patience comes in short supply in the wild western town of Edmonton. Also a bitch: Finding veterans who can fit with and push the young cluster forward in a complementary role. Apparently.
THE ATHLETIC!
Great playoff special! Try The Athletic on for size free and see if they enjoy the in-depth, ad-free coverage on the site. Offer is here.
ILYA KOVALCHUK
Elliotte Friedman 3:31 May 11, 2018:

 Sounds like Edmonton checked in on Ilya Kovalchuk. Not a bad idea, actually. But it won't happen. (Source)
FYI…From my understanding the Edmonton Oilers never pursued Ilya Kovalchuk

— Bob Stauffer (@Bob_Stauffer) May 12, 2018
Both men are trusted sources, so we're left to wonder about the actual truth. I'm not one to rip folks who have access and who routinely deliver big news, and sometimes the info is wrong for technical reasons.
That said, Kovalchuk would be a brilliant bet depending on price. In my 'offseason' piece for The Athletic (here) I wrote:
Barring a change of heart over Aberg (and his grabbing the job on Draisaitl's line), I think the club has to go outside the organization for the scoring winger (James Neal, James van Riemsdyk, Thomas Vanek). 
Ilya Kovalchuk would qualify. Bob and Mr. Friedman came to the same conclusion (Kovalchuk isn't coming here) and if I had to guess there may have been a quick check via channels but who the hell knows. Kovalchuk might be McDavid's hammer, he could score a ton of goals even in a season or two.
PROJECTED ROSTER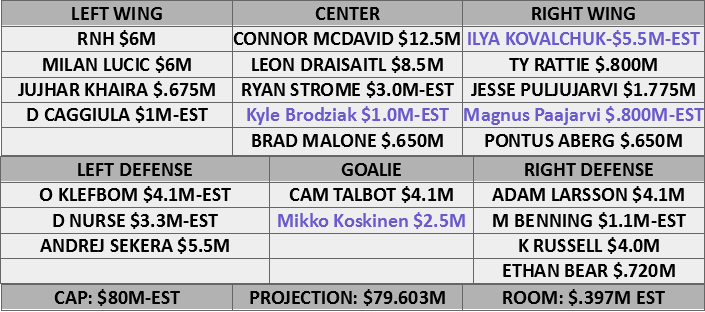 This is the kind of summer I'd like to see, grabbing a real straight shooter like Kovalchuk and then shoring up the bottom 6F with a couple of two-way types who can help at 5×5 and on the penalty kill. RHD? I don't think it's there this summer. Maybe next.
WHO IN THE WORLD IS JACOB BERNARD-DOCKER
The two final items for my Top 120 players in the 2018 draft post (coming June 1) are the European tweaks and kids from secondary leagues. I've been staring at a prospect named Jacob Bernard-Docker this week, he's a fast RHD from the Okotoks Oilers of the AJHL. I had Cale Makar No. 8 in 2017 (he went No. 4) mostly because I don't trust the league. We don't have enough evidence to suggest impact players can come from the Alberta Junior League, although Colton Parayko is a helluva player and Makar clearly impressed scouts. Here are the AJHL numbers in draft year from recent defensemen who have played in the league:
Cale Makar, 2016-17: 54gp, 24-51-76 (1.390)
Jacob Bernard-Docker 2017-18: 49gp, 20-21-41 (0.837)
Colton Parayko, 2011-12: 53gp, 9-33-42 (0.792)
Ian Mitchell, 2016-17: 53gp, 8-29-37 (0.698)
Mike Williamson, 2012-13: 23gp, 1-10-11 (0.478)
Brandon Hickey, 2014-15: 49gp, 4-18-22 (0.449)
Carson Soucy, 2012-13: 35gp, 5-10-15 (0.429)
Matt Benning, 2011-12: 44gp, 4-14-18 (0.409)
Nikolas Koberstein, 2013-14: 51gp, 5-13-18 (0.353)
Rhett Holland, 2011-12: 47gp, 3-7-10 (0.213)
Bernard-Docker is a dynamic player, excellent skater with a great deal of creativity with the puck on his stick. Wes Gilbertson had a nice piece on him for the Calgary Sun in April.