We have reached the point in spring where teams that missed the playoffs begin to arrange the 50-man list for fall. Edmonton signed another goalie yesterday, that may give us an answer about one RFA and one UFA at the position. The 50-man is filling up, who will land on the outside?
THE ATHLETIC!
Great playoff special! Try The Athletic on for size free and see if they enjoy the in-depth, ad-free coverage on the site. Offer is here.
SKINNER SIGNS
The Oilers 2017 draft is looking strong at this point with many miles to go. Skinner is a solid prospect on a tremendous run, but the resume was good before he arrived in Swift Current.
Scott Wheeler:

 Skinner is huge. In today's NHL, with the right goalie coach, that mean's anything is possible. He was great in last year's playoffs and has shown in spurts that he can be the kind of goalie Lethbridge hoped he be when they took him in the first round. Source
50-MAN LIST
I have listed the most likely RFA's to sign, although at this point I do wonder about

Nick Ellis

.

Stuart Skinner

can go back to junior but I don't think there's much for him there. A guess would be

Dylan Wells

in the ECHL, Skinner in Bakersfield with a veteran like

Al Montoya

, Ellis or even

Laurent Brossoit

allowing the kids to ease into their pro careers. No way on earth Edmonton would run two rookies in Bakersfield. I believe Al Montoya gets traded, possibly in training camp if and when

Mikko Koskinen

shows he can succeed against NHL shooters.
Top 4D, if everyone is healthy?

Oscar Klefbom, Adam Larsson, Andrej Sekera, Darnell Nurse

. I think

Kris Russell

and

Matt Benning

will probably play lesser minutes if the others are healthy. Who plays RD on the second pair? Nurse is playing there at the WHC's right now.

Ryan Strome

is in an interesting spot. He showed flashes of filling the role required, but so did Mike York and the Oilers sent him packing after 144 games. I remember the time he had a broken hand, MacT had him playing the point on a 5-on-3 and everyone kept passing the puck to the guy with a broken hand! No one from Mensa on the ice that night.

Connor McDavid

and

Leon Draisaitl

faceoff against each other today at the WHC's. The game is on TSN1260, my show is preempted but I do have a segment with Jamo at 11:20. McDavid has back checked in this tournament, Leon is walking the dog a little. Both are scoring machines.

Ryan Nugent-Hopkins, Milan Lucic, Ty Rattie

and

Jesse Puljujarvi

are the most likely candidates for opening night skill lines, although Lucic and JP are not good together. Edmonton will add skill on the wing.
Maybe the Oilers will hire

Tyler Bozak

to play 2C, moving Leon to right wing and playing RNH on the portside. That's crazy. Right? RIGHT?
STRANGE DAYS INDEED
Craig Button brought up two names (Travis Sanheim of the Philadelphia Flyers and Jacob Larsson) in a recent TSN segment as a possible ask for the No. 10 overall selection. I like the idea, but the Oilers would be looking for a righty blue (both shoot left) and someone who is a puck mover or two-way defenseman. Here are the top 10 AHL rearguards in their entry-level deals (in 2017-18) and their 5×5 primary points-per-60 (estimated) via prospect-stats.com.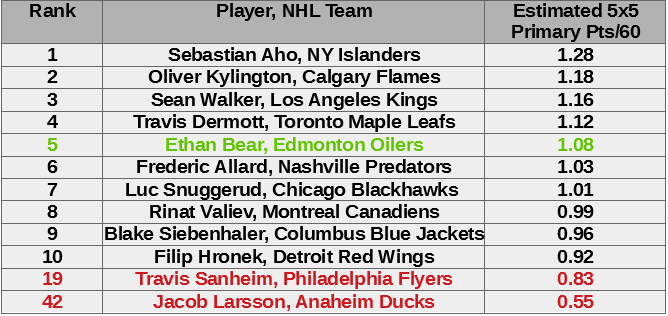 I think the Oilers have two men at the NHL level (Oscar Klefbom, Andrej Sekera) who are superior power-play options to anyone on this list. They may not be healthy all next season, and some men on this may turn out, but this is a needle in a haystack. Ethan Bear performed significantly better than Larsson and is comparable or superior so far to Sanheim (we need more blacktop to make any grand statements). At 5×5, Bear's a nice option based on this table. Now, 5×4 primary.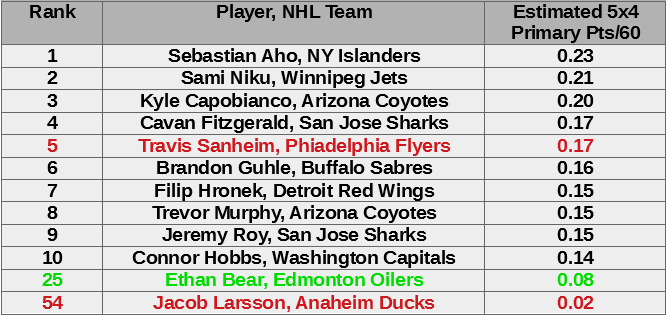 Well, things don't get any better for Larsson, who looks like a good comp for Ladislav Smid at the same age. Bear doesn't rank inside the top 20 but we should get a better idea after his second season. Aho shows up on both lists, and this Niku fellow looks like a quality option. He's the kind of player Edmonton should pursue (although a first-round pick is a heavy price).
As for Sanheim and Larsson, I don't think there's a reasonable case to be made that either man should be the focus for Edmonton, certainly not for the No. 10 overall selection. Sanheim does appear to be a better bet than Griffin Reinhart was in 2015, still wouldn't deal No. 10 overall. If Vince Dunn were a righty, that might be an option.