The last time the Edmonton Oilers hit home runs in both the first and second rounds of an NHL draft, it was 1993—even that's cheating because David Vyborny waited for another round of expansion to find his way. However, Jason Arnott, Vyborny and 1993 have to be included, because the Oilers have never (aside from 1993) had a first and a second round pick play in more than 500 NHL games. Perhaps we'll see a change in the weather this time. (Photo by Rob Ferguson).
THE ATHLETIC!
Great playoff special! Try The Athletic on for size free and see if they enjoy the in-depth, ad-free coverage on the site. Offer is here.
New Tyler Dellow:

How Canada's teams look on strong side v. weak side faceoffs

New Lowetide:

Keegan Lowe can help the Edmonton Oilers (will link)

New Jonathan Willis:

When the Oilers changed course, Eric Gryba got thrown overboard
New Jonathan Willis: A look at which Oilers could stay and which could go this summer

New Lowetide:

 Everything you ever wanted to know about Joel Persson but were afraid to ask.
Lowetide: Ethan Bear says hello, but is not yet NHL-ready.
Lowetide: Andrej Sekera: Insult to injury.
Jonathan Willis: Yohann Auvitu: Oilers need to get more from players like him.
Jonathan Willis: Matt Benning brings value to the Oilers.
Scott Wheeler: Final Draft Rankings 2018.
Lowetide: Oilers summer to-do list short and sweet.
Lowetide: Draft 2018: The Oilers and Russia: A draft tragedy.
Lowetide: Draft 2018: The Oilers and the Republic of Finland
Lowetide: Draft 2018: The Oilers and Sweden.
Lowetide: Draft 2018: The Oilers and the QMJHL.
Lowetide: Draft 2018: Oilers and the WHL.
Lowetide: Draft 2018: Oilers draft history and the OHL
Lowetide: Draft 2018: The Oilers and the NCAA.
Lowetide: Draft 2018: The Oilers at the draft: Overagers.
Lowetide: Draft 2018: Oilers scouting directors: A history.
2018 DRAFT
Two weeks from today, June 1, I'll have my final 2018 list to share with you. I'm about 30 into the project (rankings and notes will be new on every player), very little change in the top group but a couple of tweaks you may enjoy. The top 10 remains the top 10, in a slightly different order (some late breaking news and scouting reports). After that, it's a little more fluid but for the most part the names will remain the same. Although I can't produce the list today, here's a quick mock that might reflect the draft for Edmonton.
First Round—No. 10 overall—RD Noah Dobson, Acadie-Bathurst Titan (QMJHL).

Edmonton doesn't shop the QMJHL often, but Noah Dobson is a quality pick at No. 10 overall. Good size, speed and coverage, he also has a fine shot and can pass the puck very well, great vision in the offensive zone. He can transport the puck, but passing is his strength. He is now listed at 6.03, 179, meaning he has gained an inch and 15 pounds in the last season. From what I'm reading, he has a very nice range and calm feet. Two-way defender but he's quality in both areas.
Second Round—No. 40 overall—RC Cam Hillis, Guelph Storm (OHL). A flat out OHL rookie (he played for St. Andrew's College in Aurora, Ontario in '16-17), I'm surprised he isn't getting more love. He is 5.11, 168, intelligent offensive center. Central Scouting says nice things ("Smaller dynamic skilled player, first year in OHL and plays like a veteran. Very quick and powerful stride with skater – good quickness and acceleration – uses his speed as an asset on the forecheck or when reacting to a loose puck – smart player with good vision and passing skills – plays in important situations including the power play and penalty kill – good compete and battle in all areas of the ice") and his numbers (60, 20-39-59) as a rookie stand out to me.
Third Round—No. 71 overall—

L Sampo Ranta, Sioux City Musketeers (USHL).

 Strong skater and a born shooter, Ranta is a little under the radar but has all kinds of positives. Ranked No. 7 in the USHL with 193 shots on goal, he is No. 5 in shots per game. Scored 23 goals, 14 at even strength. One dimensional but he can scoot and score.
Fourth Round—No. 102 overall (Oilers acquired goaltender Al Montoya from the Montreal Canadiens in exchange for a conditional fourth-round pick in 2018. Montoya covered the condition).
Fifth Round—No. 133 overall

—L Justin Almeida, Moose Jaw Warriors (WHL).

 I have gone and talked myself into this guy as a strong draft option, but there isn't much buzz on him so maybe Edmonton can grab him in the fifth round. Spiked as a scorer, always had a good two-way reputation. Nice prospect.
Sixth Round— No. 164 overall

—G Veini Vehvilainen, Karpat (Sm-Liiga).

I've had him on or close to every list since 2015, and it's too late to stop now. He has been a consistent goaltender for years, made the All-Star team and won best goalie award.
Seventh Round—No. 195 overall—

L Michal Kvasnica, Ocelari Trinec (Czech).

 Smart two-way winger.
SCOUTS AND THE DRAFT
Really interesting anecdotes from the Eagles presser, saying they never want to have just five picks ever again.

One reason: how much work the scouts put in. Each magnet is hours and hours of work. Hundreds of miles. And waiting three rounds for one player is difficult.

— Josh Norris (@JoshNorris) May 16, 2018
Since Peter Chiarelli arrived in Edmonton, the scouting staff has had to sit through the second round (2015, 2017), the third round (2015), fourth round (2016, 2018). Will the club trade that first-round pick?
I've always wondered how much trading picks impacts a scouting department. Peter Chiarelli had to trade two of those picks (to Boston and San Jose for Chiarelli and McLellan) and I have a hard time getting upset about fourth-round picks. The first and second in 2015 were devastating and of course more picks were traded away that weekend for Cam Talbot and Eric Gryba.
If the Oilers are truly concerned with building up the system and having a strong graduating (to pro) class two years from now, Peter Chiarelli will keep his powder dry and Edmonton will make the picks in Rounds One and Two.
THE SECOND ROUND
2008

:

No second-round selections

(Kevin Lowe) (MacGregor)
2009: 

Anton Lander

 (Steve Tambellini) (MacGregor)
2010: 

Tyler Pitlick

 (Steve Tambellini) (MacGregor)
2010: 

Martin Marincin

 (Steve Tambellini) (MacGregor)
2010: 

Curtis Hamilton 

(Steve Tambellini) (MacGregor)
2011: 

David Musil

 (Steve Tambellini) (MacGregor)
2012: 

Mitchell Moroz

 (Steve Tambellini) (MacGregor)
2013:

 Marco Roy

 (Craig MacTavish) (MacGregor)

2014: No second round selection

(Craig MacTavish) (MacGregor)

2015: No second round selection

(Peter Chiarelli) (Bob Green)
2016: 

Tyler Benson

 (Peter Chiarelli) (Bob Green)

2017: No second-round selections

(Peter Chiarelli) (Bob Green)
Not a lot to show for 10 years worth of second rounds. The 2010 draft boasted three picks from this round, Martin Marincin (177) and Tyler Pitlick (138) both hanging in. Anton Lander (215) is the only player in the group with over 200 NHL games.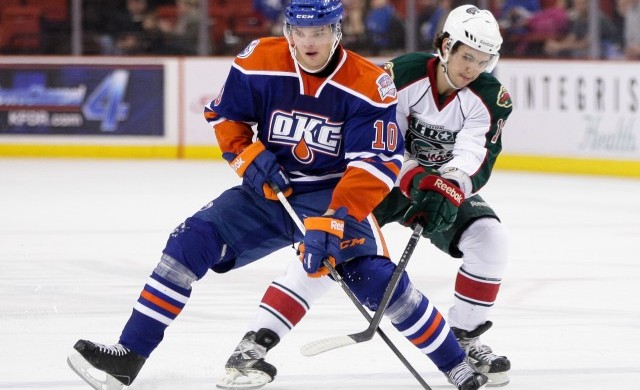 Hartikainen photo by Rob Ferguson
2008 HARVEST MOON
Back in 2008, my draft evening post was called 'Draft Summary' but I did have a take on each of the selections. Since most of that era's posts are no longer publicly available, I thought it might be a good idea to post those initial takes for previous drafts. Here is 2008.
Round One: RW Jordan Eberle- A perfect combination. A strong argument can be made that Eberle was the best player available and he certainly addressed a need (shooter) in the system. He's a May 1990 and 16 (tied for 4th in the WHL) of his 42 goals (tied for 4th in the WHL) came on the powerplay. A quality pick and immediately one of the 5 best prospects in the system (I'll rank them all next weekend with a new top 20).
Round Two: None. Kevin Prendergast stated the price was so ridiculous they decided to sit and wait where they were. Kevin Lowe said they might have moved up had they pulled the trigger on the 2 needs for the NHL team (top 2line F and toughness) but the extra NHL and fringe talent (Stoll, Torres, Pouliot, Schremp, Jacques) was held back for another day.
Round Three: None. There was still quality on the table at this time and most certainly the Bourret trade at #90 is a tell that the Oilers could have been in the mix (the two teams involved, NYR and Phoenix, are "Oiler friendly" and one imagines Edmonton decided not to offer a superior talent to Bourret which is not a difficult task). We all have our opinions, but I think Edmonton needed to pay their way in to the third round and pick up another asset with Jacques. Perhaps I'm overvaluing the player, but Bourret is no screaming hell I'll tell you that much right now.
Round Four: D Johan Motin. A solid, if unspectacular pick and generally speaking we adopt this player type as our own when the Oilers brass give the seal of approval. Stay at home type with size and a mean streak, he apparently can be exposed in areas and is no sure thing. Still he's rather safe for the 4th round and my bet is he'll play at some point in time with the big club.
Round Five: LW Phillippe Cornet. His scouting report reads like a pure tweener. He's skilled but he isn't fast, he's got some try but isn't overly physical. Somewhat similar to Stephane Goulet at first glance, but players with his resume taken in the fifth round do not have a terrific history of success. This is where the Kyle Brodziak's of the world, the plumbers, find their homes and begin the long process of grinding themselves into useful role players. A real long shot from here.

Round Six: C Teemu Hartikainen

. This is the type of player who can get somewhere from this point in the draft. Good size and strength combination, he has feet of clay but some pluck and desire. Finns seem to be genetically predisposed to playing well in the North American style and based on his resume this fellow would seem like a worthy candidate. The third most valuable player taken by the Oilers this weekend.
Round Seven: D Jordan Bendfeld. Tough as nails enforcer who will go right to pro (he's a draft re-entry, former Coyote selection). This is an organizational hire who someone in management likes for what might be a variety of reasons. There are probably 100 kids with more talent that didn't get drafted today and another 100 with the same talent who could be signed as minor league free agents tomorrow. I don't think these kinds of picks are terribly wise simply because it's a bullet in the organizational gun and you might as well pick a "draft and follow" player who may emerge as something else again one year from now.
LOWDOWN WITH LOWETIDE
We're back, baby! At 10 this morning, TSN1260. Scheduled to appear:
Steve Lansky, BigMouthSports.

NHL playoffs, WHC's and McDavid's sweet pass to victory.

Jay Ball, GM FC Edmonton

. Massive week for soccer in this province, the latest on the Eddies.

Scott Cullen, TSN.

Scott's off-season game plan for the Oilers tackles all of the issues we've discussed and comes up with a fascinating answer.

Frank Seravalli, TSN.

The Jets need a win tonight.
10-1260 text, @Lowetide on twitter. See you on the radio!
OILERS SIGN PERSSON
Edmonton has signed young Joel Persson to a one-year contract but he'll play in Vaxjo (SHL) for one more season. It's an unusual thing to do but not unheard of, Edmonton did the same thing with William Lagesson. Possible reasons: Organization may feel he needs to build on success and have more experience at SHL level before coming over; player may have balked at idea of playing season in the AHL and both sides agreed more development time in Sweden would benefit more than Bakersfield; Oilers may not have room on the Condors to assure max. playing time. Thoughts?