We are less than two full weeks from June, the month we expect the Edmonton Oilers to "bring the crazy" and continue the tradition of trading away precious gold for specific pieces of silver. Names we have been discussing for some time are now being used as discussion points by national media and those in other NHL cities. These names (and the No. 10 overall) are being mentioned because they have two things: Value, and a lesser duplicate on the roster.
THE ATHLETIC!
Great playoff special! Try The Athletic on for size free and see if they enjoy the in-depth, ad-free coverage on the site. Offer is here.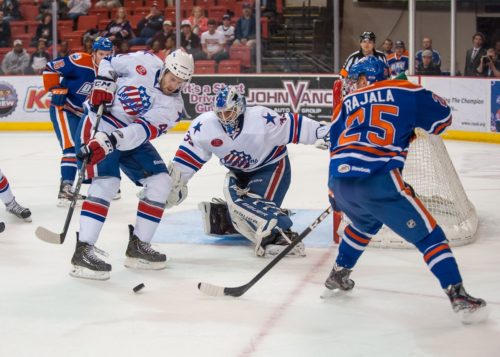 Photo by Rob Ferguson
2009 HARVEST MOON
By 2009 I had graduated from "Draft Summary" to "Shoot the Moon" on the Sunday night post of draft weekend, still no Harvest Moon in sight. Seven picks, went like this.
RD1, 10th overall: L Magnus Pääjärvi-Svensson, Timra IK (SEL)

. Top winger available in the draft fell into the Oilers laps at  No. 10. Immediately the best player in the system and represents a big part of this team's future. Already playing pro hockey.

RD2, 40th overall: C Anton Lander, Timra IK (SEL)

. Two-way center is Magnum PS's linemate and a quality prospect. Words like "character" and "work ethic" are woven into his scouting report and overall this is viewed as a quality pick. Already playing in pro hockey.

RD3, 71st overall: D Troy Hesketh, Minnetonka HS (Minn)

. Defender grew a couple of inches late and rode a gathering buzz into the 3rd round. From Minnetonka HS, he will eventually find his way to Wisconsin (NCAA) but has to be considered a long term project. Unlikely to see pro hockey until 2012 (or later).

RD3, 82nd overall: R Cameron Abney, Everett Silvertips (WHL)

. Knuckle-dragger. He can skate and is an exceptional fighter. If this was the 1970's he'd have a career. Turned 18 in May, unlikely to see pro hockey until 2011.

RD 4, 99th overall. D Kyle Bigos, Vernon Vipers (BCHL)

. A big, bruising defender who is strong along the wall and in front of the net. Has an exceptional shot. He'll attend Merrimack (NCAA) this fall and is 20 years old. Could turn pro in 2011 or 2012.

RD 4, 101st overall. R Toni Rajala, Ilves (Fin Jr)

. 19 points in 6 games at the U18 WJC's. Fiesty player, scored well in Fin (Jr) and he sounds like a better Tony Salmelainen. Plays tough despite lack of size. Turns 20 in 2011, but could turn pro in the SM-LIIGA much sooner.

RD 5, 133rd overall. G Olivier Roy, Cape Breton Screaming Eagles (QMJHL)

. Fine athlete, quick glove, extremely competitive. Despite draft position looks like a quality prospect. Should turn pro in 2011.
PERSONAL OPINION
Every once in awhile, I like to give you my personal feelings on the Oilers summer and what a good eight weeks might look like. My personal opinion: This isn't the season to go crazy with trades, but it would be wise to make one big (and shorter term) move in free agency.
Keep your powder dry, draft your list, see if you can buy short-term free agents who can help you next season. Maybe find a useful piece for the long haul (perhaps Czarnik or MPS in the scenario below), graduate Puljujarvi to the skill lines and move Kailer Yamamoto up from Bakersfield when he's forcing the issue (and that may not take long).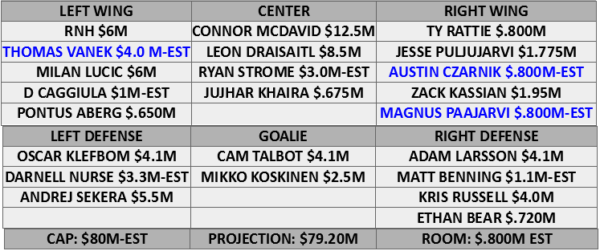 This is what I'd like to see, we can quibble over details (you may prefer Yamamato on the roster, or maybe Kassian traded so the club can afford James Neal or JVR) and specific procurement targets. I'd be fine with Patrick Maroon returning if the team had more fast trains. I like Czarnik a lot, pleased to see Scott Cullen include him in his offseason game plan. I moved Jesse Puljujarvi up, there are lots of other options but he's the most promising and I think Rattie will likely need replacing before the big Finn on the skill lines.
Center gets no help, that locks Jujhar Khaira in so maybe you add a center but that's something to discuss. I included Ethan Bear as No. 7 defenseman, mostly because I can't settle on any player currently on the roster for the position. I think the cap totals are correct, but the royal wedding is mere hours away so maybe my brain isn't working.
BRUINS PROSPECTS
The item I linked to above re: The Bruins is from Joe Haggerty of SportsBoston, who drills down on the idea of Krug to the Oilers.
Haggery on Bruins acquiring Oscar Klefbom

: Krug may factor into this discussion as a big-name, offensive D-man who would be deadly with Connor McDavid and Leon Draisaitl, but you can be sure that Edmonton assistant GM Keith Gretzky would be trying to recoup some of the prospects that he drafted while with the B's as well. If Edmonton was willing to move their No. 10 overall pick as well as Klefbom, that could really be an enticement for the Bruins to give up a few valuable assets to make a deal.
I'm not interested in rehashing the idea of trading Oscar Klefbom (mentioned it in an article for The Athletic February 23) but the 'prospects from Boston' mention by Mr. Haggerty is a wrinkle we can pursue. As a Bruins fan, these prospects are pretty familiar to me, not sure how many of the NHL-ready group Boston would be willing to deal.
L Jake DeBrusk

was touted as a future scoring winger, don't know many who said he would arrive at 21 (70, 16-27-43). He's a determined player, won a lot of battles and then finished them with skill. Bruins aren't trading him.

LC Danton Heinen

has already posted a solid NHL debut (47 points in 85 NHL games). He's the top NHL-ready talent I can see being available from Boston.

LC Ryan Donato

is a talented offensive player, soft hands and a natural ability to be in the right spot. Opportunistic, they used to call it. I suspect Bruins consider him a keeper.

RD Brandon Carlo

emerged quickly after he was drafted, based on speed and the ability to play defense. He's a shutdown type, can pass the puck and would absolutely be a Chiarelli-type player. Missed the end of the season and playoffs with a fractured ankle.

RC Jakob Forsbacka-Karlsson

is a pretty damned good two-way center prospect. He scored 32 points in 52 AHL games as a 20-year old rookie pro this past season. Oilers would be interested in him.

LC Trent Frederic

was a surprise first-round selection but the two-way center provides more offense than his draft day scouting report implied. He's a big power center and might be NHL-ready sometime in '18-19.

L Anders Bjork

is a good skater, solid two-way skills and delivered more offense in college than expected. 12 points in 30 games during his NHL debut, lost time to injury.

LD Jakub Zboril

is a great skater, two-way ability and his draft day scouting report suggested offense would be part of his resume (Red Line compared him to Francois Beauchemin).

R Zach Senyshen

spiked in his draft season and had the Bruins skill set (big, skilled, fast, physical). Hasn't delivered (66, 12-14-26 in his AHL debut) but the club still believes in him based on reports.
The idea of trading Klefbom and No. 10 while acquiring Torey Krug plus prospects is both Chiarelli-like (Oilers are giving up a brilliant contract for a lesser one, and No. 10 overall for a more NHL-ready player with a lower ceiling) and fascinating. I think the Oilers would be wise to keep both Klefbom and the pick. One thing history teaches us: Whatever the deal, Edmonton is unlikely to get 100 cents on the dollar. As I mentioned yesterday, based on previous June trades, Oscar and 10 for Krug and Danton Heinen represents expected value if not reasonable value.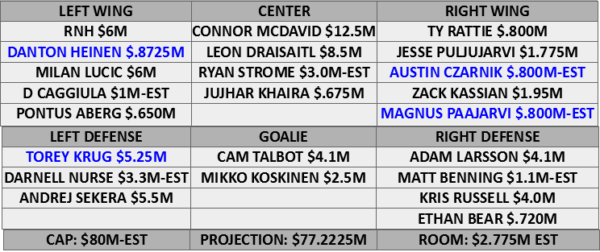 I think that's a fair estimate of what we may be looking at with the big trade of summer. The one thread running through my mind about the general manager: He has every right to remain patient on his draft picks. If you're looking for three wingers to play with 97-29-93 in some order on the top two lines, the answers might be Jesse Puljujarvi and Kailer Yamamoto. It should not be considered a waste of time if Edmonton misses the playoffs next spring but delivers two quality right wingers for the next decade.
In reality, Peter Chiarelli is going to acquire a substantial puck mover and that's going to cost some assets. It would be best if he waited for the market to come to him. The past informs the future.