In 1979, the New York Yankees drafted a tall, thin centerfielder who was bullet fast with lumber and leather. In 1980, playing for Greensboro of the Sally League, Otis Nixon had 113 walks, 67 stolen bases and an on-base percentage of .412. He scored 124 runs, .278 BA. The downbeat? In 620 plate appearances, Nixon had just 20 extra base hits. That's an awful number, your CF has to have more than 20 extra base hits in 620 appearances. What's more, that's 20 extra base hits in the Sally League!
The Yankees in those years were getting old in a hurry at every position, but could not abide Otis and his damnable bat. So, he was down the line and a member of the Cleveland Indians by 1984. The Indians tried everything they knew ("chop down on the ball, Otis!") but he drove a second organization mad with his inability to do much more than walk and beat out infield singles.
In 1988, Nixon arrived in Montreal. Buck Rodgers, the manager, had a look at Nixon (a fabulous CF, he could steal bases at a 75+ percent rate, work the pitcher for a walk and any time he hit a groundball there was a great chance of an infield single) and set aside the lack of power and the endless pop-outs. Rodgers said "we're not going to worry about what you can't do, we're going to have you punch run, bunt for singles, get those walks, steal second, third and home, and run down those doubles into the gap until the end of time" and Otis went ahead and did just those things.
Buck Rodgers never got a chance to manage Linus Omark, but I bet you a 2-4 he would have found a way to make use of what Omark could do well. This is the challenge of the Edmonton Oilers.
THE ATHLETIC!
Great playoff special! Try The Athletic on for size free and see if they enjoy the in-depth, ad-free coverage on the site. Offer is here.
OILERS AHL FORWARDS POINTS-PER-GAME 2010-18
Mark Arcobello (2013-14) 15gp, 10-18-28 1.87
Anton Lander (2013-14) 46gp, 18-34-52 1.13
Linus Omark (2010-11) 28gp, 14-17-31 1.11
Anton Slepyshev (2016-17) 9gp, 3-7-10 1.11
Anton Lander (2014-15) 29gp, 9-22-31 1.07
Linus Omark (2013-14) 29gp, 14-15-29 1.00
Toni Rajala (2012-13) 46gp, 17-28-45 .978
Andrew Miller (2014-15) 63gp, 27-33-60 .952
Mark Arcobello (2012-13) 74gp, 22-46-68 .919
Roman Horak (2013-14) 53gp, 21-27-48 .906
Liam Reddox (2010-11) 37gp, 18-15-33 .892
Linus Omark (2011-12) 18gp, 6-10-16 .889
Mark Arcobello (2010-11) 26gp, 11-11-22 .846

Ty Rattie (2017-18) 53gp, 21-22-43 .811

Teemu Hartikainen (2012-13) 47gp, 14-23-37 .787
Jujhar Khaira (2016-17) 27gp, 8-12-20 .741
Magnus Paajarvi (2011-12) 34gp, 7-18-25 .735
I look at these names and wonder what could have been if the Oilers had a single general manager and coach during these times. Tom Renney unlocked Magnus Paajarvi in 2010, but lost him the following year, thus beginning the journeyman portion of the player's career. Anton Lander? Todd Nelson used him in all situations and the young center flourished in that very small window.
Linus Omark? Drafted during the Kevin Lowe regime, with Kevin Prendergast the scouting director and Craig MacTavish the coach. All three men were gone by the time Omark hit the Whitemud in 2010. Once a player becomes an orphan, that's when the heartache begins.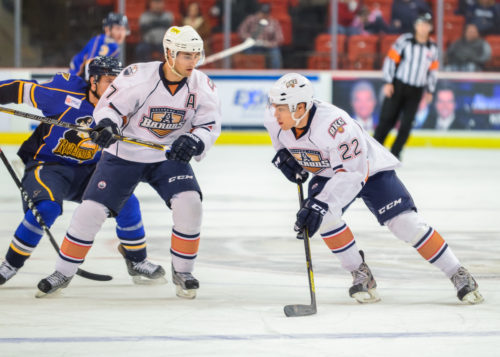 Photo by Rob Ferguson
HARVEST MOON 2010
In 2010, on the Sunday night after the draft had been completed, I wrote the first Harvest Moon post. My summary said "A good, good draft. Hall clearly is going to be the story of this draft, but nice value in the second round (Pitlick, Marincin) and later (Davidson) tell us the Oilers set up their draft board well. These men (scouts) are going to be under pressure to deliver more than an average number of NHLers to the show for the next several seasons and it looks like they've delivered this season. Report card day is around 2015 summer. See you then."
#1 overall LW Taylor Hall: Immediately the best prospect in the system, the Oilers have an outstanding young player ready for the fall. If he gets enough powerplay time and especially if the Oilers can find a way to send him out with good players against the soft parade, this guy could win the Calder. BPA at this spot, good value.
#31 overall C Tyler Pitlick: Big, physical center with skill. The Oilers have a few of them in the pipeline now but you can never have too many of this player type. Oilers have since stated they had him among their top 30 selections.
#46 overall D Martin Marincin: Tall, lean 2-way defender with good speed and the ability to think on his feet. Needs to be more consistent, but that's something we can say about pretty much every prospect taken today. ISS and speeds ranked him at 40, McKenzie at 71.
#48 overall LW Curtis Hamilton: A wide-bodied winger with solid skills (OK skater, good shot, has a nose for the net) he endured injury problems which cut back on scouts ability to "see him good." He's 6.02, 211, and Smarmy Boss has a nice description of him and his season in Hamilton's draft post comments section. ISS60 and Bob McKenzie57, which makes him a slight reach pick.
#61 overall C Ryan Martindale: Tall C with speed. Tambellini says his inconsistency may come from growing into his body (6.02) and made it clear they were looking to increase size and C (and D) at this draft. Stu MacGregor likes his talent but wants him to "be there" every night.
#91 overall D Jeremie Blain: Had a fine season in the QMJHL and has good size for a defender. Oilers have had success in the Q, but it has been awhile. I don't think we can call this a value pick. Tambellini says he plays with an edge, Bill Dandy really liked him a lot and this was likely a scouts pick.
#121 overall G Tyler Bunz: Red Line had him #178 overall but I'm fine with using a depth pick like this one. In fact, I think the Oilers should use one every year in this range. Freddie Chabot has worked with him through the Team Canada development camps and is high on him.
#162 overall D Brandon Davidson: ISS had him #74 and Red Line had him #204. That's a wide range, but Remmerde (a great fricking blog, buddy was our guide today folks) is a straight forward scout and says there are some things to like. Based on his words, I'm counting this as a value pick.
#166 overall L Drew Czerwonka: and the chocolate factory! Sorry. There's not much to say about a pick like this one. There are no expectations, it was probably a pick for the area scout and if he turns out holy hell that's a great pick. The only negative is that there are still some names on the board at this time who graded out better and that's something this organization does at certain points in the draft: select for need. Having said that, it wasn't like Slava Trukhno shot the moon.
#181 overall F Kristians Pelss.
#202 overall L Kellen Jones: Undersized skill player who performed well for the Vernon Vipers. Has a twin brother and they're both heading to the NCAA (Quinnipiac) this fall. His brother's name is Connor, but I think we should call him "Chipper." Like the Czerwonka pick above, they either "saw him good" or this is a hat tip to some regional scout or bird dog who has done good work in the past. There's not a lot to recommend this player outside of solid numbers in a secondary league.
Excellent play by Noah Dobson on the OT winner. Will be a lot of eyes on him for the next week…..

— Corey Pronman (@coreypronman) May 19, 2018
I have him just outside the Top 10, meaning he would be available to the Oilers at No. 10. In truth, suspect Dobson is gone by the time Edmonton picks. If the choices are Dobson, Farabee and Boqvist, my bet will be on Dobson being chosen.
Top 3 players for Sweden as selected by the coaches: Adam Larsson, Oliver Ekman-Larsson and Mikael Backlund.

— Corey Pronman (@coreypronman) May 19, 2018
Larsson was stout in yesterday's game, strong defensively and very physical. He'll play in the late game today, there's a chance for most Oilers at the WHC's to medal today. Larsson is certain to win a medal, we're just waiting on the color.