Since 2010, 36 of the 65 Oilers draft picks attended the NHL combine (coming up this week). In fact, using only the first three picks of each draft, 22 of 24 picks '10-'17 were at the combine (Leon Draisaitl was the only attendee in 2014). If you're wondering about the Oilers in the first 100 selections at the 2018 draft, pay close attention to the combine list when it's released this week.
THE ATHLETIC!
Great playoff special! Try The Athletic on for size free and see if they enjoy the in-depth, ad-free coverage on the site. Offer is here. There's a 7-day free trial and the cost for an annual subscription is less than one (or two) coffee per month, depending on where you buy your hot liquid. We have a mountain of good reading to come in the next 30 days at The Athletic Edmonton, including draft coverage, prospect updates and reaction to the deals of summer. Join us, for the Oilers coverage, stay for all of the other brilliant writing on the site.
New Lowetide:

The Second Round (will link)
Lowetide: Oilers hire three assistant coaches, receive positive response
Lowetide: Pennants!
Jonathan Willis: Al Montoya's likely exit means an end of an era for Peter Chiarelli
Scott Wheeler: Five Sleeper Picks
Corey Pronman: Pronman mailbag
Sunaya Sapurji: Oliver Wahlstrom has been in the spotlight for a long time, but his desire to be 'special' burns deep
Corey Pronman: 2018 NHL draft board.
Lowetide: Draft 2018: The Oilers and Russia: A draft tragedy.
Lowetide: Draft 2018: The Oilers and the Republic of Finland
Lowetide: Draft 2018: The Oilers and Sweden.
Lowetide: Draft 2018: The Oilers and the QMJHL.
Lowetide: Draft 2018: Oilers and the WHL.
Lowetide: Draft 2018: Oilers draft history and the OHL
Lowetide: Draft 2018: The Oilers and the NCAA.
Lowetide: Draft 2018: The Oilers at the draft: Overagers.
Lowetide: Draft 2018: Oilers scouting directors: A history.
CURRENT 50-MAN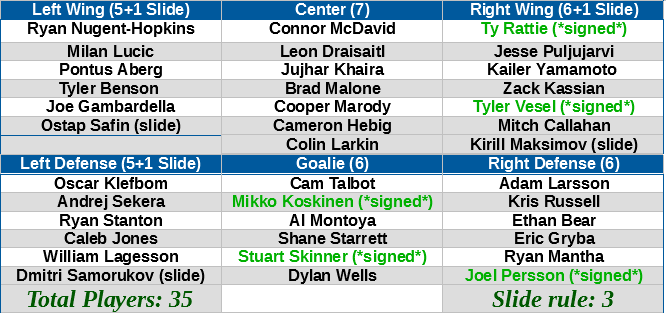 There are several RFA who are going to be signed and we'll see about free agency but there's plenty of room if the cap will allow additions. I'd count on Darnell Nurse, Matt Benning, Ryan Strome and Drake Caggiula being added from the current crop of free agents.
WAITING
G Nick Ellis RFA. Oilers have a full boat, but could deal Montoya and sign Ellis.

G Laurent Brossoit UFA

. It's a good bet he's going to make like Lionel Richie and sail on down the line.

LD Darnell Nurse RFA.

 A bridge deal likely part of the conversation.
RD Matt Benning RFA. A shorter term seems likely, Benning has settled in as a solid defender.

LD Yohann Auvitu UFA

. Reportedly heading back to Europe, there's an NHL player here.
RD Mark Fayne UFA. He's done with the Oilers, we'll see if he catches on with another team.

LD Keegan Lowe UFA

. I think he might return on a two-way deal.

LD Dillon Simpson UFA

. Same spot as Lowe, likely room for only one.

LD Joey Laleggia UFA

. He'll sign with an NHL team that sees him as a defenseman. Maybe Vancouver.
LD Ben Betker RFA. Likely part of a substantial "Leftorium" haircut this summer.

RC Ryan Strome RFA

. Several options for this player, including a trade.

RC Kyle Platzer RFA

. I don't think he's shown enough in his entry deal.

LC Grayson Downing UFA

. Quiet free agent signing.

L Mike Cammalleri UFA

. I liked his contribution but the Oilers need more speed.

L Drake Caggiula RFA

. Likely gets a short-term deal.

L Braden Christoffer RFA

. Unlikely to return.

R Anton Slepyshev RFA

. KHL rumors (and a trade) suggest he's headed for the Motherland.

R Iiro Pakarinen RFA

. Also the subject of Russia rumors.

R Patrick Russell. RFA

. I think there's a chance he gets another deal.

R Brian Ferlin UFA

. Barely got on the ice.
CONDORS FORWARDS 2017-18
I haven't really bothered with these numbers for forwards in 2017-18, there wasn't much to trumpet. A nice late run by youngsters like Benson and Vesel offered some encouragement but it's difficult to find the best prospect (forward) for the full season Condors. I'll go with Joe Gambardella, but this was a very poor season for development among AHL forwards. All via prospect-stats.com.
CONDORS DEFENSE 2017-18
The defense is where the action was in Bakersfield last season. I'd say Ethan Bear was the best prospect for the Condors, followed by Caleb Jones and Ryan Mantha (all ahead of Gambardella and the goalies). Peter Chiarelli has been working hard on adding forwards (and with good reason), I'm excited to see William Lagesson in the fall.
IDEAL SUMMER
I've written a lot over at The Athletic about what the Oilers must do this summer (improve on the wings, shore up backup goaltending and find some good penalty killers) and the phoner with Peter Chiarelli and Todd McLellan the other day gave us an idea the general manager may be thinking the same way. Adding all of these coaches suggests, at least in part, that the general manager is doubling down on his '94's' and we'll see most of them (Darnell Nurse, Matt Benning, Drake Caggiula, Jujhar Khaira, Anton Slepyshev) back in the fall.
If this is a real "keep your powder dry" summer I'd be thrilled. If Peter Chiarelli can hold on to his draft picks, have his majors moves of summer be Mikko Koskinen, find a Brian Gibbons or a Mattias Janmark for the penalty kill, a scoring winger who won't cost the moon and is under control from the Daniel Sprong/Alex DeBrincat tree, well that's the best possible result this summer.
Betting on the men born 1992 and later who are already on the roster (Adam Larsson, Ryan Nugent-Hopkins, Oscar Klefbom, Darnell Nurse, Leon Draisaitl, Connor McDavid, Jesse Puljujarvi, Kailer Yamamoto, Matt Benning, Drake Caggiula, Ryan Strome, Pontus Aberg, Ethan Bear) is a damn sight better than making another June trade that bleeds talent.