The one true thing we know about the Edmonton Oilers is they are beyond formidable with Connor McDavid on the ice. He tilts the playing surface, addles the defense, muddles goaltenders and wreaks havoc across the NHL. It's the rest of the story that is such a grave concern for the hockey club. Late in the season, Todd McLellan moved Ryan Nugent-Hopkins to Connor McDavid's line and asked Draisaitl to push the river all on his own.
THE ATHLETIC!
Great playoff special! Try The Athletic on for size free and see if they enjoy the in-depth, ad-free coverage on the site. Offer is here. There's a 7-day free trial and the cost for an annual subscription is less than one (or two) coffee per month, depending on where you buy your hot liquid. We have a mountain of good reading to come in the next 30 days at The Athletic Edmonton, including draft coverage, prospect updates and reaction to the deals of summer. Join us, for the Oilers coverage, stay for all of the other brilliant writing on the site.
LEON DRAISAITL COMPARABLES
via hockey-reference, first four years of career, through age 22
Leon moved up from .72 to .77 season over season, so he's on a nicer street in a very good neighbourhood. It's disappointing, but I think a lot of Oilers fans aren't going to enjoy his career in Edmonton because the cap number skews the view. For me, Leon is a bona fide member of a fantastic group of Oilers I have had the privilege to enjoy playing in our city over many years. He's such a quality player.
2016-17 with McDavid: 53.9 CF 5×5; 2.22 5×5/60 scoring  

2016-17 w/o  McDavid: 47.7 CF 5×5; 1.80 5×5/60 scoring 
I've read a lot of posts and even some articles lately wondering why the Oilers didn't move Nuge to the 97 line a long time ago, but I think the wowy numbers hold the key. In 2016-17, Leon could deliver respectable offense but the possession battle was being lost. That's not all on LD, but McLellan ran with the veteran RNH at No. 2 center in 2016-17, which I believe was the correct choice.
2017-18 with McDavid: 54.4 CF 5×5; 2.65 5×5/60 scoring

2017-18 w/o  McDavid: 50.4 CF 5×5; 2.01 5×5/60 scoring
These are the numbers of a man who looks ready to push the river. If Peter Chiarelli can get him two good linemates the Oilers should have two brilliant scoring lines in 2018-19. It's a big damned deal. One thing I'm thrilled by: When I kept arguing Nuge needed to be No. 2 center every fall, it was pushing back against trading him. It looks like the window for trading RNH has passed, it's the right call and I'm pleased management hung around long enough to see how he shines.
Here are the 104 players invited to the NHL Scouting Combine. #2018NHLDraft pic.twitter.com/7gp2zRqyLU

— Scott Wheeler (@scottcwheeler) May 28, 2018
The combine list is an important item. NHL teams will spend a few days testing, interviewing and assessing the most talented players in this year's draft. One of the most interesting aspects of the combine is the stragglers. That's my name for kids who aren't among Central's 100 (or so) top talents but have been invited (usually by request of an NHL team wanting to get a closer look). Here are a few of those outliers.
RD Seth Barton.

BCHL defender (Trail Smoke Eaters) is 6.02 and regarded as a physical and intelligent defender. Tough to project tier two offense for blue. He's off to UMass-Lowell fall 2019.

LD Michael Callahan.

 Mobile two-way defender with good speed. The USHL has a ton of good young players in this draft.

LC Eric Florchuk.

Not a strong draft for WHL forwards, Florchuk was a fairly high bantam pick for Victoria but never found the range. He's either a tweener or a sleeper.

L Liam Kirk.

A lot of buzz about this player, from Great Britain. I don't know how much offense he'll bring but this is the most excitement we've seen from the rock since Tony Hand.
KEITH GRETZKY LAST JUNE
Keith Gretzky: "You don't want to force the hand and you try and take the best player, of course. We're trying to determine who is the best player. If it's close, since we have a lot of defencemen coming up, we'll look towards a forward but right now we'll look for the best player." Source
That was a year ago, the Oilers chose Kailer Yamamoto in the first found and four of seven selections were forwards on draft weekend. Although the Gretzky quote is from June 2017, I think the thrust still applies. The Oilers need forwards. A quick look at the 20 best prospects in the system (my quick estimate, 50 NHL games or less) proves the point.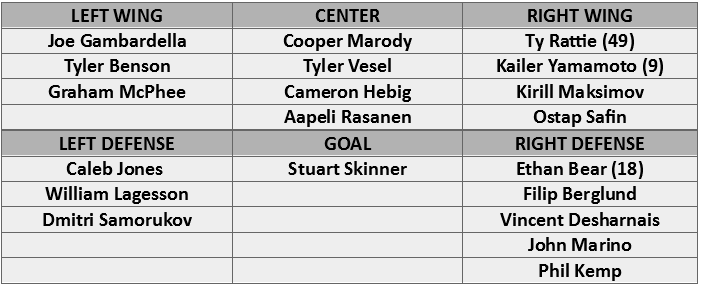 The best forward prospects are on right-wing, center is looking better and left-wing needs help. Left defense has three good prospects, and right defense has two or three depending on who you believe. Stuart Skinner would be the only prospect goalie on an NHL trajectory (with a long way to go). How many impact prospects are on this list? I mean a starting goalie, top 4D, or top 6F/No. 3 center?
Draft +1 Forwards (CHL)
Leon Draisaitl 1.66

Kailer Yamamoto 1.60

Tobias Rieder 1.40

Curtis Hamilton 1.32

Kirill Maksimov 1.29

Ryan Martindale 1.28

Tyler Benson 1.27

Greg Chase 1.21

Tyler Pitlick 1.11

Ostap Safin 0.95

Marco Roy 0.90

Jackson Houck 0.88

Daniil Zharkov 0.73

Drew Czerwonka 0.63

Kyle Platzer 0.55

Mitch Moroz 0.49

Travis Ewanyk 0.36
This is points per game. I wrote about the second round over at The Athletic yesterday, this is something I was going to use as part of the article but it didn't make the cut. I find it fascinating to see the gap between the NHLers (in yellow) and the tweeners, it's such a simple yet informative statistic. I have the 5×5 numbers ('the lesson of Rob Schremp') and will run tomorrow morning.
For those asking.
I would be very surprised if the Oilers moved the #10 for some immediate help.
IMO it would have to be a slam dunk deal to do so.
There are no shortcuts.
Draft and then develop.
EDM should get a really good prospect at #10

— Bob Stauffer (@Bob_Stauffer) May 29, 2018
As we discussed yesterday, simply not worth acquiring a player outside his entry deal and you'd want that acquisition to step right into the NHL. That comes with risk (Griffin Reinhart) and you have to hit a home run at No. 10 overall. It may come down to Boqvist versus Bouchard, or Kotkaniemi versus Boqvist.
Here it is.

My personal Top 90 for the 2018 NHL Draft. #LetsGoOilers #NHLDraft pic.twitter.com/HUOMA2u7nm

— EDM Prospect Watch (@EDProspectWatch) May 29, 2018
A fascinating list, recommend you have a look. One thing that we know already about this draft? After No. 10 or so, it's all over hell's half acre. This is one of the more original takes I've seen. Well done.
Bill Daly says latest projection for next season's salary cap is between $78 and $82 million.

— Frank Seravalli (@frank_seravalli) May 28, 2018
At $80 million the Oilers can make it go, at $82 million there's a chance the team could add a reasonable upgrade at right wing and still land under the cap. The table below (I ran this a week ago) shows Edmonton adding three wingers for $5 million and getting in just under an $80 million cap.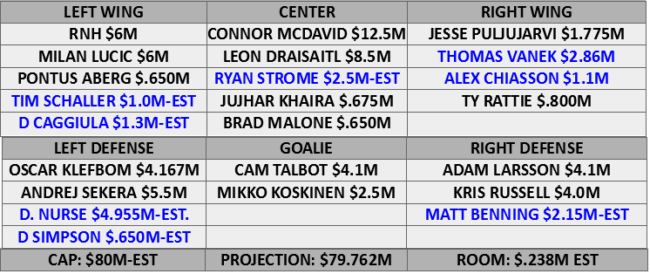 THE LOWDOWN WITH LOWETIDE
A busy show this morning, starts at 10 on TSN1260. Scheduled to appear:
Jonathan Willis, The Athletic!

We'll chat about what value would be required to move No. 10 overall and I'll ask Jon how many future top 6F's, top 4D's and starting goalies he sees in the Oilers system.

Josh Eberley from HOOP Magazine

. A wild ride through the divisional finals leaves us with a Groundhog Day final. Can Lebron climb Everest?

Scott Cullen, TSN.

Viva Las Vegas, and what can the Oilers learn from the Golden Knights?
Text 10-1260, twitter Lowetide. See you on the radio!