Peter Chiarelli is entering summer with a newfound cautiousness, and I'll tell you it's a pretty fabulous sight. Smart people will point to the irony of doing it this summer instead of 2015, 2016 or 2017, and I'm with them on that point. That said, it's never too late to do things right, this is not the time to bleed more future for a mere playoff spot in the spring. The Stanley is the goal. Pray baby Jesus the general manager's words match his deeds over the next 35 days.
THE ATHLETIC!
Great playoff special! Try The Athletic on for size free and see if they enjoy the in-depth, ad-free coverage on the site. Offer is here. There's a 7-day free trial and the cost for an annual subscription is less than one (or two) coffee per month, depending on where you buy your coffee. We have a mountain of good reading to come in the next 30 days at The Athletic Edmonton, including draft coverage, prospect updates and reaction to the deals of summer. Join us, for the Oilers coverage, stay for all of the other brilliant writing on the site.
CHIARELLI SPEAKS
#Oilers GM Chiarelli on 2018-19 blueprint: "We're not going to do anything significant, generally speaking. We felt (2016-17) wasn't an anomaly … We really don't want to throw out the baby with the bathwater here."https://t.co/YSvEQt3HIB

— Mike Zeisberger (@Zeisberger) May 31, 2018
The full quote is dynamite, make sure to click and read. As far as Chiarelli's words, this is the correct answer. Three summers late, and the Oilers could very well miss the playoffs next spring, but it's the correct answer. Free-agent additions and big trades are useful when you're completing the roster, and this Oilers team is miles from being that team. Here, once again, is the prospect depth chart.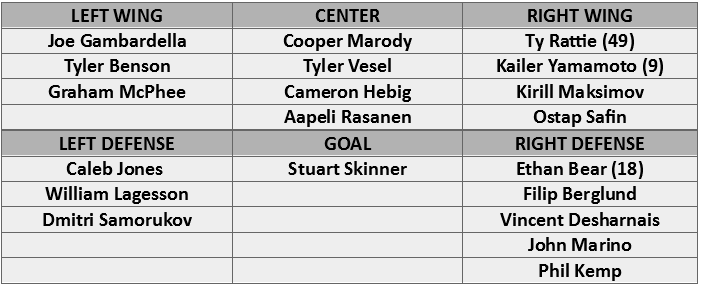 If you add Kasperi Kotkaniemi, Isac Lundestrom and Axel Andersson to this group, Edmonton will have a quality list for the first time since 2011 summer. Trade the first round selection? Still climbing the mountain.
WHAT ABOUT THE NHL TEAM IN 2018-19?
Keep Klefbom. Keep Nuge. Keep the pick. Keep Jesse Puljujarvi. You might have to suffer through growing pains, and you're going to have to be honest about the players who aren't good enough to be NHL regulars.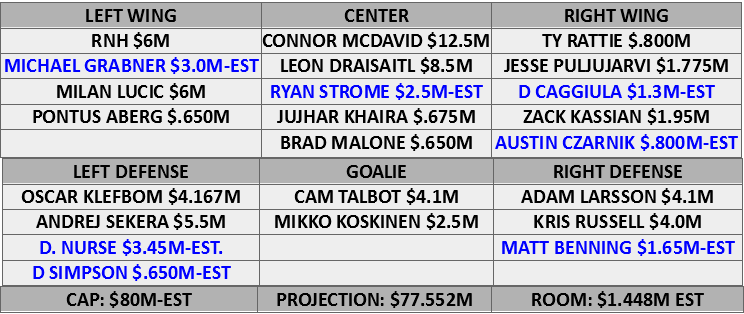 This is a quick example of what the Oilers might be able to do without dealing Klefbom or the No. 10 overall selection. Michael Grabner is unlikely to stay far from Manhattan but he would be a nice addition (can also penalty kill) to the group. I added Austin Czarnik because he has enough skill to play on a prominent line, we don't know if Rattie or Puljujarvi will hold those jobs (and Caggiula hasn't been strong on a skill line 5×5).
I'm sure some are looking at this and saying 'it's not enough' but the McDavid cluster remains, plus you've added a No. 10 and No. 40 overall pick to the prospect group.
Goaltending. Anyone who saw the Braden Holtby save late in the third period last night was once again reminded about the importance of the netminder.
Our thoughts and prayers are with the @STEDMUNDHOCKEY school community today as they mourn the passing of Hockey Academy Head Coach Ray Podloski. Ray was loved by students and colleagues and will be missed. Our sincere condolences to his family and his many friends and students.

— KC Hockey (@KofCHockey) May 30, 2018
Back when I was courting Mrs. Lowetide in Red Deer 35 years ago, Ray Podloski was an impact player for the Red Deer Rustlers. He was dominant at that level, moved on to the Portland Winter Hawks and eventually a brief stay in the NHL with the Boston Bruins. If the measure of a man is the reaction of others in the hours after his passing, Ray Podloski had an enormous impact on the people around him. RIP.
Dammit, I just bought a Nick Ellis jersey.

— RG3 (@rascalgas) May 30, 2018
Nick Ellis retired yesterday, after just two seasons in pro hockey. He got an NHL recall, the organization (inexplicably) didn't use him in a game despite having every reason to do so at the time. A quick check on the rfa's shows they are being culled in a quick hurry.
LD Darnell Nurse

. Led D in scoring (82, 6-20-26) and had his best year so far, although January+ saw regression from an excellent first half. Nurse is part of the future in Edmonton.
RD Matt Benning. He scored 73, 6-15-21 this season and established himself as a solid NHL defender. Seems to be past the concussion of last season and is rock solid as a third pairing option.
RC Ryan Strome. He scored 82, 13-21-34 and that's exactly in line with expectations. Strome didn't get much time with McDavid, one of many curios this season.

R Anton Slepyshev.

Looks like he's heading back to the KHL, making the 'who won that crazy trade' post obsolete. I still think MacT made a good decision.

L Drake Caggiula.

An organization with more options might look to offload Caggiula, he has some coverage issues and is a possession drag on skill lines. Edmonton needs offense and he scored 13 last year, he will be back.

R Iiro Pakarinen.

He's apparently headed across the water, a fine penalty killer and (I think) a useful hire while he was in the organization.

G Nick Ellis.

Retired yesterday. Had a strong rookie pro season followed by a mediocre one. He was a legit prospect, wonder if the Oilers would have signed him.

R Patrick Russell.

The toughest call on the list in my opinion, Russell does have some nice things on his resume. The downbeat is foot speed and that might catch up to him in contract talks.

LD Ben Betker.

He's a big, strong shutdown type and skates well for a big man. I don't see him getting a contract but one never knows.

L Braden Christoffer.

He delivered a lot of energy and hard work, but is a shy offensive player at the AHL level. It probably means he'll be moving on.

RC Kyle Platzer.

Offense was always the concern and remains so at the end of his contract. I do think Platzer has ability, but will guess the organization walks him.
LOWDOWN WITH LOWETIDE
A busy morning, gets underway at 10 on TSN1260. Scheduled to appear:
Ryan Holt, Bakersfield Condors play by play.

We'll talk Jay Woodcroft and Nick Ellis.

Jimmy Morrison, Edmonton Prospects.

The season starts tonight!

Rob Vollman, NHL.com and ESPN.

SCF and the lessons of the Golden Knights.

Frank Seravalli, TSN.

Braden Holtby saves the Capital!
10-1260 text, @Lowetide on twitter. See you on the radio!