In October of 2016, I spoke to prospect insider Simon Boisvert about young forward Jujhar Khaira. This came at a time when the Oilers were desperate for something coming down the pipeline.
Simon Boisvert on Khaira:

 I do think he is NHL-ready. He is very confident now offensively, he reminds me of the Khaira I remember from the BCJHL. This is the year when prospects who have already spent two years in the AHL should be in the NHL—otherwise they become career AHLers. Or tweeners. He is ready for the show. He is their best forward (in Bakersfield), now the question is when will he be called up? Source

Injuries interfered and it took a year, but Jujhar Khaira emerged as a useful NHL player in 2017-18, passing some fairly famous names in terms of productivity. Edmonton needs more, many more forwards and the club needs them soon. What's bubbling under in Bakersfield?
THE ATHLETIC!
Great playoff special! Try The Athletic on for size free and see if they enjoy the in-depth, ad-free coverage on the site. Offer is here. There's a 7-day free trial and the cost for an annual subscription is less than one (or two) coffee per month, depending on where you buy your coffee. We have a mountain of good reading to come in the next 30 days at The Athletic Edmonton, including draft coverage, prospect updates and reaction to the deals of summer. Join us, for the Oilers coverage, stay for all of the other brilliant writing on the site.
AHL FORWARDS, POINTS-PER-GAME BY AGE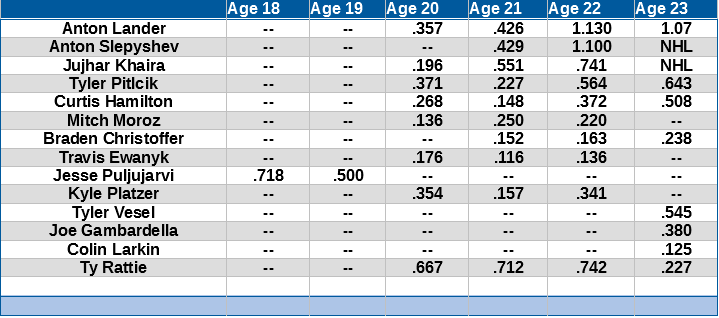 Khaira at age 20 was in no man's land, similar production to Travis Ewanyk. That said, we know the Oilers slow-play rookie AHL players, so we can surmise he was getting 10-12 minutes a night.
Khaira at age 21 suddenly becomes the most productive player in the Bakersfield group (Rattie was playing in Chicago with the Wolves).
Khaira at age 22 is NHL-ready and looking for good health and an opportunity. He scores on par with Rattie in the final year of his entry contract.
The question then becomes, who's next? Jesse Puljujarvi scored well enough in the AHL as a teenager to project as an NHL player age 20. We can't project him as a 25-goal man, but I'd be comfortable betting on 15 goals and 30 points for JP next season. I think that's fair. Anyone else? I think the next Oilers forward who'll arrive from Bakersfield will come from the new arrivals this fall (Kailer Yamamoto, Tyler Benson, Cooper Marody, possibly Ostap Safin). Maybe Joe Gambardella but that's a distant bell. This list must be better a year from now.
TOP 50 FREE AGENTS: A three-headed monster leads the 2018 class, which could be one of the most impactful in years – if two of them make it all the way to July 1. The list: https://t.co/7DGmZh1M5z #TSN

— Frank Seravalli (@frank_seravalli) May 31, 2018
It's difficult to make a list of possible signings for Edmonton because the cap room isn't there. If Peter Chiarelli bridges everyone and risks an overage should Puljujarvi blossom, my estimates have the club's outer marker for a single free agent at $3.5 million. Here's a possible list.
R Thomas Vanek.

He was available a year ago, not sure if the Oilers went after him at that time. He would be a solid insurance policy against the current right-wing depth chart (Ty Rattie, Kailer Yamamoto, Jesse Puljujarvi, Zack Kassian) and should be a lock for 20 goals on an Edmonton skill line populated with 97 or 29.

L Patrick Maroon.

Although he's unlikely to return, Maroon scored just three goals away from McDavid in the 17 regular season games after being traded to the Devils. Maybe there's a window of opportunity.

RC Riley Nash.

I've been looking at his numbers and they're good. Nash was 1.96 5×5/60 scoring with Danton Heinen and David Backes, and had a good possession number. If you could sign him, trade Strome and save some dollars, is that a useful idea?

RD Chris Wideman.

I like him, in a Cody Franson kind of way. I'm not suggesting he would be a suitable second pairing addition, but if the club dealt Matt Benning then Wideman might be able to slide into that role.
IMO, Austin Czarnik was best player on either team (goalies not included) in Providence-Lehigh Valley series. NHL caliber player, if not with #NHLBruins then elsewhere

— Mark Divver (@MarkDivver) April 30, 2018
CZARNIK
I've written on this player before, he's in that Tyler Pitlick zone now, a Group 6 free agent with a window to unrestricted free agency due to lack of NHL games played. It looks like he'll use his opportunity to have a look.
Bruins general manager Don Sweeney: "Czarnik is going to be a group six [free agent]. We've had discussions with Austin. I think Austin is intrigued by what may exist elsewhere. We certainly haven't closed the door, I don't think he has as well, but I would be surprised if he doesn't get to at least to see what may present itself as options for him." Source
Czarnik is 25, that's even older than Ty Rattie when he signed with Edmonton. Why do I like him? He's free (no asset given) skill, having scored 65gp, 25-44-69 in the AHL this past season. In 59 NHL games, he's 5-12-17, turned pro in 2015 and averages 80 points per 82 AHL games. I always list him as a right-wing, but he plays center quite a bit (won half of 28 faceoffs in 10 NHL games this past season) and is a righty. Small, skilled, inexpensive. He might deliver excellent value.
Rise & shine. Welcome to #NHLCombine Saturday. pic.twitter.com/0sLUybXmS5

— Mark Scheig (@markscheig) June 2, 2018
Mark will join me at 3:40 today on Saturday Sports Extra to discuss the combine. It's a very important day for these young prospects, you'll be surprised at some of the shuffling that occurs after this weekend. Interviews that go sideways, worries over injuries or conditions that could impact careers, language barriers, doing one push up, it's kind of bizarre how much importance is placed on the weekend. I do agree the medical stuff is important though, not sure there's a wrong answer for most of these questions (because they're kids, dammit!).
My 2018 NHL draft rankings, with full reports, grades on tools, tiers, and coach quotes: https://t.co/HOgtUp8Xfq

— Corey Pronman (@coreypronman) May 25, 2018
Now that I'm finished the draft rankings, I get to enjoy the publishing of myriad voices and their interpretation of this year's group. I always like to give credit where due, and in this case it's Corey Pronman and Scott Wheeler. Pronman's final list is here. Scott Wheeler's here. I will post the other lists I follow as time rolls by in June.