The Edmonton Oilers jumped into free agency early this year (April 14) by signing Ty Rattie to a one-year deal for $800,000. This is Rattie's last chance Texaco and that will mean a great deal of determination by this player. It sets up a fascinating battle for playing time on the skill lines this winter. Can he hold off Kailer Yamamoto and Jesse Puljujarvi? Historically, the answer is an overwhelming "no" but Todd McLellan's decision has yet to be made.
THE ATHLETIC!
Great playoff special! Try The Athletic on for size free and see if they enjoy the in-depth, ad-free coverage on the site. Offer is here. There's a 7-day free trial and the cost for an annual subscription is less than one (or two) coffee per month, depending on where you buy your coffee. We have a mountain of good reading to come in the next 30 days at The Athletic Edmonton, including draft coverage, prospect updates and reaction to the deals of summer. Join us, for the Oilers coverage, stay for all of the other brilliant writing on the site.
RATTIE VERSUS EBERLE

This is Eberle at 20, as a rookie, compared to Ty Rattie, at 24, and of course a small sample size for Rattie. He's also on the McDavid line and frankly that's winning the lottery. The Oilers need value contracts and Rattie could score 20+ if he can hang on the top line all year. His numbers (small sample size alert) with McDavid and Nuge show a lower possession number than most of 97's lines but an increased goal share. The PDO suggests some regression will be in order:
Nuge-McDavid-Rattie:

129 minutes, 50.19 percent Corsi for, 65 percent goal share (13-7), 55 percent expected goal percentage, 109 PDO (Corsica)
I hope Rattie holds the job, it's a great story. That said, it is wise to allow head over heart thinking in these things, with two first-round picks pushing, this story may be more novella than novel. Cheer like hell, prepare for the inevitable.
Speaking at the NHL combine, Arizona Coyotes general manager John Chayka has said he is trying very hard to get O… https://t.co/TTBbJ8uSBG

— NHL News (@PlayerlineNHL) June 3, 2018
Pierre Lebrun (and Jim Matheson) established awhile back that the Edmonton Oilers would be in on OEL if he came available. I'm a big fan of this player, but not the price tag. This is likely to be a classic case of trading a quality future (Oscar Klefbom) with a great contract for a famous name with a massive deal that further complicates the cap. Love the player, don't like the next contract. Oilers can't afford another massive deal without offloading one of Milan Lucic, Andrej Sekera or Kris Russell. Plus the Klefbom worry (trading an important part of the cluster after a downbeat season).
Edmonton #Oilers have signed pending Group 6 UFA d-man Keegan Lowe to a 2 year contract extension.

2 year / 2-way deal
$675,000 AAV at the NHL level

2018-19: $650,000 / $150,000 ($200,000 guaranteed)
2019-20: $700,000 / $225,000 ($250,000 guaranteed)https://t.co/sUqJaUkCWp

— CapFriendly (@CapFriendly) June 3, 2018
I wondered how this might break down, Oilers have two players with similar skills (Dillon Simpson) applying for the same job. Now, it's possible to sign both, with Keegan Lowe as 7D and Simpson as a feature blue in Bakersfield (or vice versa), but I would guess we see a sail on Simpson signing after July 1. The deal above gives us our first shoe to drop in this area and increases the number of men signed to the 50-man list.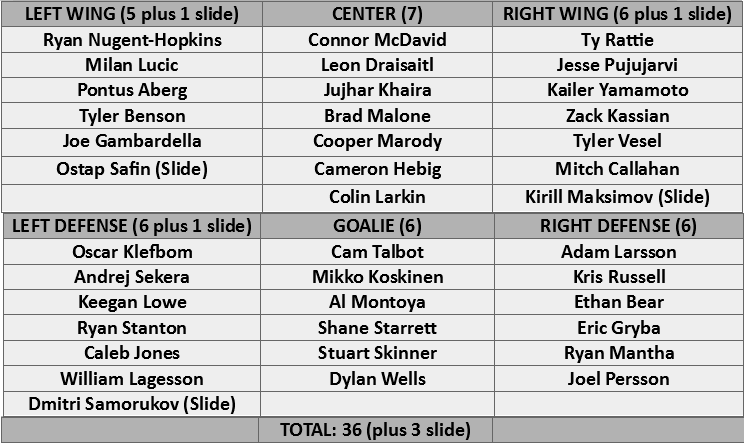 Lowe is a candidate for that No. 7D job, along with Ryan Stanton and Eric Gryba. Lowe showed well in a brief look-see at the end of the season, at this point I'd give him the edge to win the last spot. I wrote about Lowe  at The Athletic this spring:
Keegan Lowe resides in that place in pro hockey where teams value what he brings, but only to a point. There are probably 75-100 AHL defencemen who could safely fill end of the roster roles on NHL teams (short-term) at any given time. Keegan Lowe is one of them.
New: Official NHL Combine Heights & Weights. Everyone's measured. https://t.co/VMKp9rHylI #THW #NHLDraft

— Mark Scheig (@markscheig) June 2, 2018
This is a valuable set of information, wise to hold on these totals for the draft and beyond. Some of the numbers posted here do not line up with previous totals. Have a look and see if your favorite prospect is now 6.02 instead of 5.11.
OILERS FA LIST (PREVIOUSLY PUBLISHED)
G Nick Ellis RFA. Oilers have a full boat, but could deal Montoya and sign Ellis.
G Laurent Brossoit UFA. It's a good bet he's going to make like Lionel Richie and sail on down the line.
LD Darnell Nurse RFA. A bridge deal likely part of the conversation.
RD Matt Benning RFA. A shorter term seems likely, Benning has settled in as a solid defender.
LD Yohann Auvitu UFA. Reportedly heading back to Europe, there's an NHL player here.
RD Mark Fayne UFA. He's done with the Oilers, we'll see if he catches on with another team.
LD Keegan Lowe UFA. I think he might return on a two-way deal.
LD Dillon Simpson UFA. Same spot as Lowe, likely room for only one.
LD Joey Laleggia UFA. He'll sign with an NHL team that sees him as a defenseman. Maybe Vancouver.
LD Ben Betker RFA. Likely part of a substantial "Leftorium" haircut this summer.
RC Ryan Strome RFA. Several options for this player, including a trade.
RC Kyle Platzer RFA. I don't think he's shown enough in his entry deal.
LC Grayson Downing UFA. Quiet free agent signing.
L Mike Cammalleri UFA. I liked his contribution but the Oilers need more speed.
L Drake Caggiula RFA. Likely gets a short-term deal.
L Braden Christoffer RFA. Unlikely to return.
R Anton Slepyshev RFA. KHL rumors (and a trade) suggest he's headed for the Motherland.
R Iiro Pakarinen RFA. Also the subject of Russia rumors.
R Patrick Russell. RFA. I think there's a chance he gets another deal.
R Brian Ferlin UFA. Barely got on the ice.